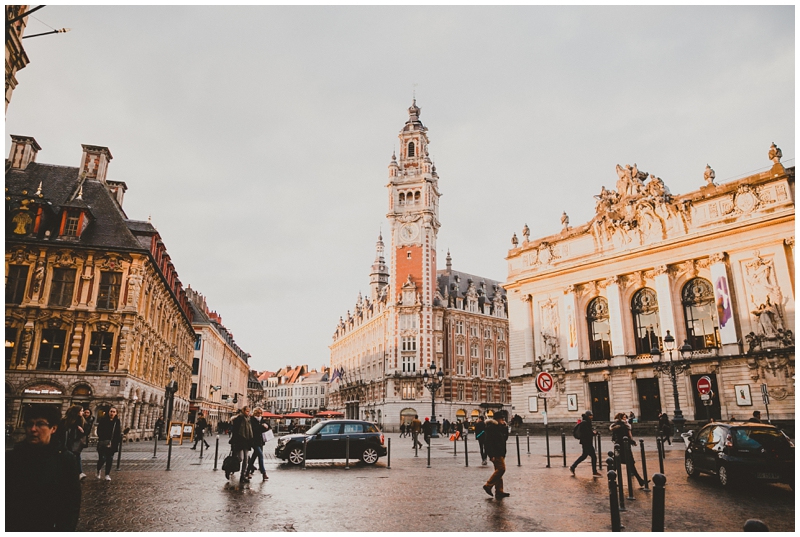 Northern France & Belgium: Days 6-11
Traveling Abroad, Part 2 –> If you missed Part 1, click here!
France & Belgium
Why & Who: Meet Pauline. A girl whom I met back in high school. She was a foreign exchange student staying with my adoptive grandparents (not blood related, but super close elderly friends). At the time, I was studying French in high school so meeting a REAL French girl was just the best thing!! Obvi, we were instantly friends. And of course, I took her "senior photos." On a railroad. Because that's what "Americans do" in 2012. When tragedy struck, however, I was the one who had to explain what an American funeral looked like & meant.  Yeah, that was crazy.Present day: We've kept up with each other on social for the past 7 years and picked up right where we left off! When planning my European adventures, I couldn't not at least see Pauline. Her and her dashing boyfriend, Reme, welcomed me to their gorgeous home in Lille, France for the entire week! It took a minute to adjust to the French-english accent, but no charades were needed this time around. 😉
Where: Lille / La Croix, France. And then, together, Pauline and I explored Brugge & Brussels, Belgium.
Least Favorite: Being on such a time change from Stephen (7 hours) that it was difficult to talk for longer than 5 minutes each night. That and having to pay to use the bathroom anywhere…also, Brussels was just kinda odd compared to Lille & Brugge. Grateful to have seen it but probably wouldn't stay there again.
Favorite Moments: The kissing greeting you do when you see / meet someone. I turned pretty red the first time. Experiencing "city centre" and those "oh, hey, that building is from the 13th century…" moments. Backup. WHAT?! Also, every dang corner was so photographable it was like a feast for your eyes. Brugge was the best city – perfect with swans on the canals & hipster tea shops with people from all over the world right next to you. And Pauline and I started The Crown, over a home cooked dinner, together. We kept the English version and added French subtitles.
Tamper! Espresso Bar was not only a perfect, cozy spot away from the sudden downpour of rain, but also a space that holds memories of dear conversations. Pauline, her best friend Elise (who was also a foreign exchange student) and I lingered several hours. Elise demanded to hear the love story of how Stephen and I met. And then Pauline grabbed my phone to show her just how handsome of a man I had caught. I blushed profusely but such are the best girl-to-girl conversations, no? The barista spoke perfect French and then upon hearing Pauline translating the menu to me, he shocked me (like, I jumped) by asking, "Shall I repeat that in English for you?" He spoke perfect English. Which seems like a small thing, but it's a moment that I won't soon forget.
Brugge, Belgium. I have absolutely no words. Except maybe: Magical.
Brussels, Belgium:
We met up with another mutual friend, Gina. She was a foreign exchange student to Indiana – the same time as Pauline. It didn't take long for Gina and I, as seventeen year olds, to freak out over sharing the same exact birthday. From that point on, we called ourselves twins. And I swore to one day see her home (or at least country). Now, I was keeping my end of that promise.
Happenings: I introduced them to ramen noodle bowls (which was weird, because I was the one who was new to the country. But leave it to me to find the hipster spots I guess…) Again, it poured rain. We stressed to find a quiet cafe where I could make a client call. There was a random parade of people dressed up as spoons and forks that hysterically interrupted our lattes & conversation. And yes, we saw the Manneken Pis – which I didn't even take a picture of. We ran like mad so Gina wouldn't miss her train home. When we realized we could run no further (hooray for pasta dinners), we embraced the inevitable and had a longer goodbye. Later, we found out that she had misunderstood the departure time and missed her train by only 3 minutes…
That Moment When…
After saying goodbye to Pauline after breakfast, I had the rest of the afternoon to explore until Stephen arrived by bus.
This was that Put-Your-Big-Girl-Panties-On moment.
Because I can't read Flemish or speak fluent French. And it was a Sunday. So most businesses were closed. Let's just say that I had to quickly get over my embarrassment and ask, "Excuse me, do you speak English?" a thousand times. The issue: The metro kiosk wasn't accepting my credit card and all the prompts were in Flemish or French. I didn't have enough Euros (or even the right ones) for a one-way ticket into city centre where I would be meeting up with Stephen.
At the height of lunch rush hour I stepped back into the cafe we had breakfast just a few hours prior, and timidly asked the barista if he spoke English and could give me change for the metro. He told me to walk about a mile "this direction," to the roundabout and there I would find an ATM. Along the way I felt quite lost – no roundabout was in sight – so I stepped into the corner Boulangerie. The woman behind the counter, full of genuine compassion but unable to speak English with me, somehow made enough gestures that I figured out I was close to the ATM.  Soon enough, I found it. But then had NO IDEA what my PIN was. This was a credit card. And it was also being denied.
I called Chase bank after frantically texting Stephen, whom to no avail, was currently under the English Channel with no signal. I listened in disbelief as the voice on the other end said, a little too calmly, "We're sorry. Our systems are currently down for the next 2-3 hours and therefore, we cannot access anything for you…please call back then." Do I need to tell you that I lost it? 
Irritated and a little scared, I walked a mile back to the cafe. As I passed the Boulangerie, I waved sadly. It was like I was in some sad documentary about how Americans have no idea what to do when they're in a foreign country. Still no response from Stephen. I messaged my Airbnb host who also confirmed that the other way of receiving "cash back," would be via the newspaper stand. But because it was Sunday, I was out of luck. Head held high, I walked back into the cafe, caught the eye of the barista who sighed immediately, and asked if I could buy a latte and get cash back. He said no and pointed me back to the ATM, "down at the roundabout."
I went outside & sunk into one of the cafe's patio chairs. With my back to the guests who had now seen me pass by twice, I cried. And by cry, I mean I let one tear escape. Then a text from Stephen came through with the PIN and a kissing emoji. He had no idea what I had just been through. Overcome with such gratitude, I marched myself back down to that ATM. If you're counting, that's 3 miles now. And God Bless America & Europe, it worked!!!
But then…
I could only get fifty euros. In a single bill. The metro kiosk doesn't accept bills larger than five. So yes, you guessed it. I prepped my google translate app, walked into that Boulangerie and handed her my phone: "Could you give me change for this (me happily waving my 50 euros in the air, which was, hindsight, probably very stupid to do in public) and OF COURSE I would buy an entire loaf of bread for your trouble." She shook her head. For the second time, I trudged uphill for a mile completely bewildered.
Mortified beyond belief, I approached that barista for the third time. Gratefully, he flashed me a big smile and now also filled with compassion (or was it patronizing kindness?), gave me the change I needed.
I WAS A FREE WOMAN. FREE TO EXPLORE. FREE TO BUY A METRO TICKET. HUZZAH.
The entire fiasco took up about three hours. Whatever.
I mapped out a new course of sites & things with new vigor. I had about 3ish hours left until Stephen arrived.
And let me tell you, I conquered that city. With the sun shining, church bells tolling, and already sore feet, I found a vintage resale shop (and the cutest shirt ever that I promptly bought), the best coffeeshop-artshop-garden-terrace I've ever seen, and decided to just laugh things off & enjoy myself before making my way to the bus station.
This man's smile and the fact that we were in ANOTHER COUNTRY together was the most joyous feeling…probably up there with walking down the aisle, tbh. We immediately ordered a big thing of Belgian Fries & sat on the museum steps watching drunk people dance in the square. Truly, all was well in the world.
Coming up next: Italy & Paris.
Always,
–Tara M