This isn't just random land with woods.
No, this ground has meaning, purpose, and history.
The breeze is gentle as the warm light filters through the trees above us.
Country music plays as we weave our way down the one-way lane. Fresh roses lay gently on the front console. This all just feels so right, so them.
"The moon had come out and he was wrapping his arms around her…"
Meet Tara & Peter
A couple who's gentle love plucks at your heart strings the more you're around them.
They are the epitome of down to earth with the perfect mix of quiet & expressive personalities. Equally beautiful is Peter's childhood home, where we ended the session as the sun dipped low and the two shared a champagne picnic to reminisce back to how Peter had proposed. He popped the question out on his family's farm in Wildwood, Missouri with a thoughtfully planned picnic spread with some of Tara's favorite things.
Incorporating sentimental places into engagement sessions are just so special and we were honored to be invited into Tara & Peter's favorite spots.
I'll never forget as we drove away, glancing back and seeing them sitting on that picnic blanket together.
The moon had come out and he was wrapping his arms around her.
Quiet. Tender. Just them.
Enjoy these favorites and bits of their love story!
(If you're on desktop, listen while you scroll –> the song playing in Peter's truck as we drove)
"Peter is my rock and my best friend. I love that he always has a gentle way of putting things into perspective.
I've never felt so accepted and completely myself.
I'll always remember the first thing I thought was that he had very kind eyes. On our first date – which I thought was only drinks – we walked in and he had reservations, ordered a steak and I've been laughing ever since! He TOTALLY surprised me with dinner and I'm so glad we got to spend the whole night talking that evening…"
"The thing about Peter is…what I love about him is more than just a moment in time.
I love our life together – dancing in the kitchen, drinking wine by a fire, playing with Gus (our white lab!).
When Peter is in your life he's IN your life – even when things are not perfect I know he'd do anything for me. 
I've always loved Peter but I think the step of making a home together is when I knew he was the one.
It will always make me tear up how Peter went out of his way to make our engagement so special and perfect – from including my sister (who is also my best friend) in picking the ring/proposal to not only having lunch with my dad but BOTH of my parents. He made Christmas magical and I'll never forget it.
I love that he's very much a provider & caretaker not because I need him to be but he wants to be!"
"Tara, I love that you are always there for me, and you always have my back.
I love that you are a hard worker, and you are always taking care of our house and Gus.
We make a great team…"
"Tara, you always makes me happy and can make me laugh during the toughest times. 
You are my rock and I can't wait to spend  the rest of my life with you."
Dear Tara & Peter —
You two said you aren't good at taking pictures…can I tell you something? While you were changing into your second outfit, Stephen and I looked at each other were like, "OKAYYYYY?!?!" Spending the evening with you two this fall was such a fun experience. Thank you for inviting us to explore your family's land filled with so, so many meaningful memories. We are so thrilled for you two and can't wait to countdown with you for the Big Day next year, in 2020. We just can't say enough good things about you two, ah! You. Are. Magic. In. Front. Of. The. Cameraaaaaaa. All the hugs!
Always,
–Tara & Stephen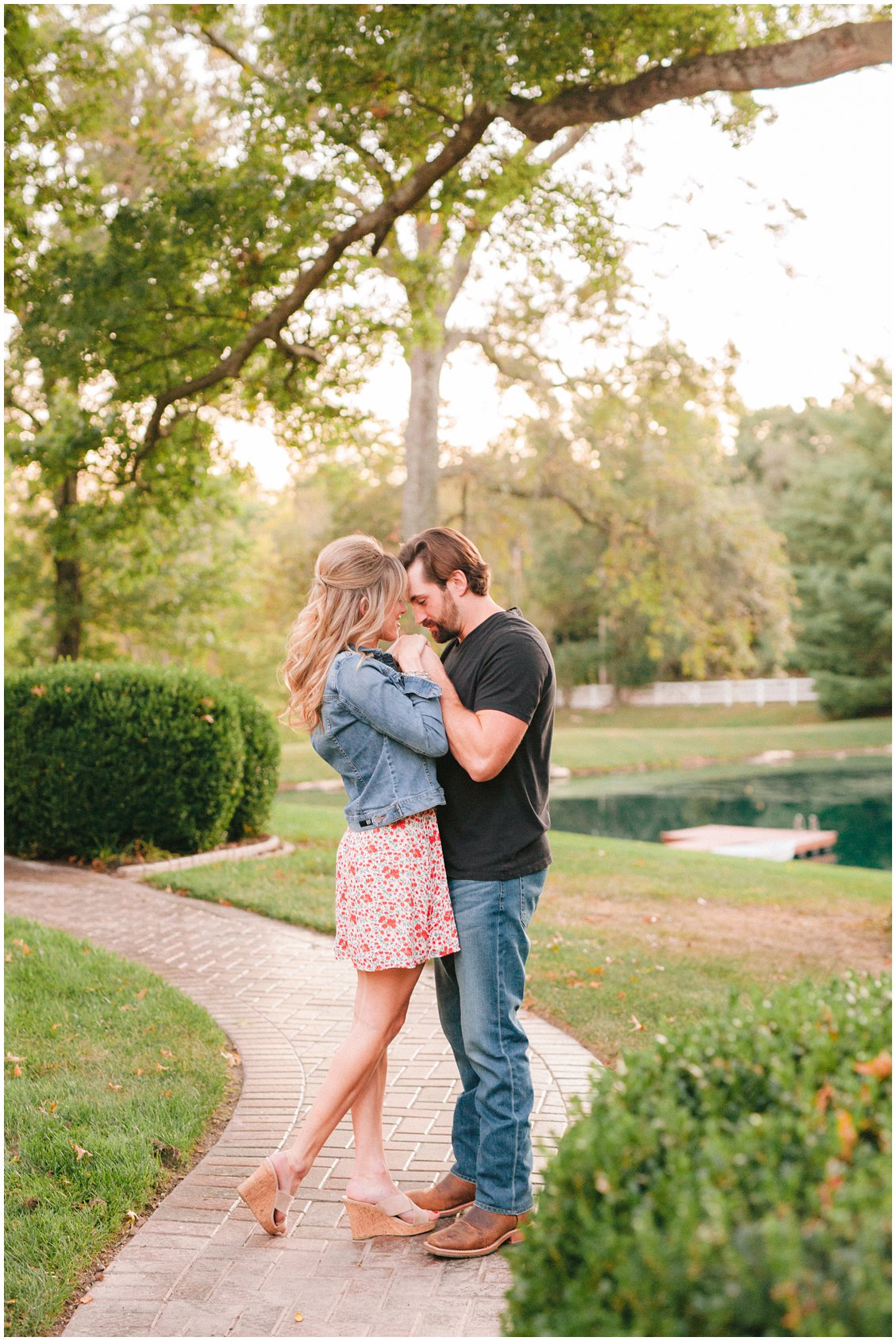 Are they not the cutest?! Between his "kind eyes" and her gorgeous smile we just love these two!! Can't wait to celebrate with them next year at the ever gorgeous Silver Oaks Chouteau, a luxury venue right here in St Louis! 2020 here we come!
Feel free to leave some love for them in the comments!
Always,
–Tara M