---
It's week two of the capsule wardrobe challenge.
(Click here if you don't know what the heck I'm talking about)!
It's gotten a little easier to find new combinations.
Especially for today's feature: A Sweater Dress.
It's super warm (made with wool), flattering, & versatile.
I didn't think I'd be able to pull it off to wear as I shot a wedding (my work attire),
but I did and it was perfect when paired with tights.
Today's inspiration comes to you with all the things in mind for this upcoming week!
— Boho casual (read: just throw something on)
— Fancy free (read: just add a layer)
— Work attire (read: could work for any office situation as well!)
— Black Friday Shopping (read: just throw something on that looks like you tried & actually succeeded bc it's 4am & you're standing in line errrywhere)
 Here's a video showing you how I did it!
[arve url="https://youtu.be/tgTafSdPeb8″ mode="normal" /]
Here's the pieces, out of the capsule, that were used.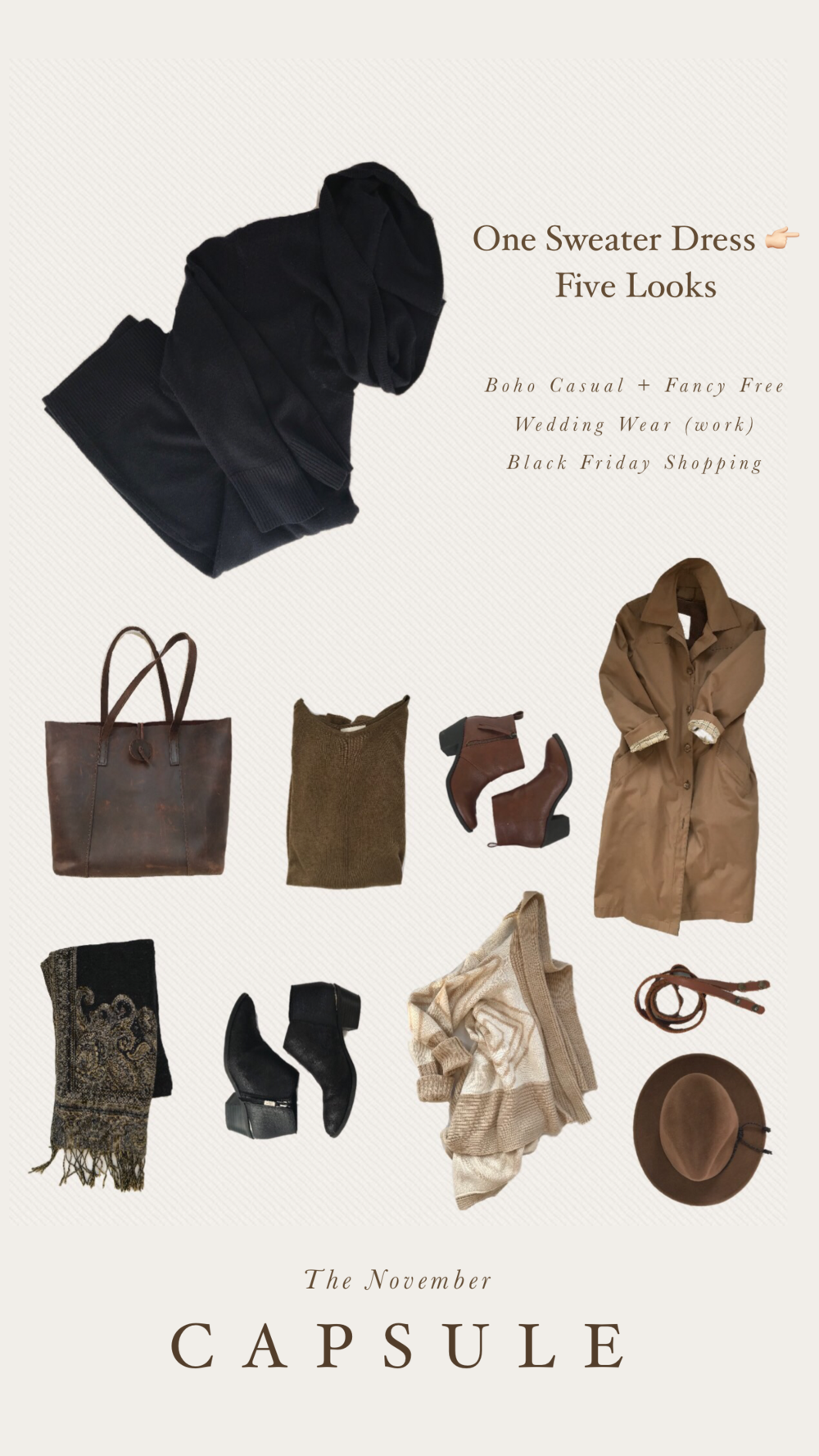 Cozy Sweater Dress || Goodwill (I know, right?!)
Tights || Gifted (not included in capsule planning, but hey!)
Olive Sweater || H&M, on sale.
Coat & Belt || Thrifted.
Tribal Cardigan || Charlotte Rousse, on sale.
Booties || Gifted & Goodwill.
Earrings || Various Stores, all on sale.
Felt Hat ||  Vinnie Louise, gifted by bae.
Leather Tote || Amazon, gifted by bae.
Scarf || Walmart, gifted.
Enjoy your Thanksgiving holiday with friends & family!
Post your weekend wear outfit inspiration and use #weekendwearcapsule to share in the fun!
Always,
–Tara M