---
If I'm being honest, I wasn't sure if it was possible for me to pack a week's worth of clothes in a carry on. I mean, I only get two bags. And one of them is my camera bag that only has a few crevices for gum, chapstick, and maybe a small book on top of my camera body. However, I've made the mistake one too many times with packing in an over-sized satchel (with no wheels), only to have my arms nearly fall off as I sprint through the airport to make my connection.
Also, I've learned to practice lifting my carry on over my head. Seriously. Because, yes, one time I packed it too heavy and turned about five shades of red when I failed to be able to lift it in front of everyone on board. But, no one knows if I biff it in my bedroom. Then I can adjust as needed until it's either light enough or I become a body builder.
Today's Weekend Wear features a few packing tips and part one of the clothes I packed for my Kansas City, Missouri, trip! And yes, I got it all in a carry on!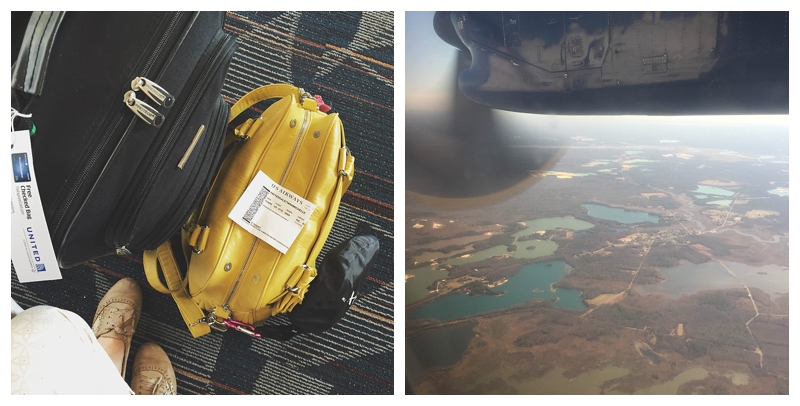 The process: I like to start packing by thinking through what I took with me last time (remember my weird quirks?), checking the weather, laying out favorite pieces on my bed, and considering what will be expected of me for the trip (shooting, date night, campfire, etc).
Tip 1: Packing clothes that fall within the same color scheme helps with mixing pieces for multiple wears. Take half of the total amount you need. I needed eight outfits total so I took four shirts, four bottoms, and two cardigans. Plus a new dress for Easter & a date.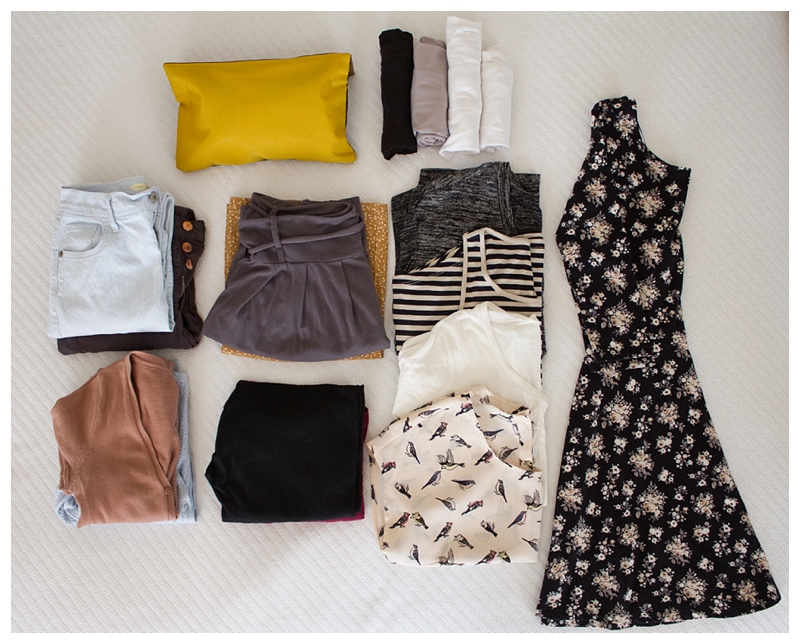 Tip 2: Using smaller bags within your suitcase/purse helps with smashing things in neatly! It's glorious when you can actually find things in your suitcase. So think undergarments, jewelry, belts, lipsticks, charger chords, and makeup (just take what you need). Also, never underestimate the power of Ziploc! For shoes: 1 super comfy pair, 1 pair of heels, and then black and brown options as needed.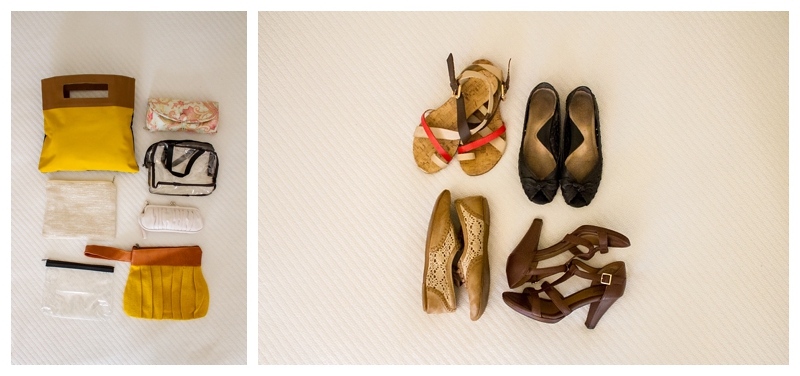 Tip 3: Fold in halves, roll thinner items, and take only toiletries you can't borrow from friends hosting you (or provided by the hotel). Consolidate any liquids into travel size bottles, purchase or use your friend's face wash/toothpaste/hairspray once you get there, and ask if you can use their blow dryer, too. This helps immensely with weight & space limitations! Pack liquids last and on top for easy access during airport security.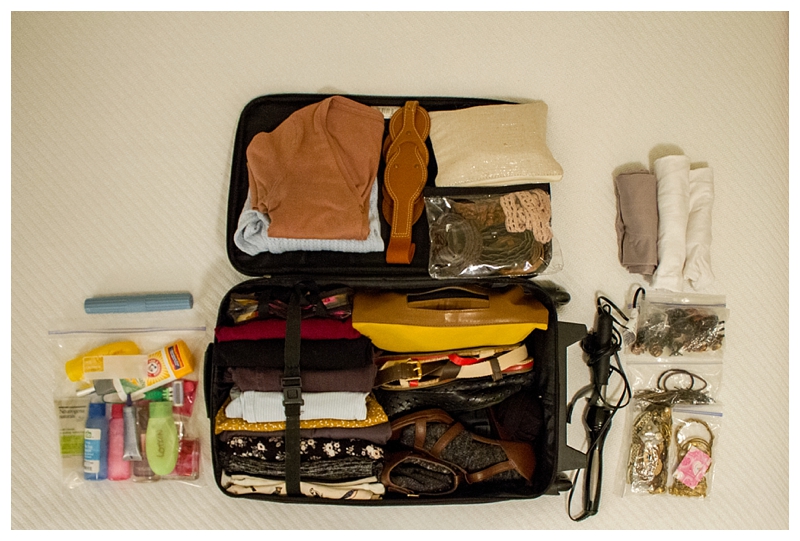 Tip 4: When you pack a roller board, the chances of being required to gate check it are high. In which case, you'd be required to remove a laptop or other electronics. So I smartened up. My camera bag and laptop sleeve (that contained my power chord and 2 books) could fit under the seat in front of me. I technically traveled with three carry on items. Note: I did risk it. Just make sure you could slip your laptop in your roller board if gate checking is an extra charge or if your connection is too close on time to wait to get it plane side!
Now for the clothes! Today features a new favorite dress and three ways to wear it!
(Photos taken by Caroline, edited by me)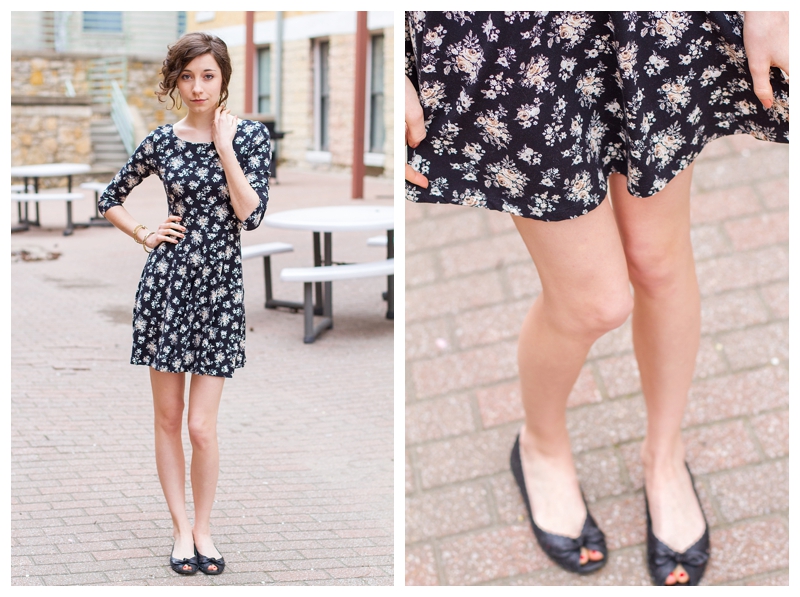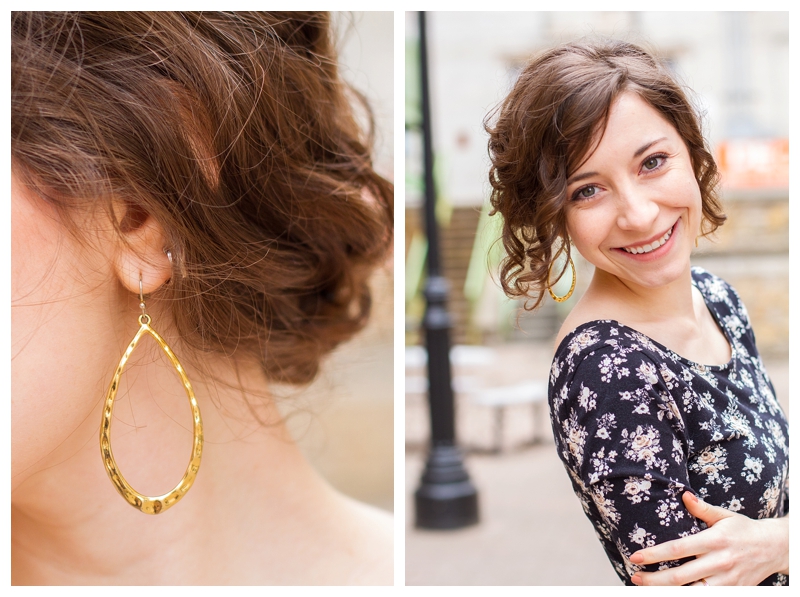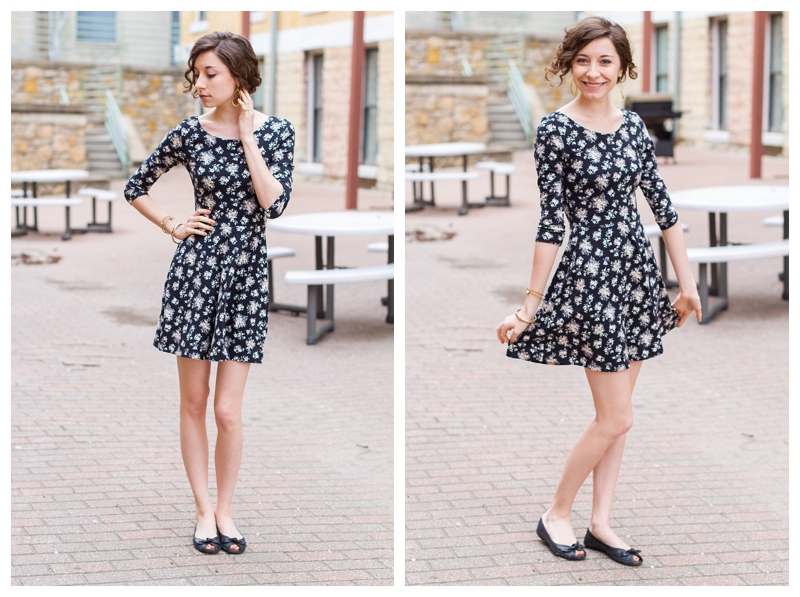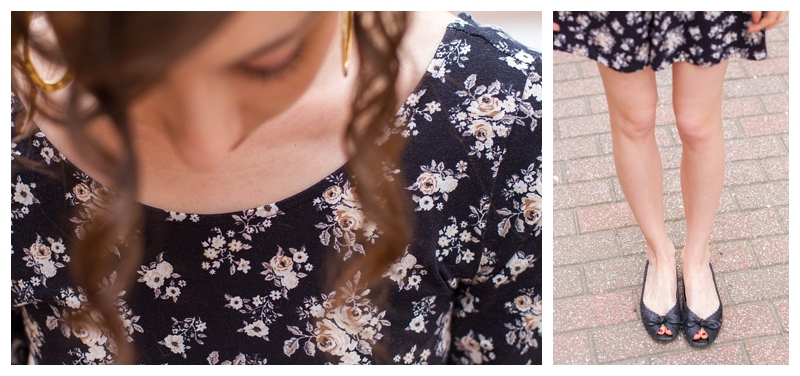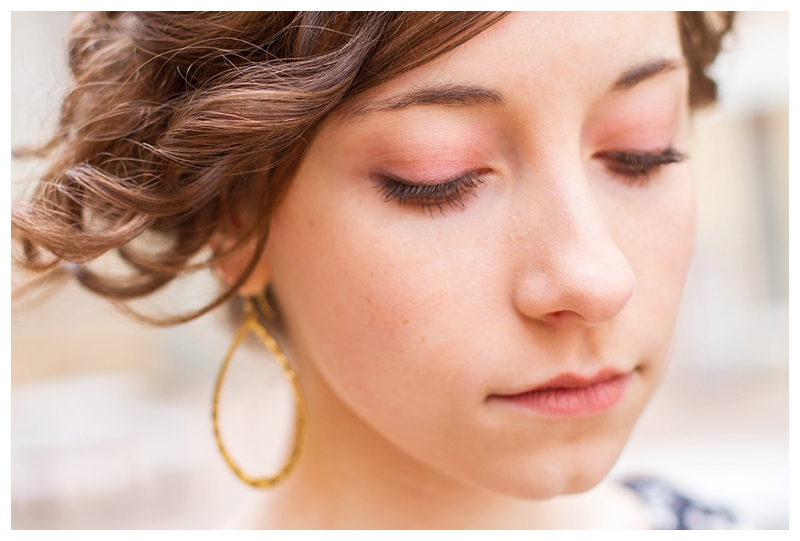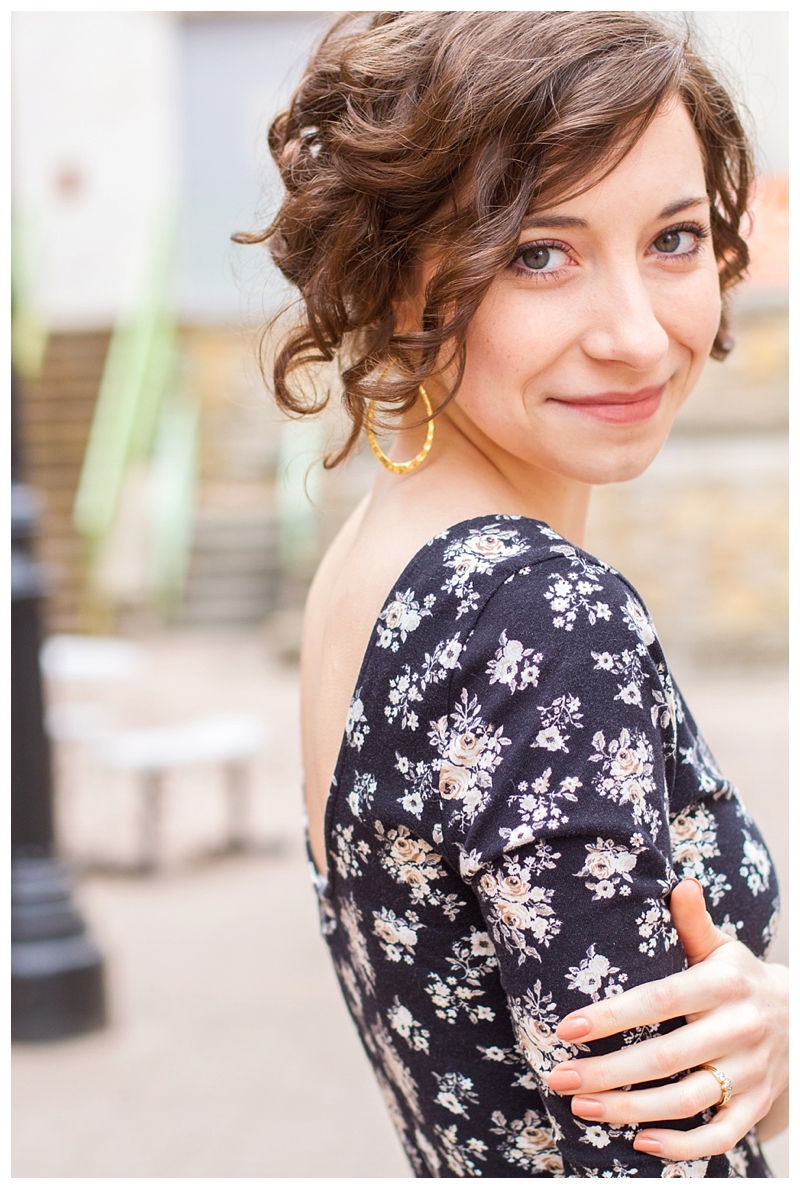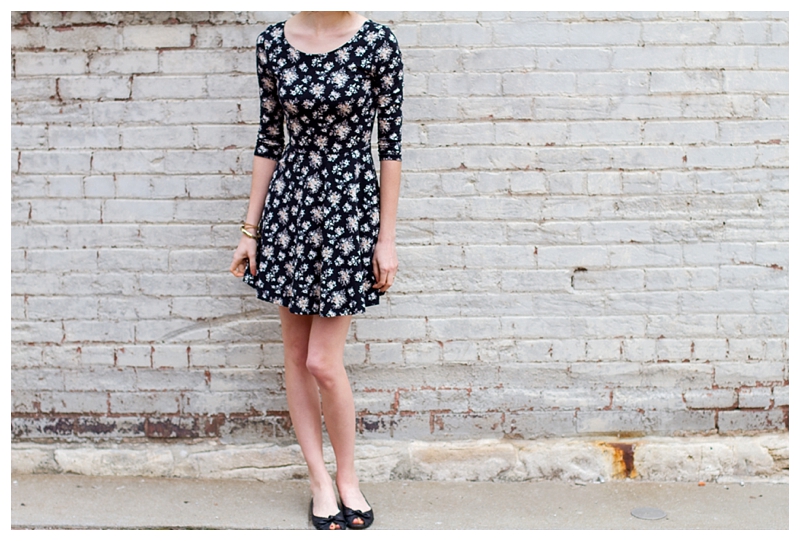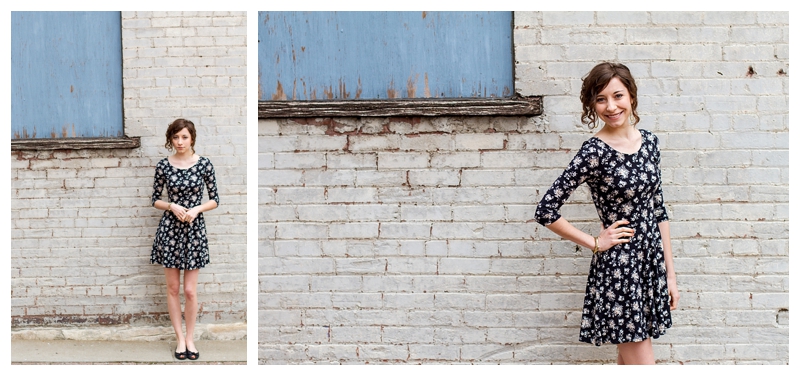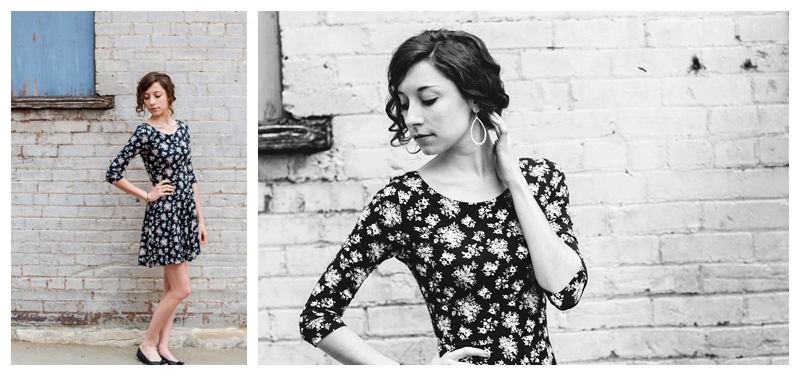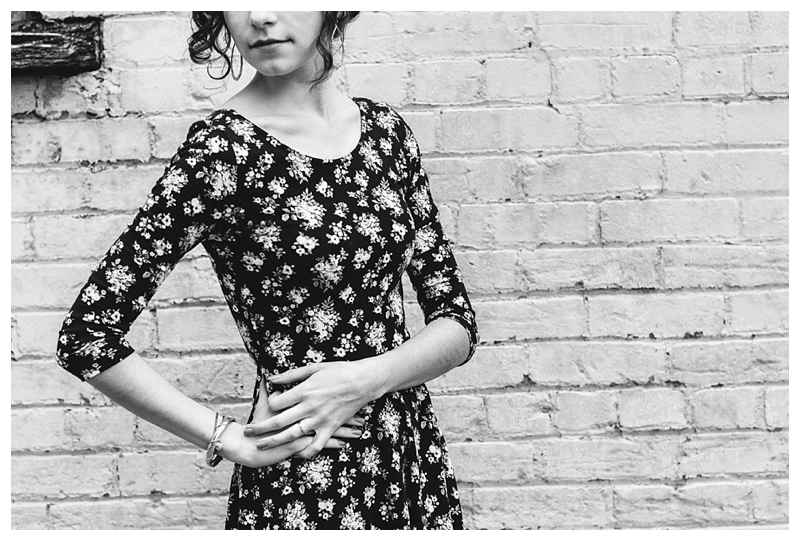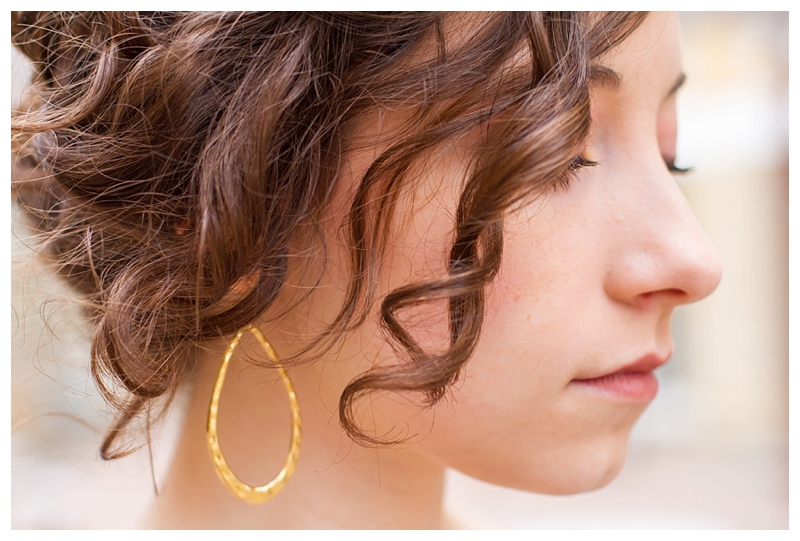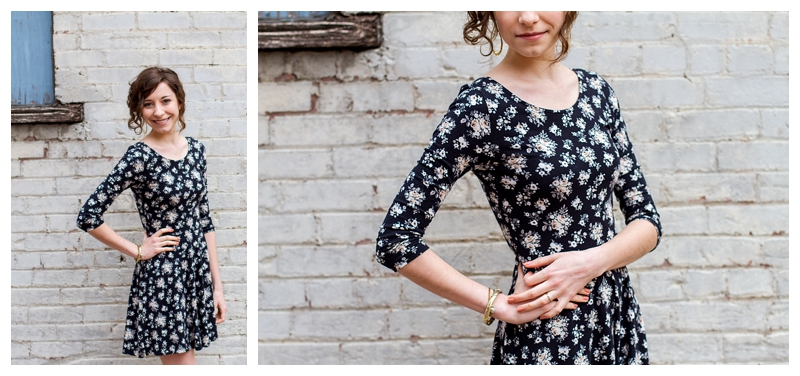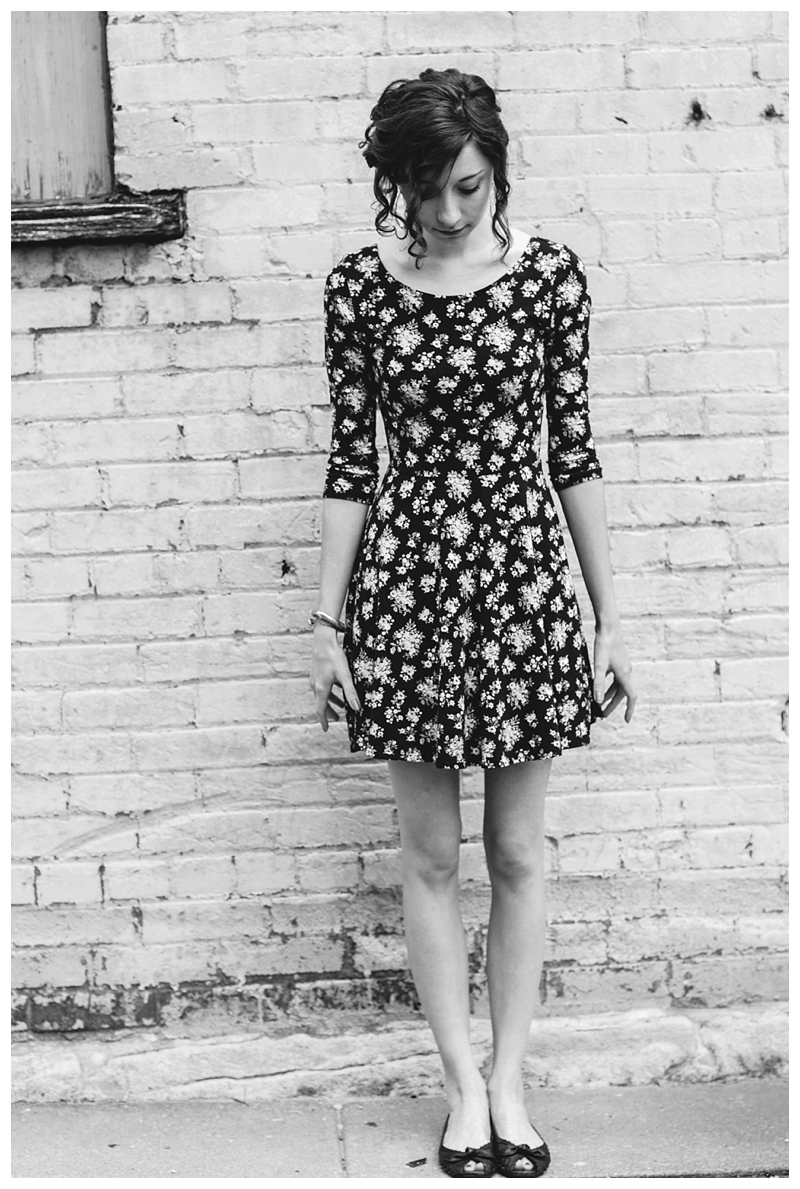 Take it up a notch: This dress is just one of those easy pieces. The possibilities are endless! So this past weekend I decided to mix patterns and treated the dress as a shirt.
P.S. –> How great is Kansas City for all these cute alleys and nooks? Also, I don't know who's chair this was…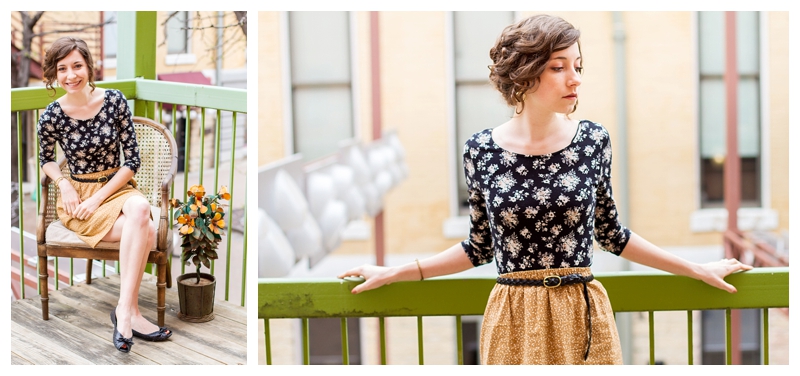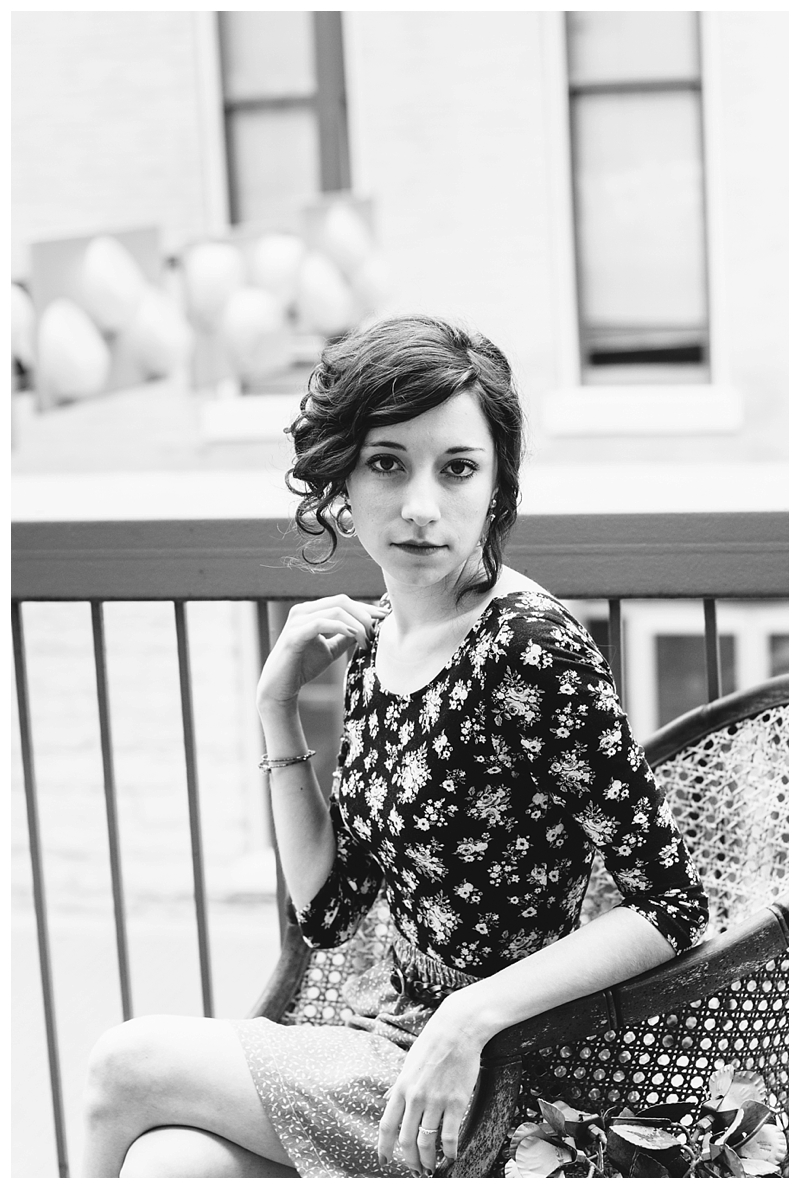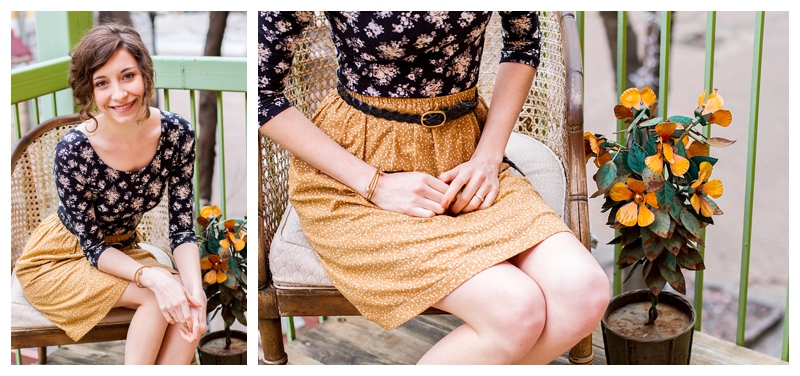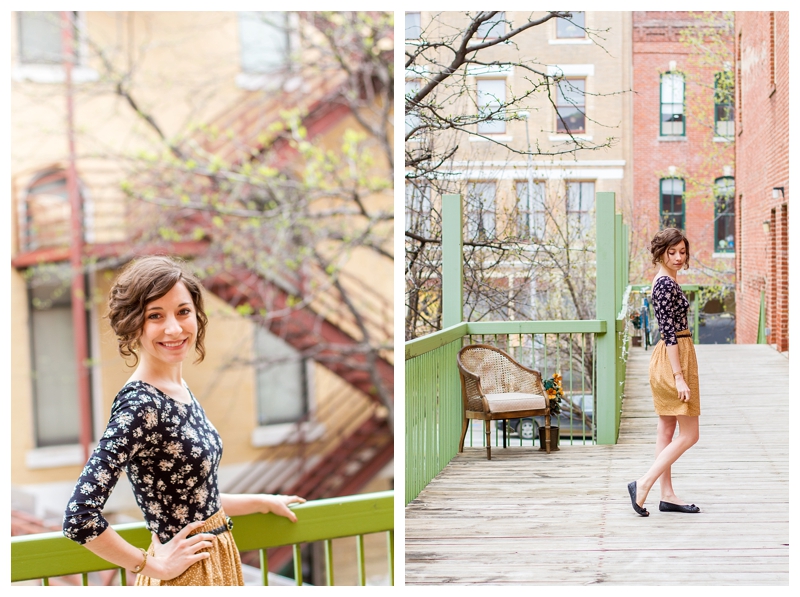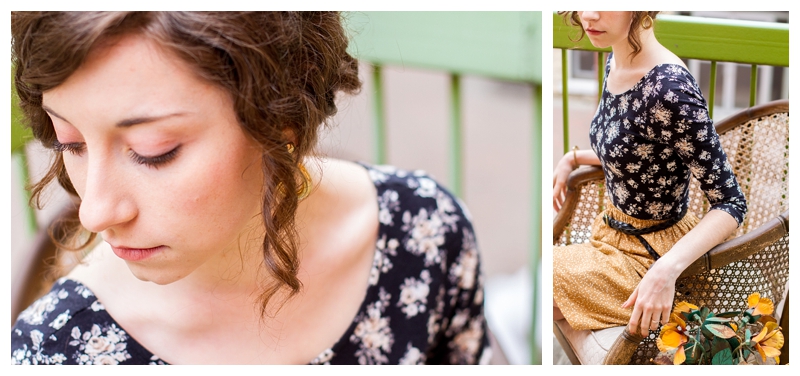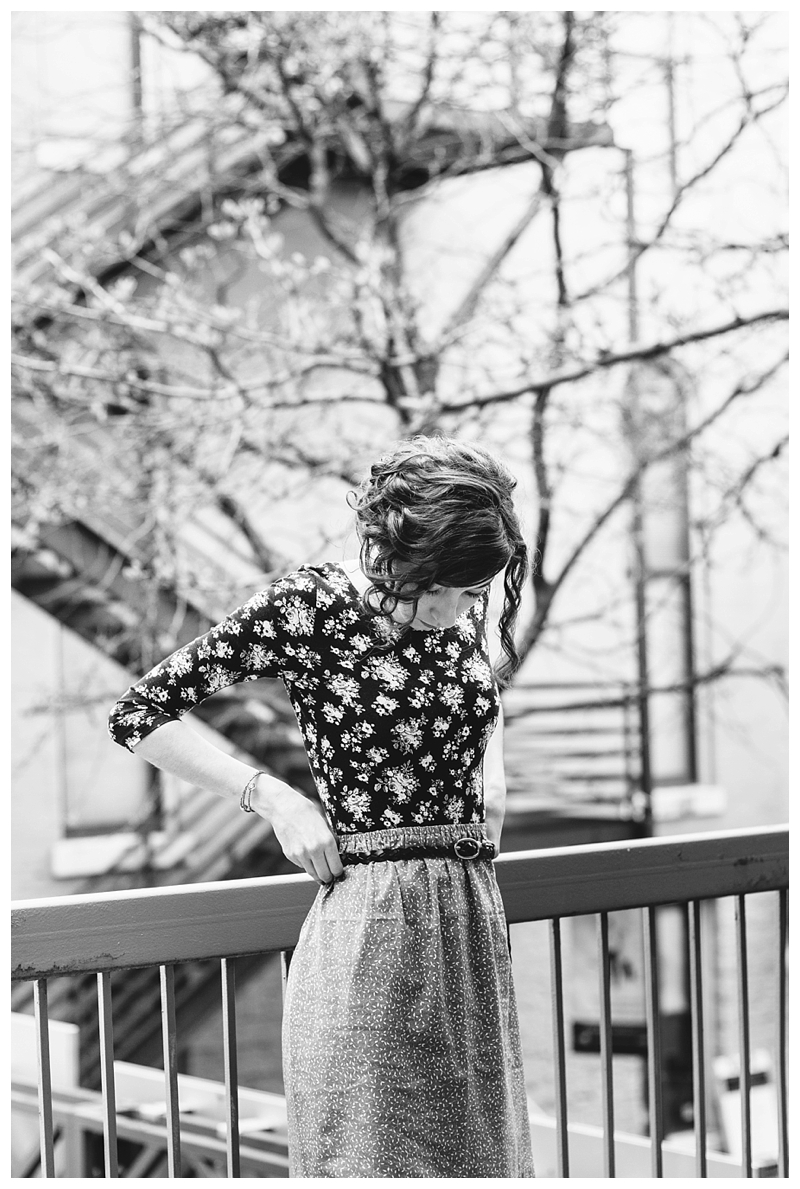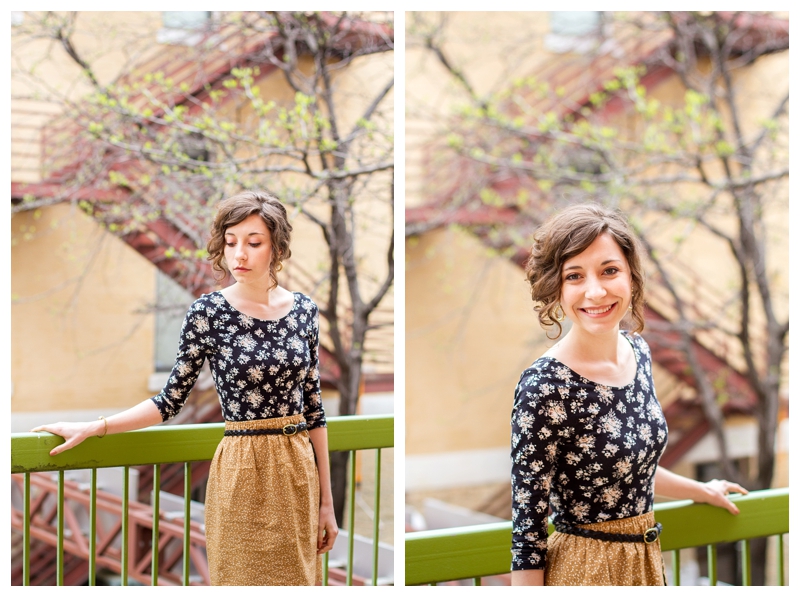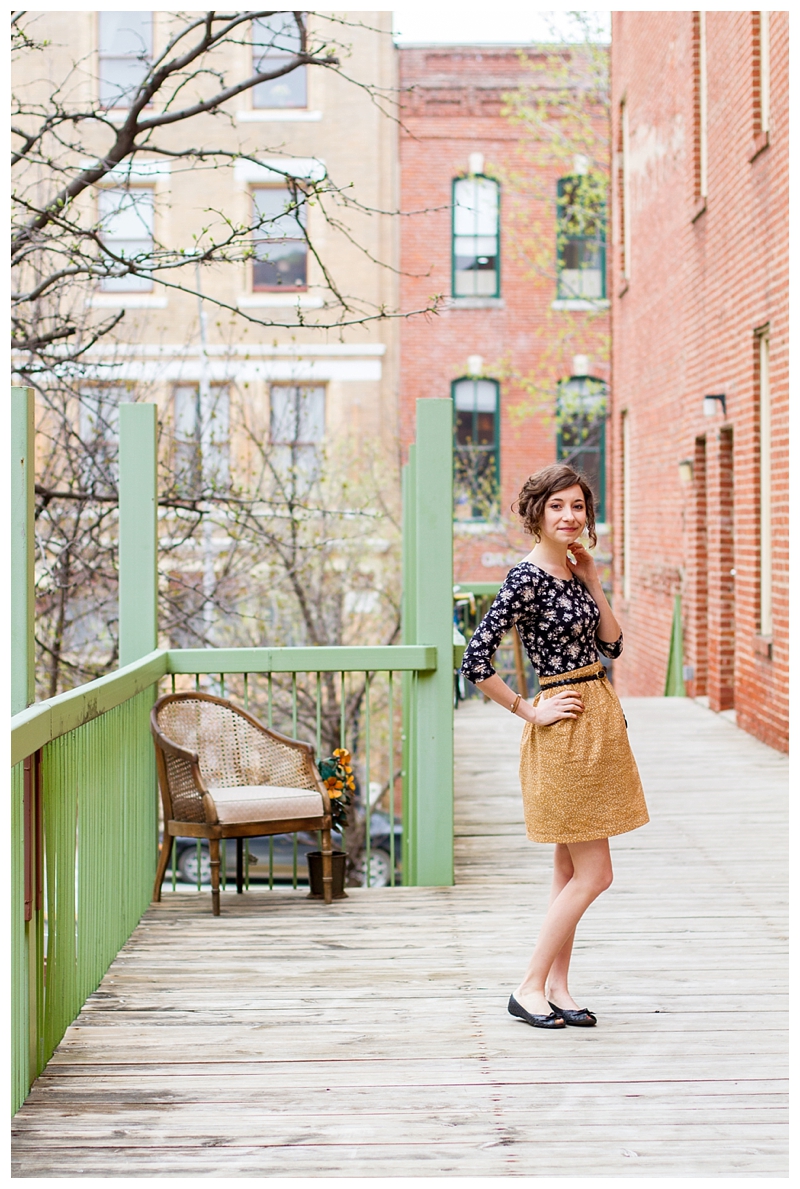 Mix it up: You know me, add a layer! You could also change the shoes, hair, belt, lipstick color or skirt entirely!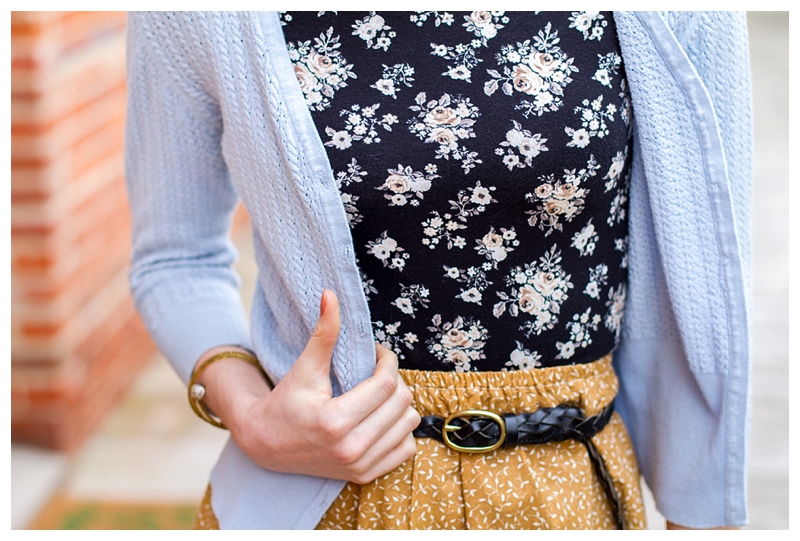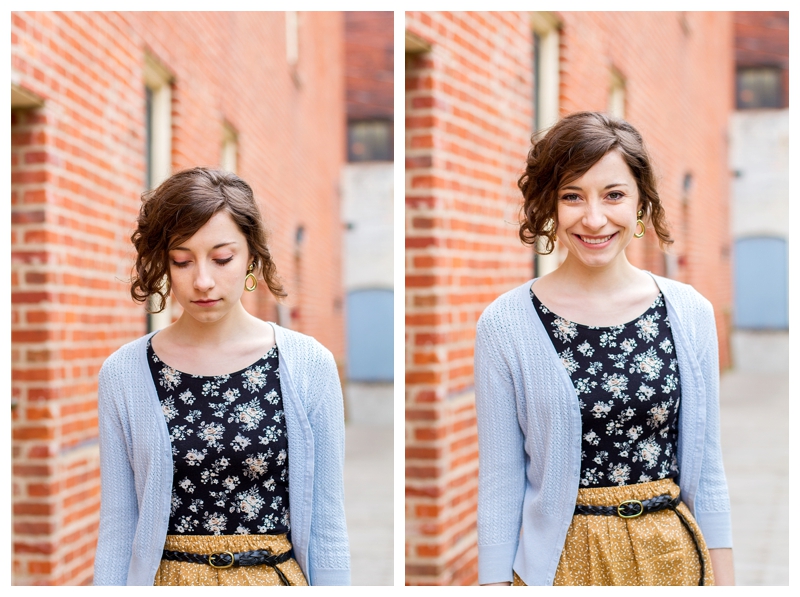 || Dress: Forever 21, clearanced. Skirt: I made it. Cardigan: WalMart, clearanced. Belt: Given to me. Flats: Can't remember, but they were on sale. Earrings & Bracelets: Gifted and thrifted. ||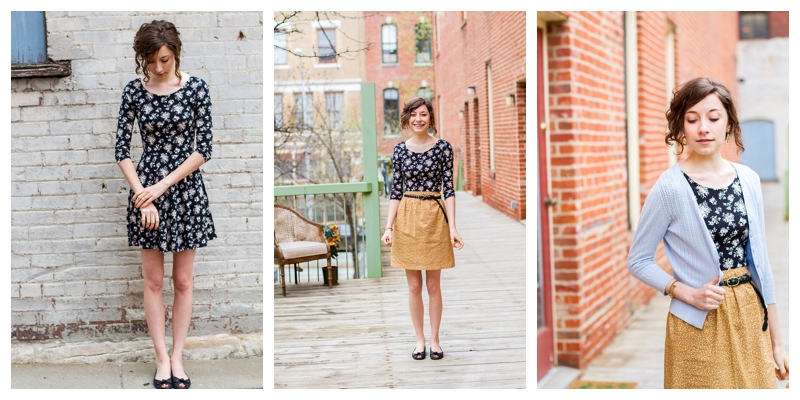 What do YOU think? Have you ever worn a skirt over a dress? Also, I'd love to hear any of your packing tips and tricks! Tune in next week for part 2 of my Kansas City adventures & style! Until then, happy weekend…
Always,
–Tara M.