Some people wouldn't think it's worth it. But Stephen and I just can't help expressing ourselves through interior design, no matter how short the stay. You know, I almost pursued that as a career – and I still have it on my list of 100 dreams to take a class or two. We've spent fewer days in this St Louis apartment than the trial run of a Lisa mattress. But we've absolutely adored our time there (and can't wait to go back to it this fall, after Chicago!). If you count the time that I was in Europe and then in San Francisco, I've only spent about 95 days here. That doesn't even included weekend and other 2-day trips.
There are several projects that were started but not finished. Several head scratchers of how that would have even worked to begin with. But we're super grateful. And in some ways, we've found a pretty dang good rhythm of how to move and resettle quickly. You could say we've learned just how worthwhile finding versatile furniture & more neutral decor is!! We've only been here in Chicago for 8 days and everything is completely unpacked and we have art prints on their way. But before I get too carried away with this new Chicago apartment, I wanted to share our cozy, second Blunkalow (as we fondly call our home – wherever they may be) home!
We've spent fewer days in this St Louis apartment than the trial run of a Lisa mattress.
You can hear birds chirping. It truly has a neighborhood feel and only about 2 miles from our first apartment as newlyweds. But goodness, what a difference two miles can make. From our place now, we can walk to the coffeeshop, Concordia Park or Forest Park (yay art museum!!), Clementine's Ice Cream, or the stunning new restaurant Louie. We can walk to the movie theater, to church, and to our friend's house just half a mile away. And while it doesn't have near the views as our first (or now our third here in Chicago) place, we love how calm and safe this area is. Oh and you're ten minutes from literally everything else (Trader Joes, the Gateway Arch, Missouri Botanical Gardens, and Stephen's work).
Also I should note, you're going to notice a huge size difference. Our first Blunkalow was 536 sq ft, 1 bedroom – I'll link it below if you want to relive that cutie place. 😉 This second Blunkalow: 1260 sq ft, 2 bedroom plus sun room (my office) and a balcony. And free street parking.
We didn't need two bedrooms, but decided the location & everything else was worth it. So I just filled the crap out of it with large house plants and obviously I was v much okay with that solution. Welcome to our little home!
(If you're on desktop, listen while you scroll: some of our favorite dinnertime music)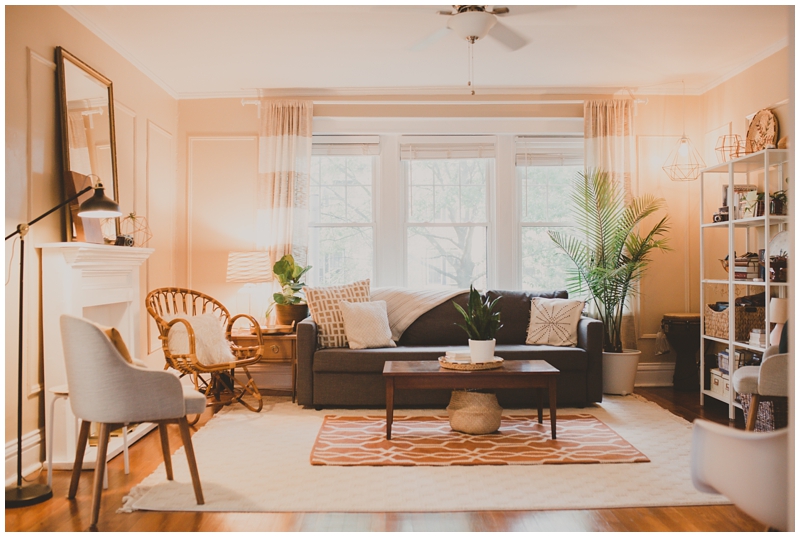 If are not a believer in Facebook Market Place as THEE place to find gems, you're crazy. I've basically become the queen of FBMP (did I mention it's how we even made the connection to finding our Chicago apartment? cray!) and leveraged it like heck to properly fill our new space with needed furniture. The rattan chair in the corner, the two grey West Elm chairs, the carpet remnant I made into the large rug, the orange rug, and the midcentury end table were all marketplace finds. Not only did the rooms echo without these added pieces, but we also wanted to be able to host our church's community group meetings and other dinner / brunch parties and needed more seating options!
Some people get obsessed with shoes. I like them too. But I guess I obsess over chairs & rugs…





If you're sitting on the sofa (IKEA) in the living room, you look directly into the large dining room and then the galley kitchen is off of that (to the left). Again, the acrylic chairs and dining room table & four chairs were marketplace finds. The majesty palms were free from a friend who attended Mass on Palm Sunday. The church was just going to throw them away afterwards.  Obviously, I adopted them into the family with great joy! And you might remember, the benches are from our wedding!
We had plans of making a huge gallery wall with our Europe travels, but that didn't happen…yet.




The galley kitchen. Goodness. The main drawback of the entire place. So much so that we almost said no. There's so much we wanted to do with the kitchen and so many failed attempts. For one, we purchased pegboards, painted them black, and then went to put them up only to find that there was a ledge we didn't think through that caused the boards to be literally an inch and a half height OR width wise too big. And we don't have a saw. Ugh. The two we managed to mount…after 20 minutes literally popped out from the wall. Exasperated and people coming over in 10 minutes, we left them as is, pushed the stove back into place and hosted our friends like nothing happened. I also attempted the whole marble-contact-paper-magic for the countertops only to find that it made our "white" walls look incredibly…."off white." So it's a head-scratcher project yet to be finished.
But! One day, while wasting way too much time searching through Apartment Therapy's "small awkward rental kitchen makeovers," inspiration hit.
I've only used a drill once.
But I've watched my dad and Stephen use one. How hard could it be?
I marched myself into the kitchen and nodded lots of nods and put on Bruno Mars. Only stripping a few screws, I whipped all the cabinet doors off and re-styled our, now, open shelves with all our white dishes & copper and wood accent dishes. Then, yes, put a facebook market place rug down & added a plant. Voila! You might also notice that we added a "counter," by using my former office foldable desk as the new counter. I'm telling you, buy versatile pieces, y'all. 🙂




The second bedroom with the sunroom just off of it, immediately became my office & studio space. Yet another project not yet finished was transforming it into a photography studio for more photo styling & personal portraiture projects, but. It definitely still has the potential for this and we really loved having this as an optional space. 🙂 The green chair in the corner is a project waiting to happen. My new desk is from IKEA and the window bench is from FBMP. The rug is from our wedding (we said our vows on it!) and I finally was able to bring home my wedding bouquet from my parent's house. I love having little keepsakes from our own special day as I talk with, plan, & work on our couple's big days!








The hall bathroom separates the two bedrooms. The Ikea trolley cart that was once our entry way table in our first apartment, became linen storage and fit perfectly in the bathroom! We loved the honeycomb tiled floor and the character it provided and all the natural light!






Lastly, our bedroom & patio.
We decided to move the gray rug from under the gray couch (duh, this was a bad choice to begin with!) into our bedroom. Because the linens are white & oatmeal, a pop of gray actually brought texture & an accent color that matched the rest of the house. Edgar (the fiddlefig) had to move into the bedroom due to his fancy lifestyle of certain amounts of window light and NO air conditioning breezes. But I actually love having such a large plant babe in the bedroom. It's so calming. We wanted to add wedding & more Europe art prints as well as a wall hanging or two, but that will be for later…actually there was a gallery wall box in the corner that just never got unpacked. Whatever.





The patio was a huge highlight and we wish we could have enjoyed it for longer! We found the bamboo couch (with nearly brand new cushions) and the four directors chairs from….Facebook Market Place. I made HUGE gorgeous canvas curtains (from painter's drop cloths) to hang – like they do in Italian villas we obsessed over – but as soon as I finished them we found out we would be coming up to Chicago, basically. The little patio table was actually our "kitchen table" from our first place. Overall, sipping coffee here in the early mornings is just the best. 🙂



So there you go!! The Blunkalow 2.0.
If you want to view our first apartment adventures, click here!
Do you have any favorite tips or tricks when it comes to organizing & decorating your home? Any favorite blogs you follow for inspiration?
Always,
–Tara M