With so many incredible European-inspired wedding venue options, I've rounded up some of my favorite Southern California luxury wedding venues and saved them for you, friend!

5 European-Inspired Southern California Wedding Venues for 2023 & 2024 Weddings

Additionally, linked below is a fuller, downloadable guide with more robust venue breakdowns, for all those practical details like guest capacity, unique features, etc.
Be sure to save & pin this post for later as I'll keep adding to it over time!
1. Tuscan Villa Southern California Wedding Venue: Sunstone Winery
The Villa at Sunstone Winery is at the top of our list of epic wedding venue destinations right here in Southern California. Just slightly off the beaten path in the Santa Ynez Valley, this Tuscan-inspired venue sits among lush vineyards and old oaks that fill the property. From the trellised, climbing roses adorning the back patio to the sun-splashed olive trees lining the front drive, every corner is picturesque. If you were hoping to marry under the Tuscan Sun but in California, Sunstone Winery is your ideal venue.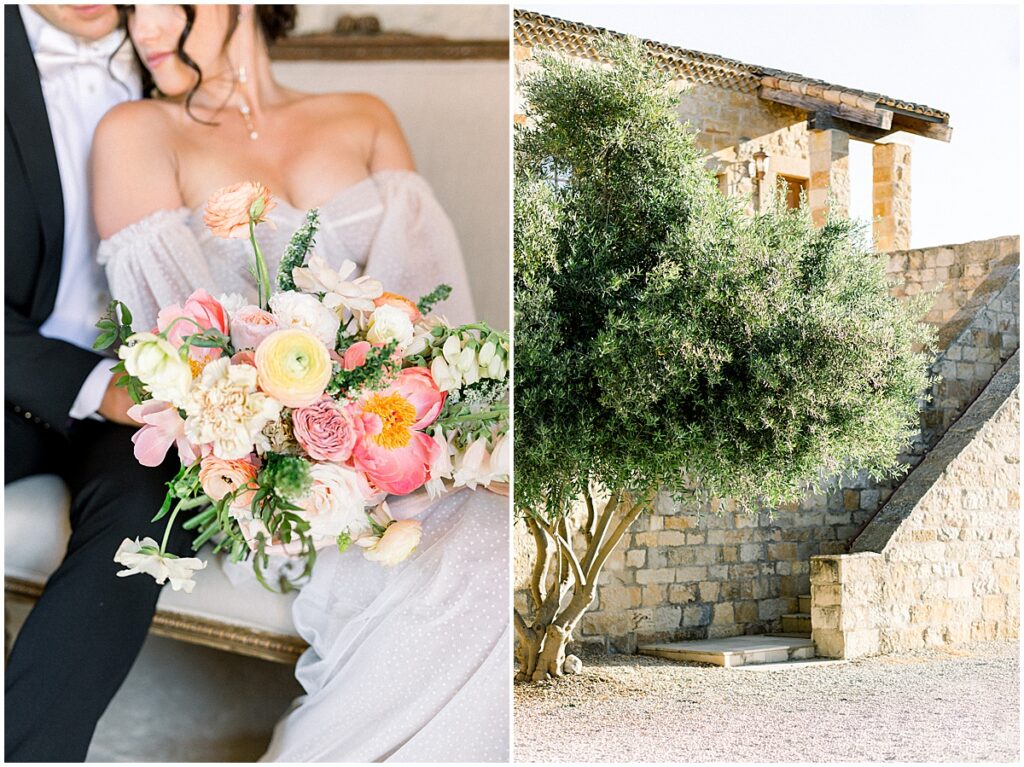 We especially love the bedrooms with rustic exposed beams, luxurious linens, balconies, and plenty of natural window light for your wedding preparations. Even the kitchen is photo-worthy with its natural stone walls and spacious enough for a full catering team to prepare your guests' meals with ease.
You can have your choice of ceremony & reception locations out in the vineyards under the shade of a lofty oak, out front with a stone staircase aesthetic, or in the back patio with vaulted architecture and roses (stunning for an Alfresco dining experience). A sailcloth-tented reception area would also be a luxurious feeling in the backyard overlooking the vineyards and sunset.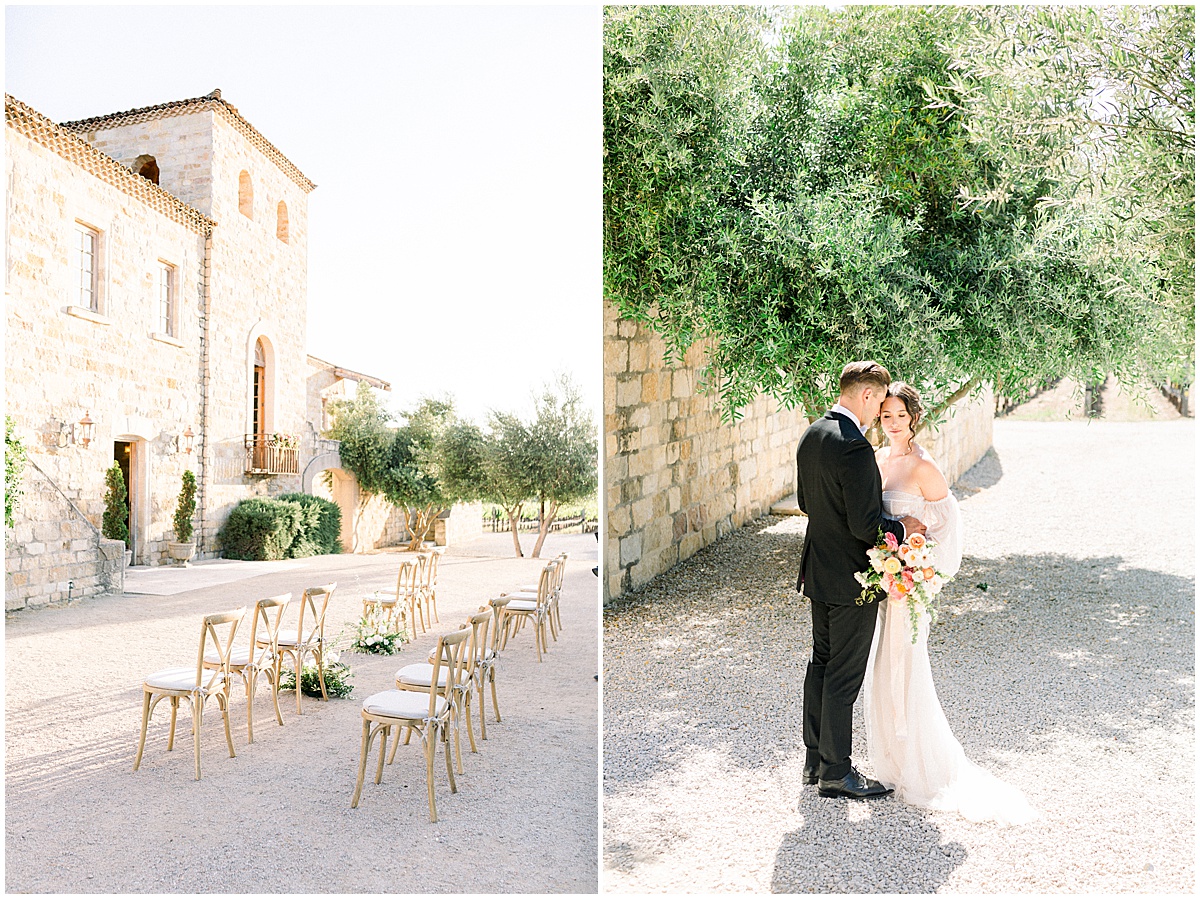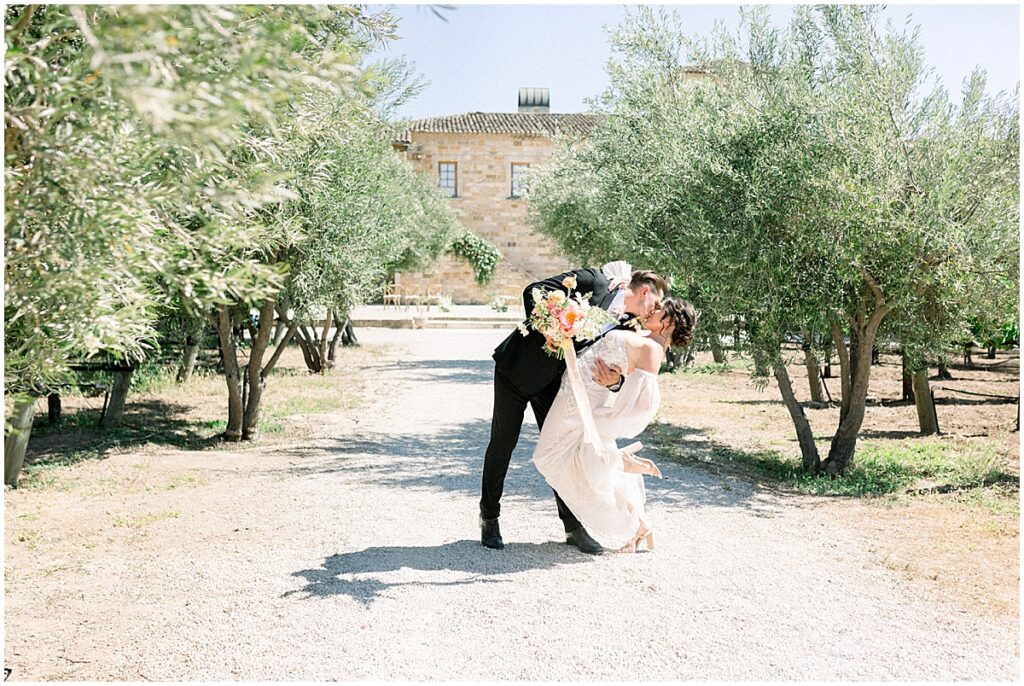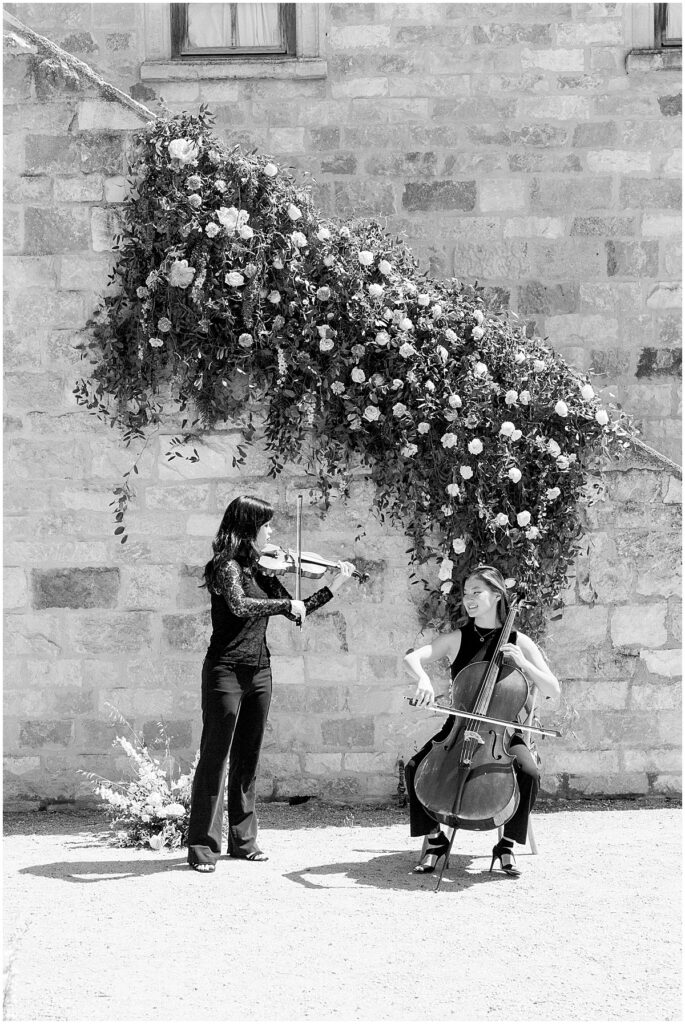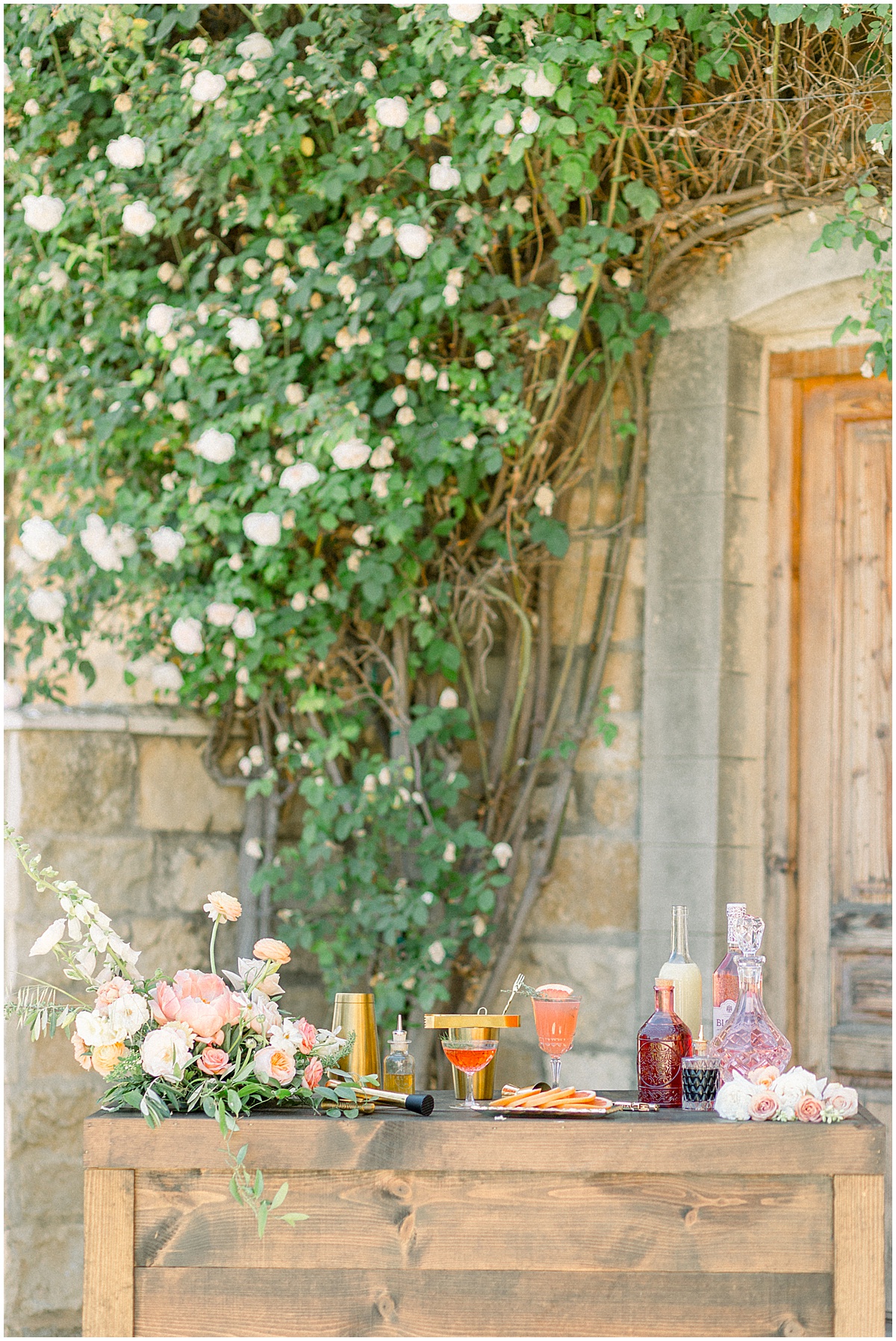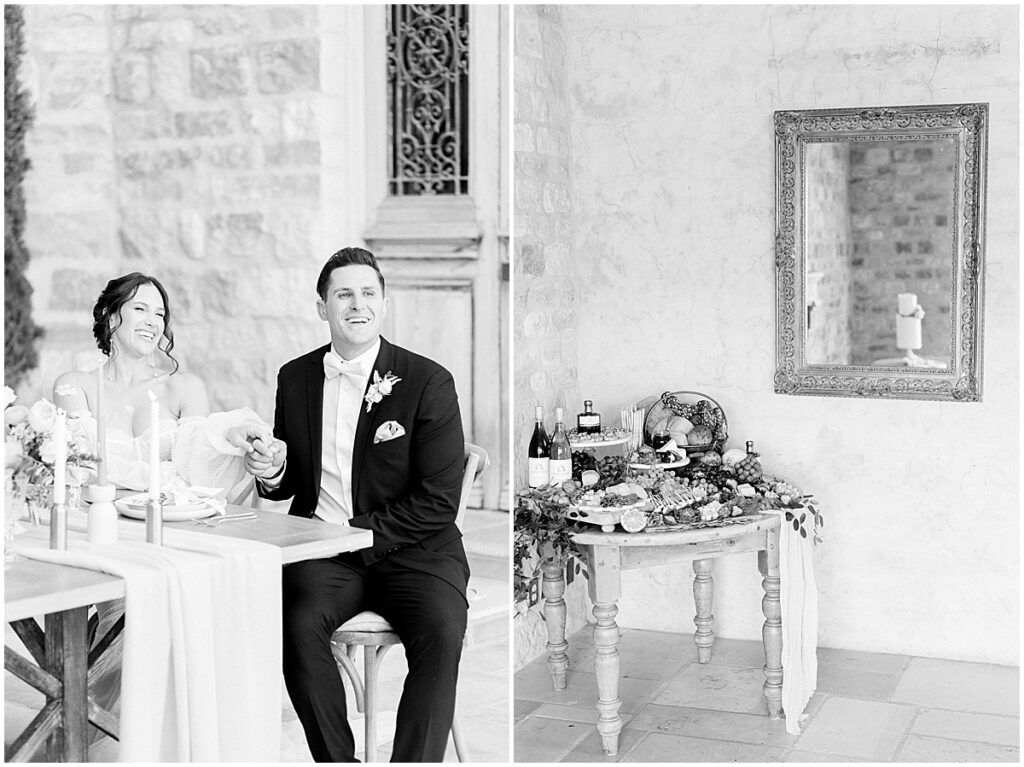 2. European Inspired Southern California Wedding Venue: Allegretto Vineyards
Nestled in the wine country of Paso Robles, Allegretto Vineyard & Resort makes you believe you're somewhere in France or Italy.
Allegretto offers all the conveniences & accommodations of a luxury hotel, while also providing an outdoor setting that will transport you to the Mediterranean. Speckled with olive trees, cypress, and curated hedges — already strewn with twinkle lights — and two arbors providing unique architectural garden elements, this venue is ideal for Al Fresco dining experiences.
You could also choose from the inner courtyard, which is filled with fountains, immaculate landscaping, and firepits that will also equally delight your guests.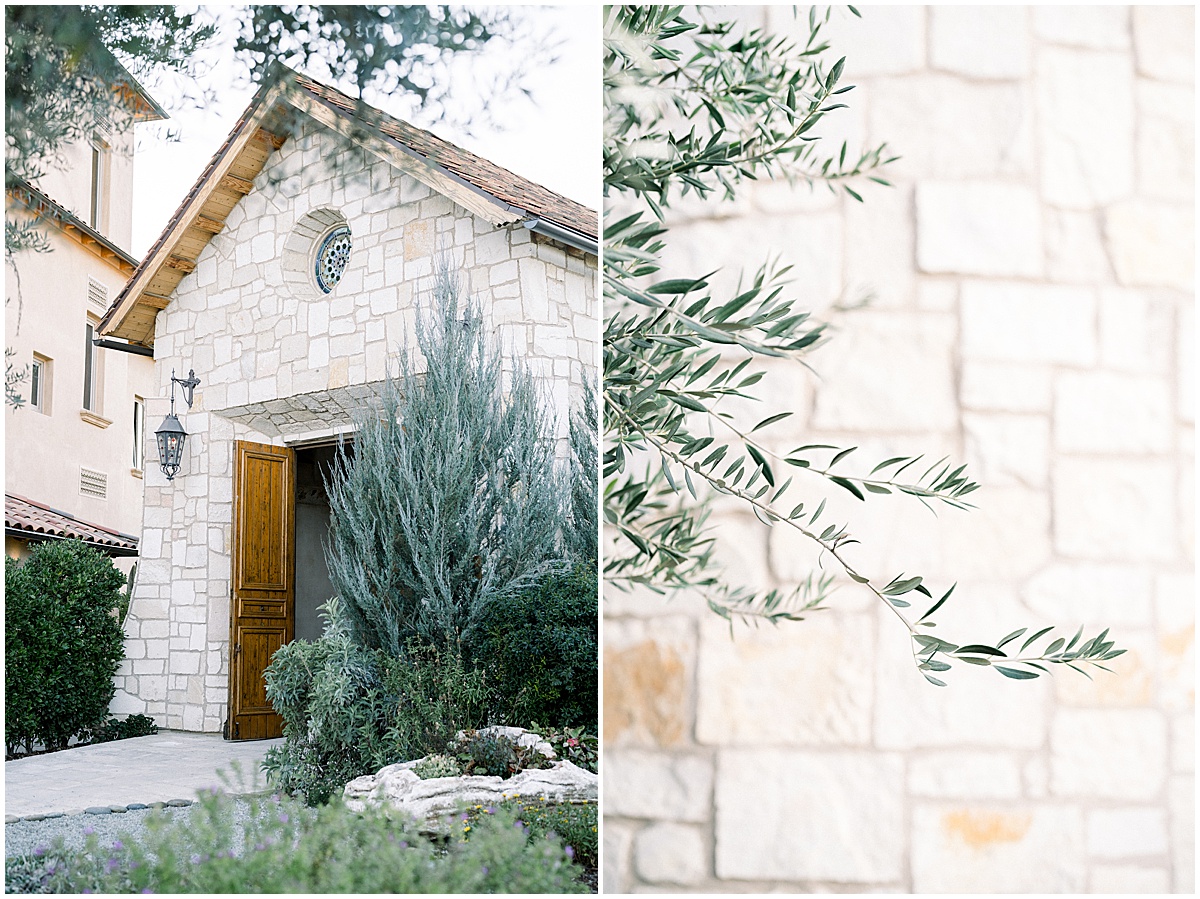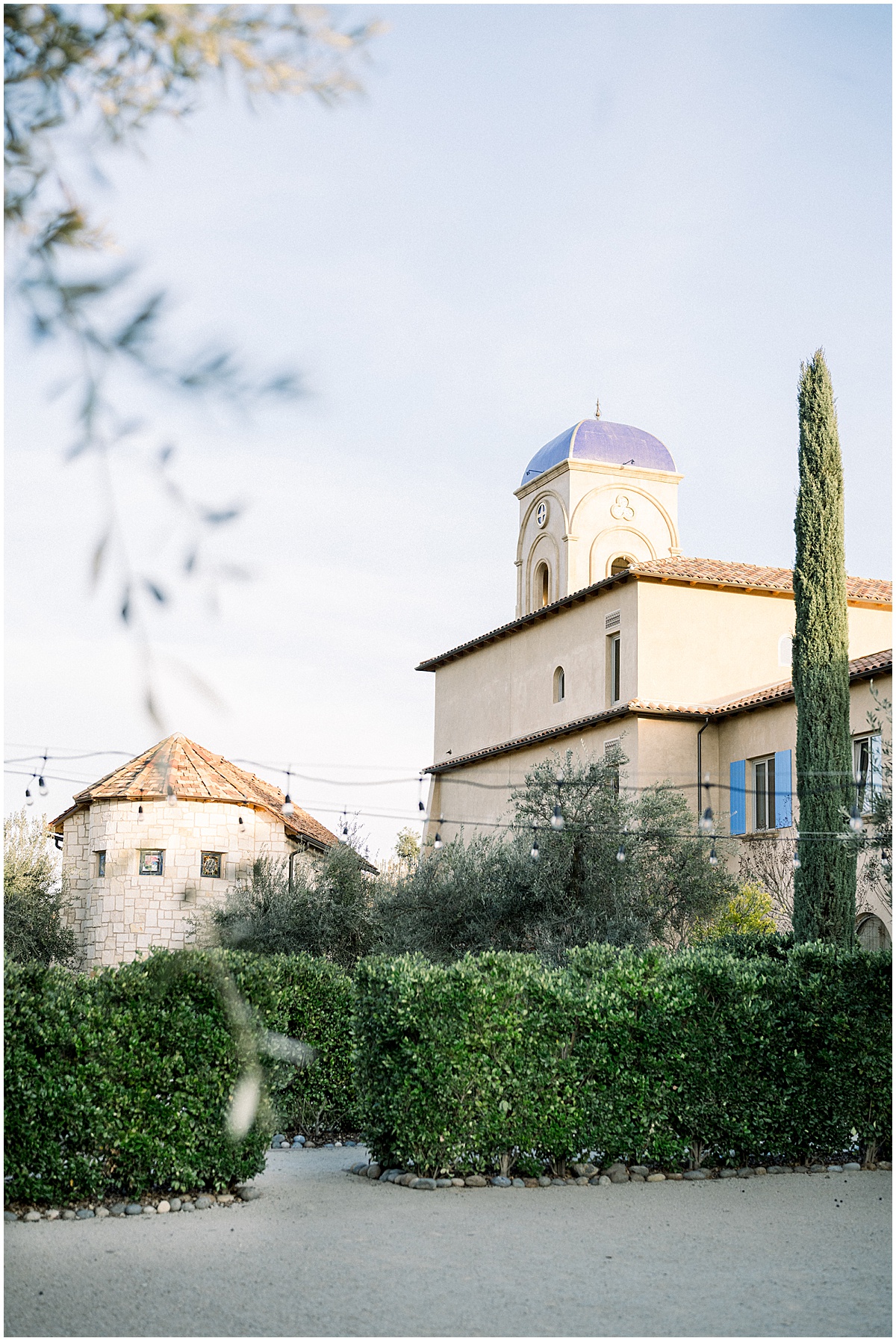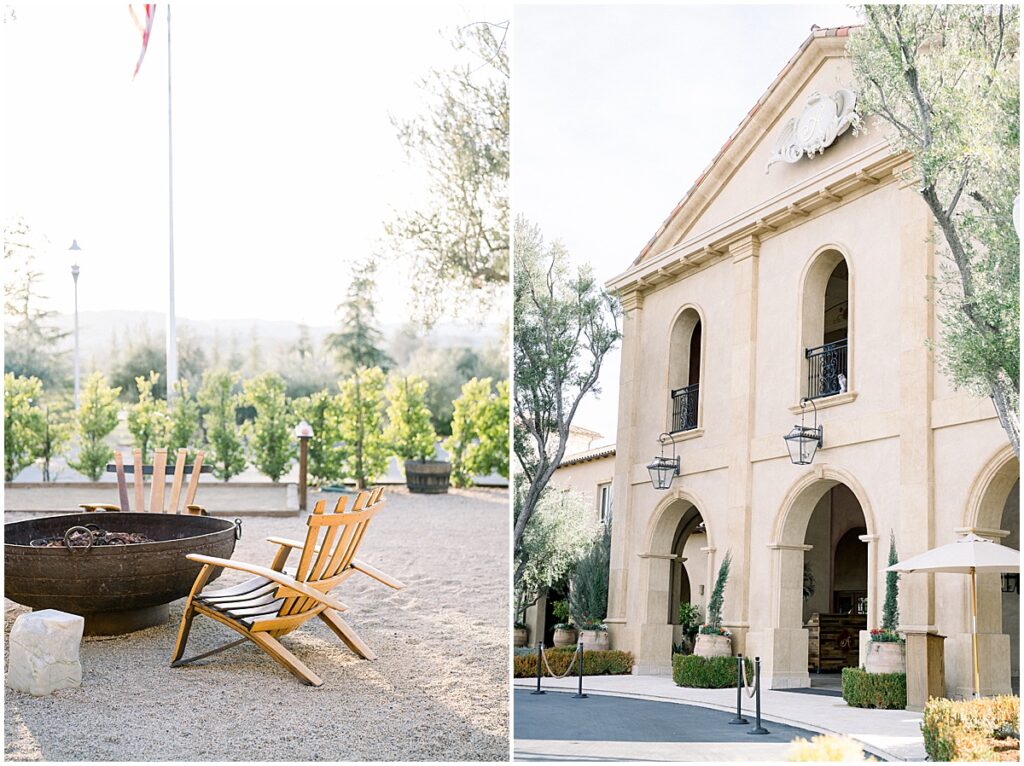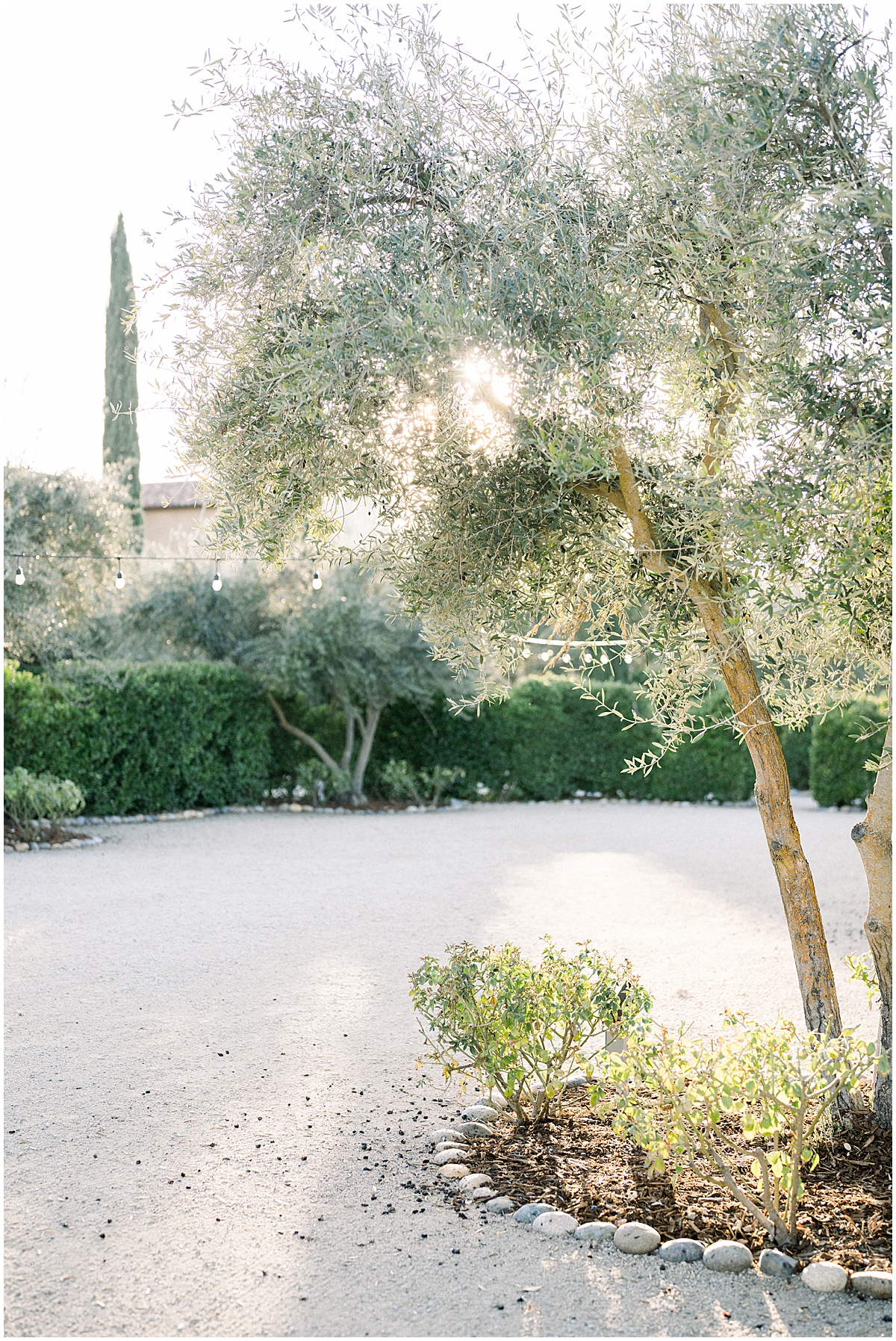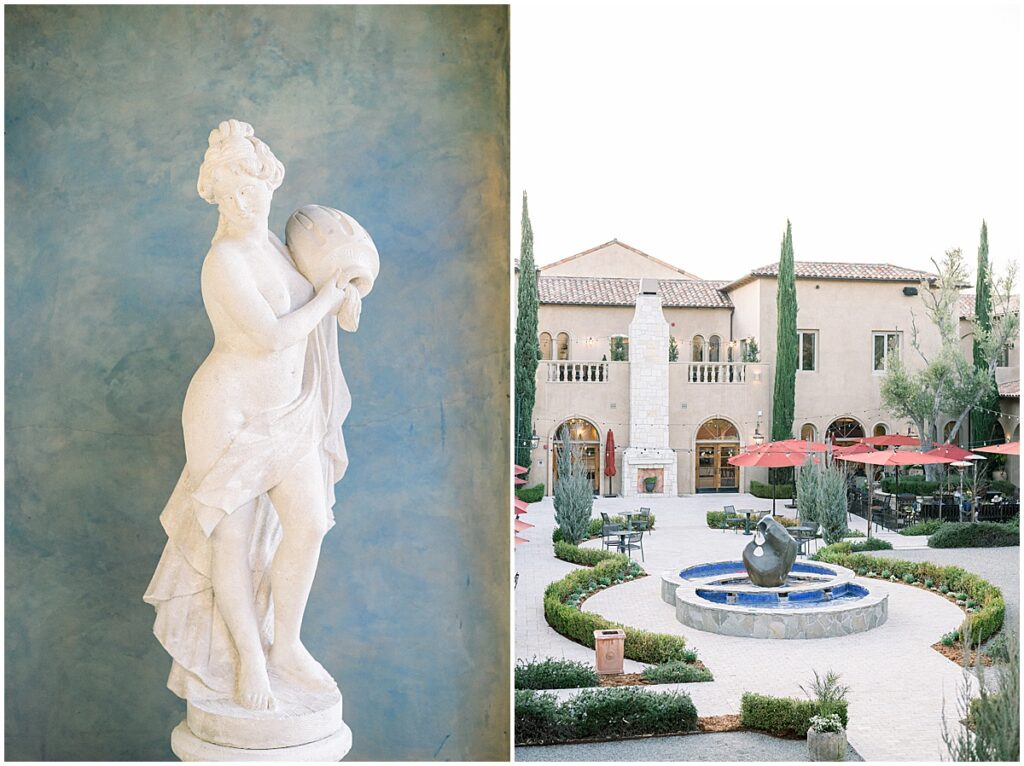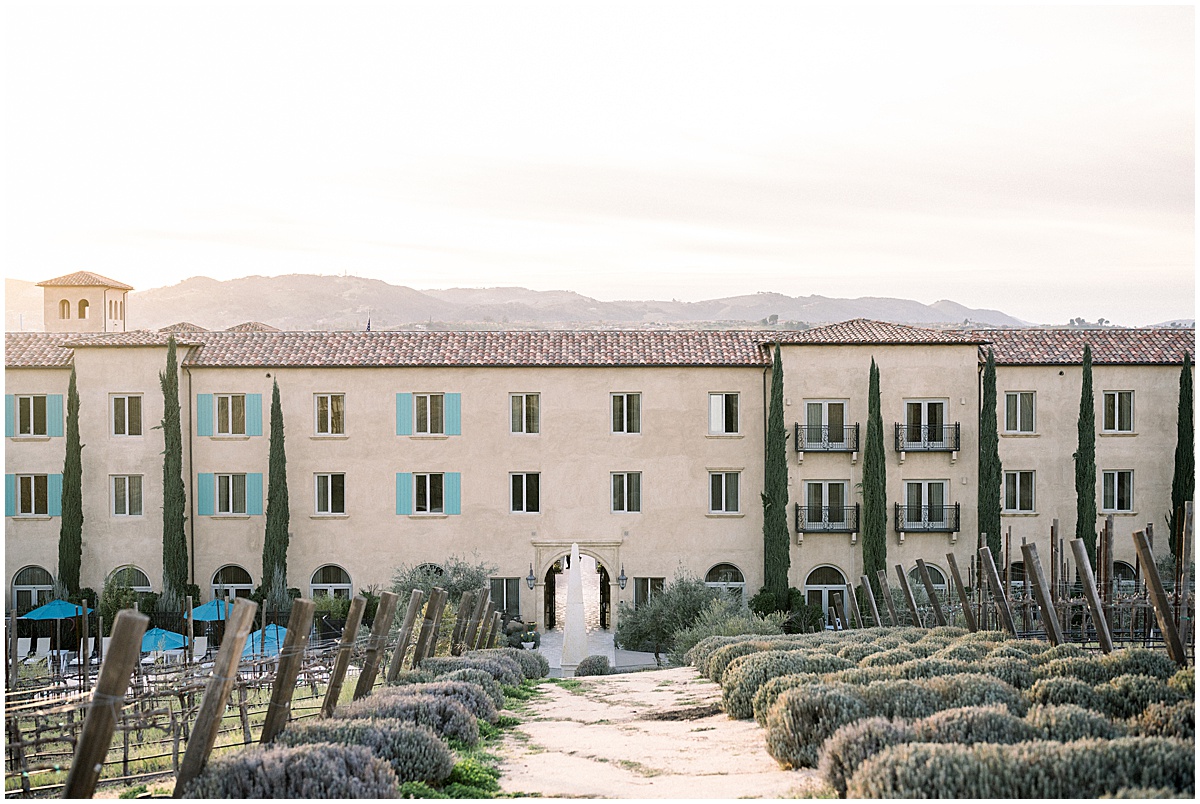 Photographically, there are several iconic areas throughout the property. For romantic portraits or a First Look, we love the Abbey Chapel or the lavender and vineyard (image above) to the east of the property.
I love recommending Allegretto for that European luxury wedding experience. It's close to the quaint town of Paso Robles – home to some world-renowned wines (always recommending & loving Austin Hope wines!) – with over 200 wineries to choose from for a memorable welcome party experience.
Last but not least, Allegretto's onsite restaurant, Ciello, provides a delicious menu for laid-back rehearsal dinners or next-day brunch experiences.
All of it is within easy driving distance from the quaint towns of Los Olivos & San Luis Obispo for other wedding weekend adventures.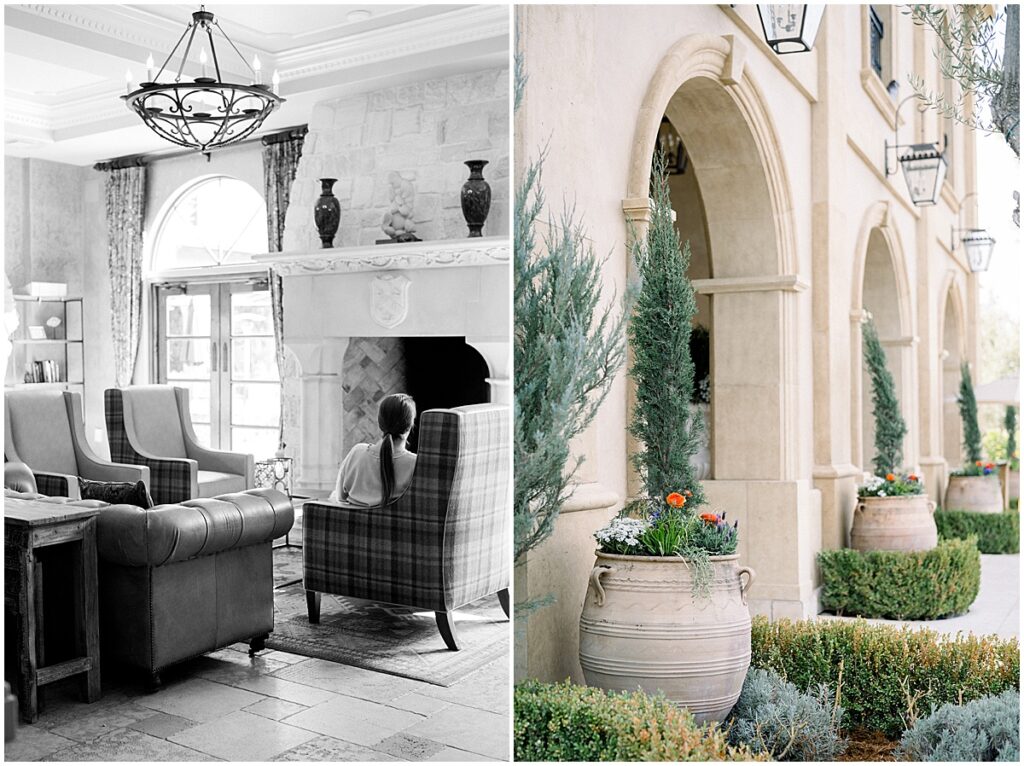 3. Private Estate Wedding in Malibu California: Stone Mountain Estates
If you're looking for a private villa, Stone Mountain Estate is the spot. It's tucked away within the Santa Monica Mountains (just outside of Malibu) with sweeping views, no matter where you are on the property. The sunsets are literal perfection just over the ridge (off to the left of the 60-foot helicopter pad) and bathe the entire area in those magical dusk tones Southern California is famous for. We love the versatility of this venue with the Italian- inspired pool, fountains, cypress tree-lined drive, and endless fun activation install opportunities.
Fun ideas for activation installs:
Synchronized swimmers in the pool for cocktail hour entertainment

Floating candles in the pool for reception

Covering the pool with an acrylic floor for your first dance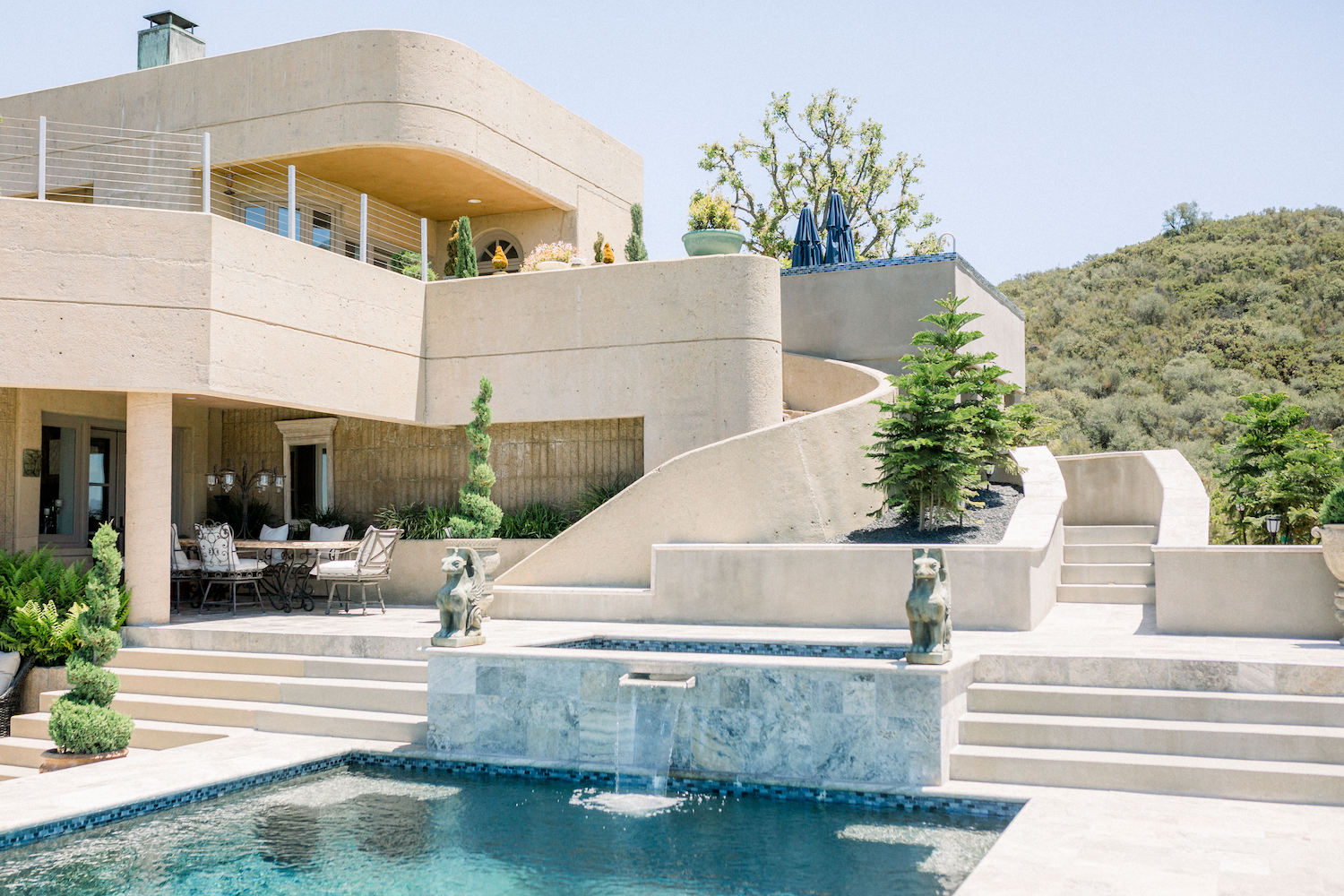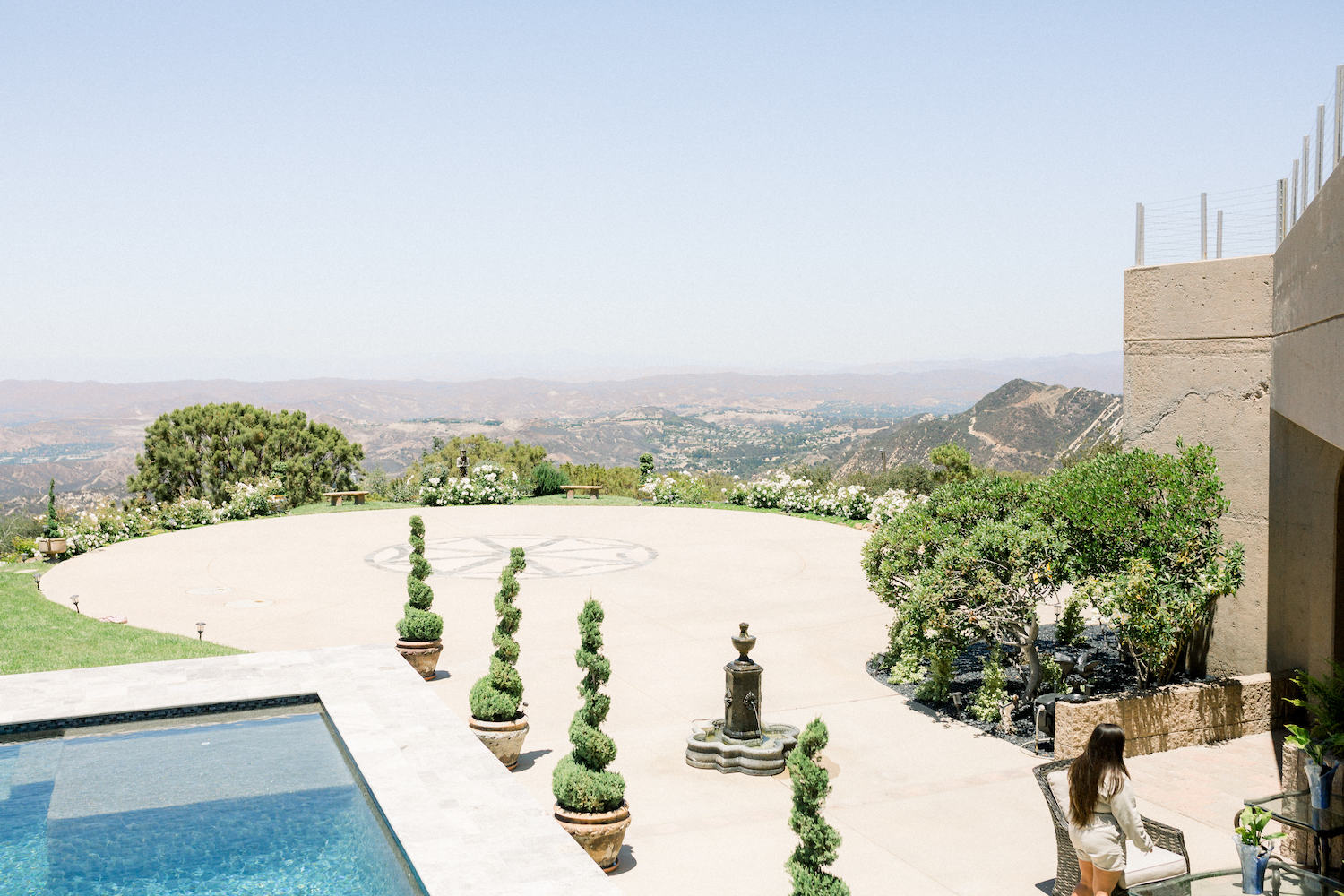 Building arbors with draping over the helicopter pad area for the reception can be a fun changeup & help with any harsh day-of sun. You can even have an intimate ceremony up on the side lawn if you want to have an alternative look between your ceremony & reception vibes.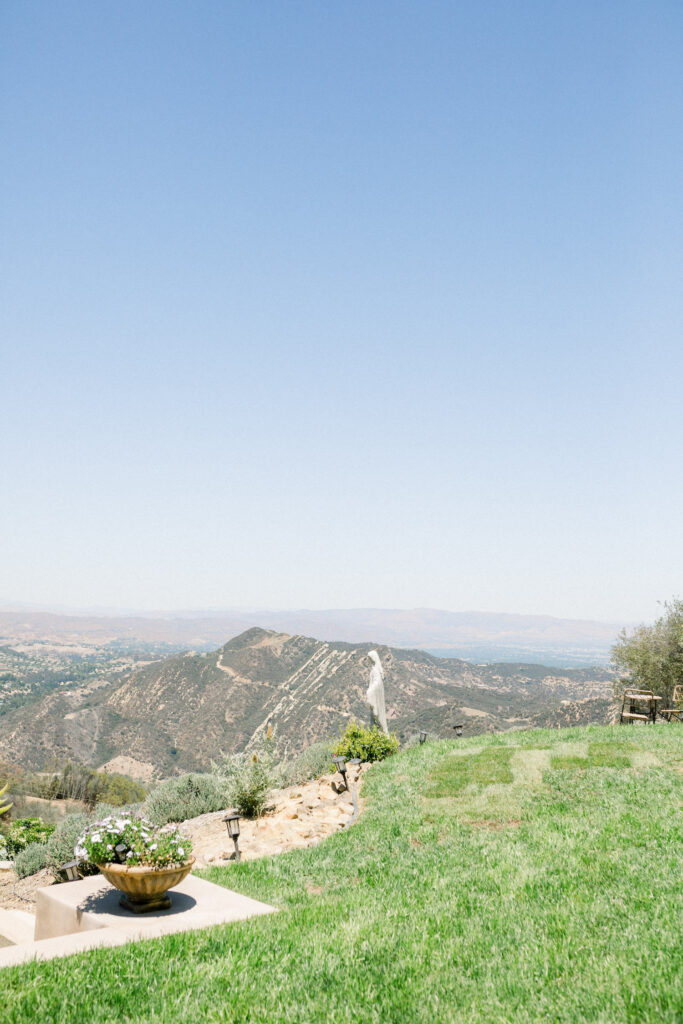 We recommended providing your guests with shade parasols and hand fans and working with a planner who is already acquainted with the venue since there can be some specific hosting requirements and tips for a smoother guest experience. We also love this venue for idyllic honeymoon imagery by the pool and for intimate dinner parties such as the rehearsal or welcome party dinners.
For a FULL venue breakdown, you might enjoy reading my complete STONE MOUNTAIN ESTATES LUXURY WEDDING VENUE GUIDE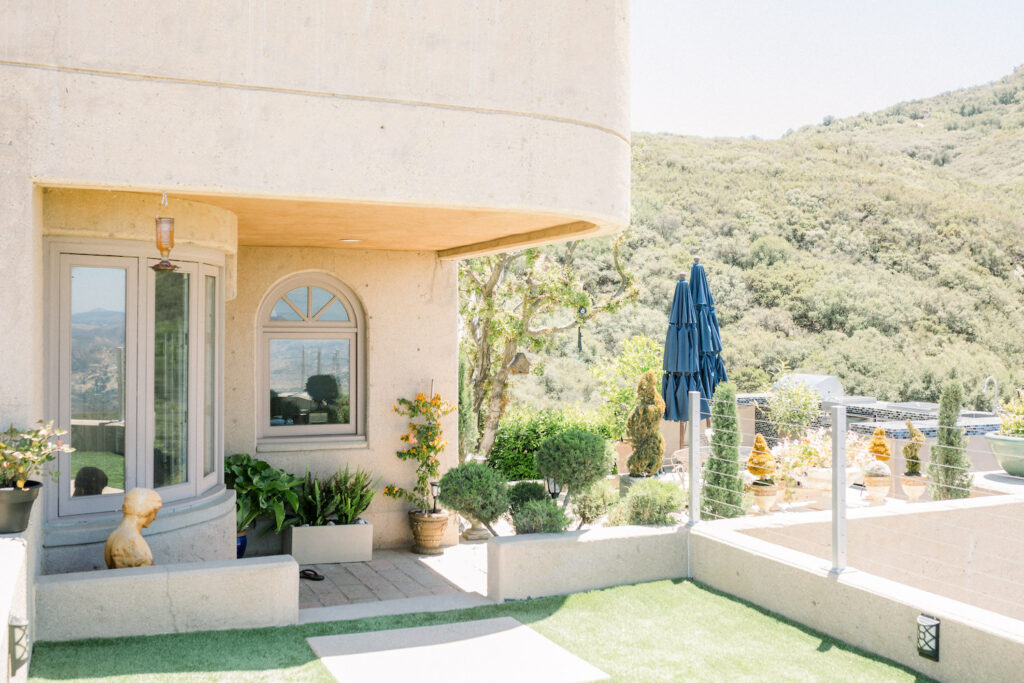 4. Intimate Mediterranean Wedding Venue in Orange County: Rancho Las Lomas
With all its gorgeous architecture nestled among natural oak forests and tropical landscaping, Rancho Las Lomas is hard not to completely obsess over. Just a short drive from Irvine (for any of those last-minute wedding errands), the venue offers that idyllic "tucked away" feeling so you can be truly present with your guests all day long!
We love that there is a separate little house for the bridal suite with plenty of space for hair & makeup and a comfortable groom's quarters near their onsite pub.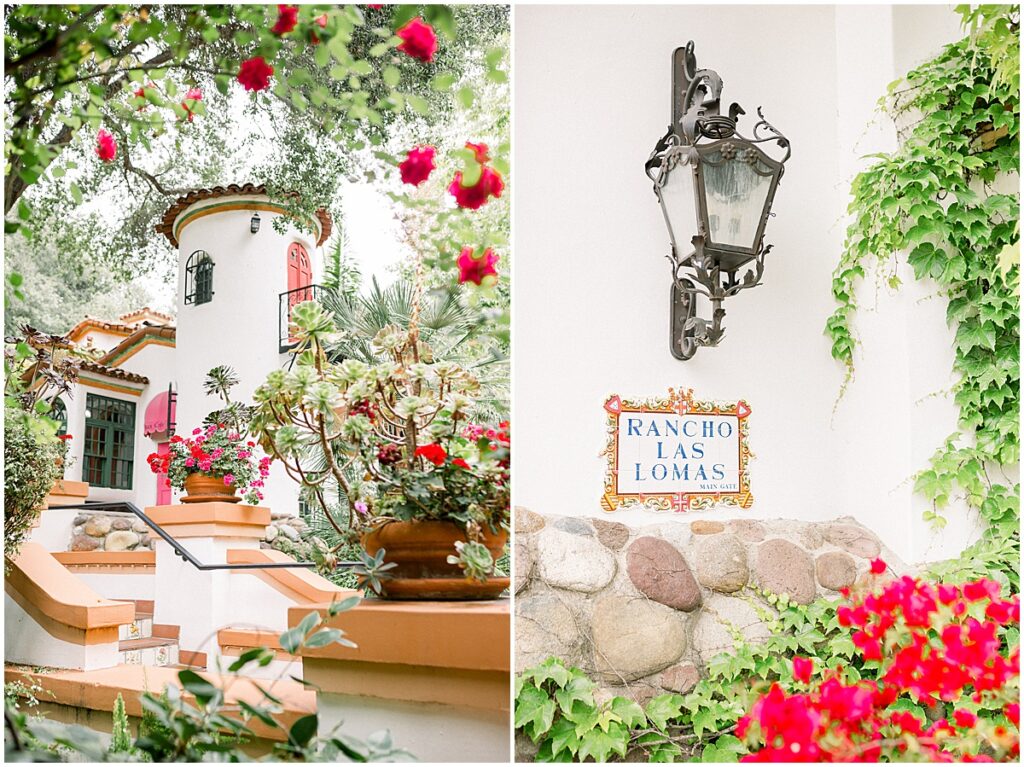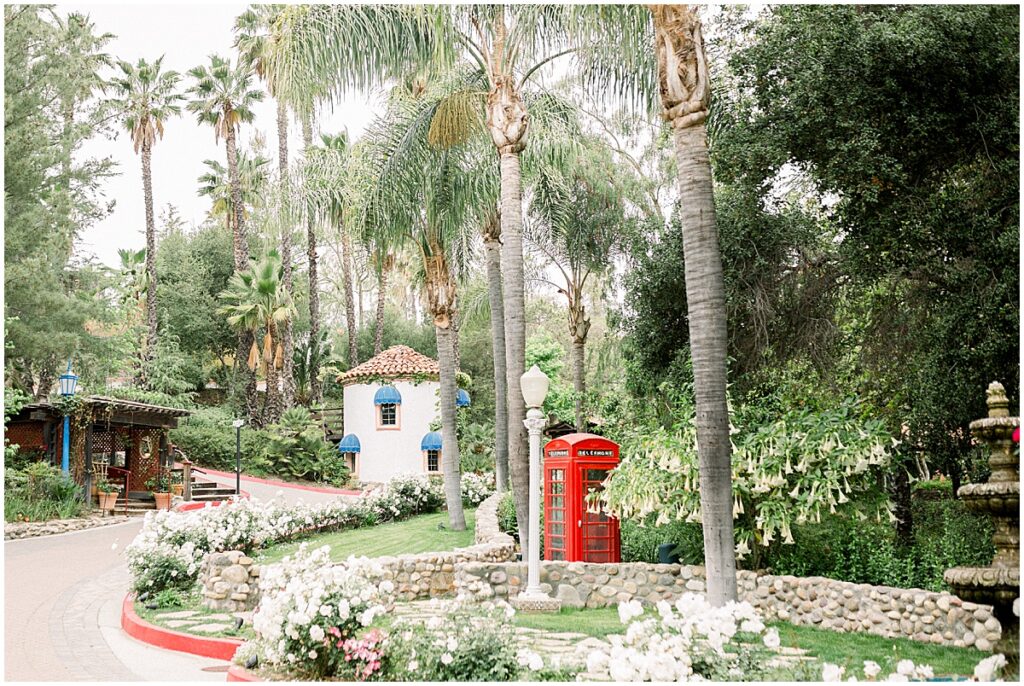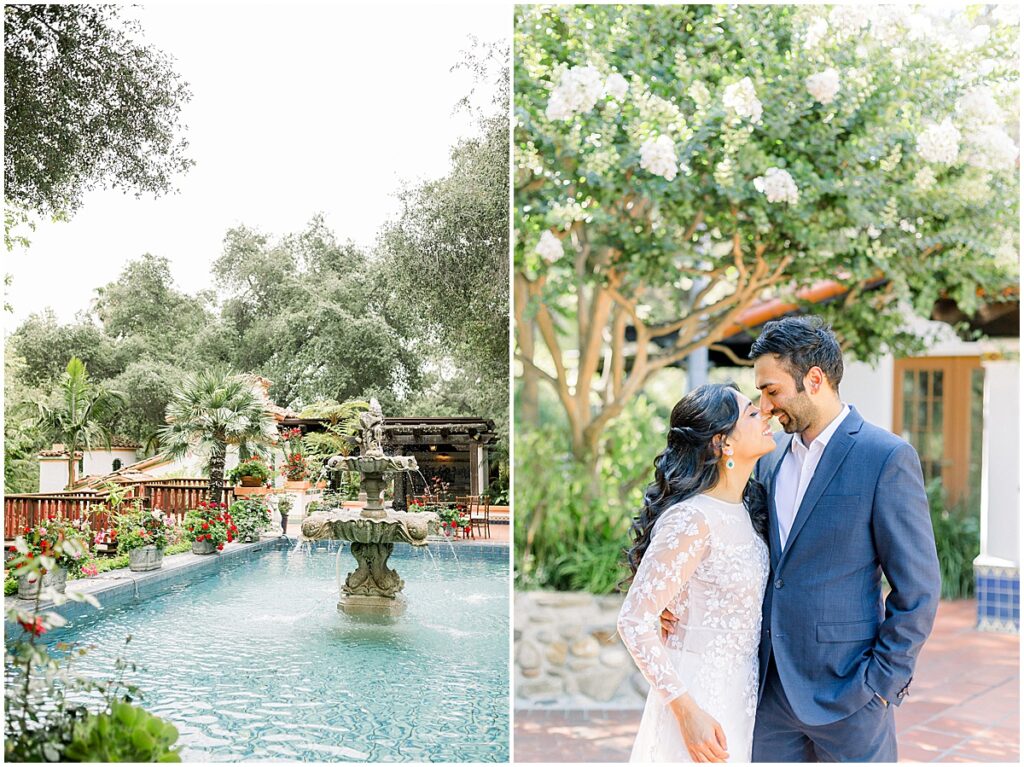 Also, with several entirely different ceremony site options, you're able to customize & personalize the design to match your story & preferences. Whether that's flipping the ceremony space to your reception area while guests mingle near the large, romantic fountains for cocktail hour or having your ceremony in the upper lot with the dreamy oak canyon as your backdrop before transitioning the party down to the main reception areas, everything is within a gentle walking distance and feels intimate.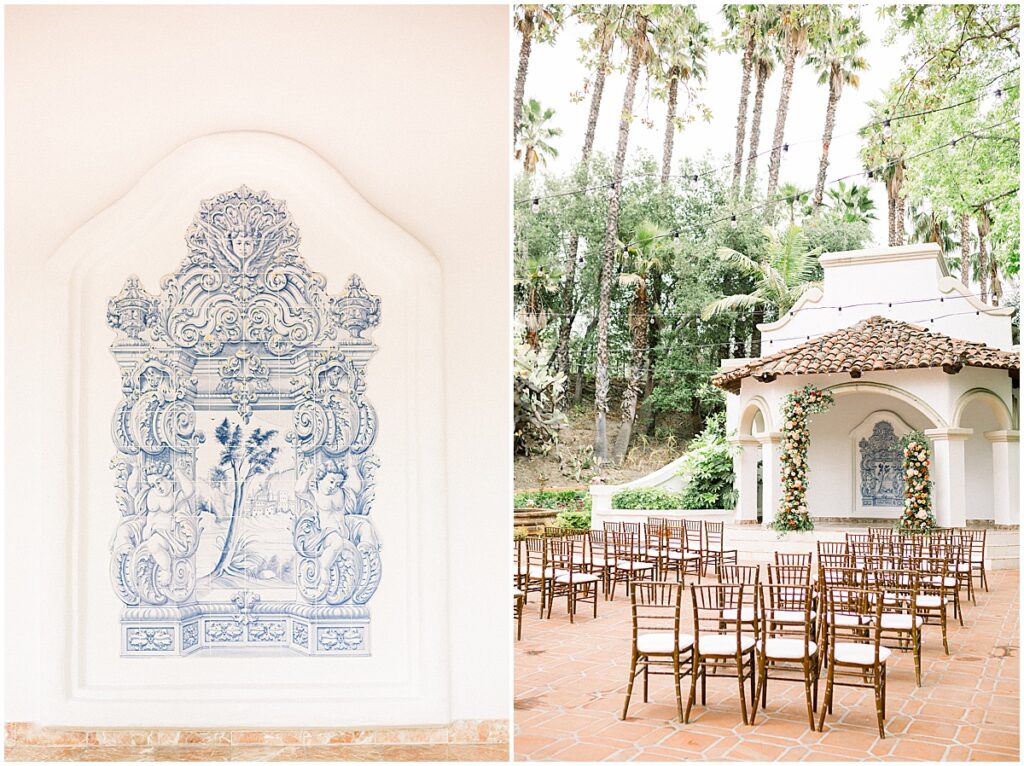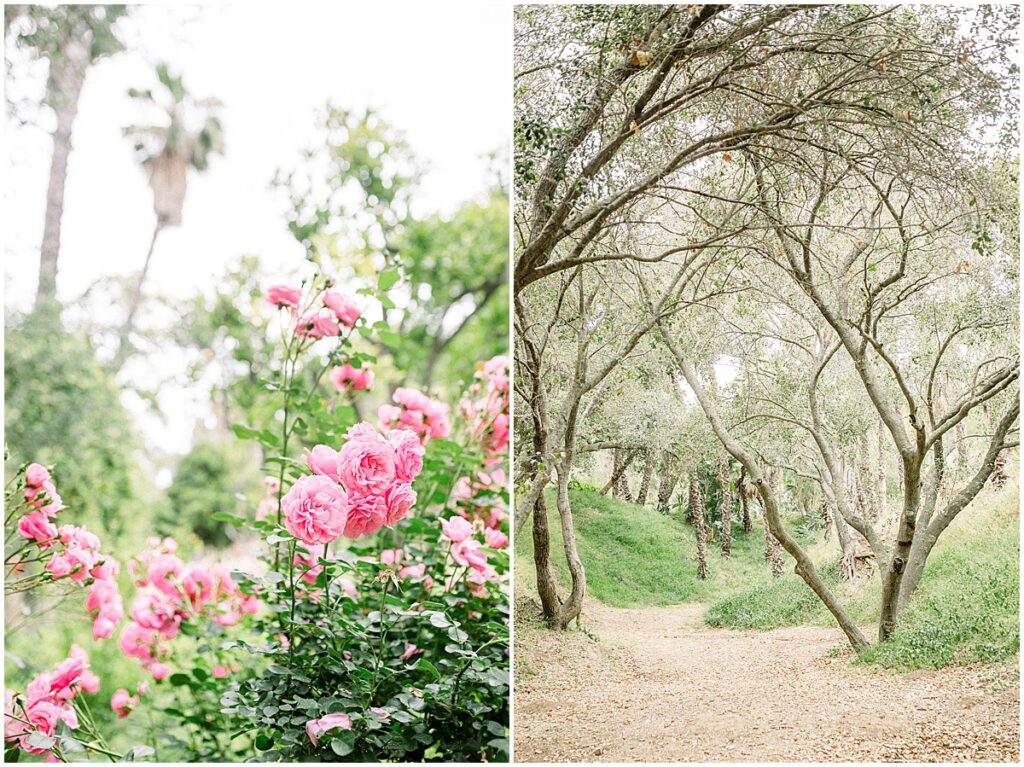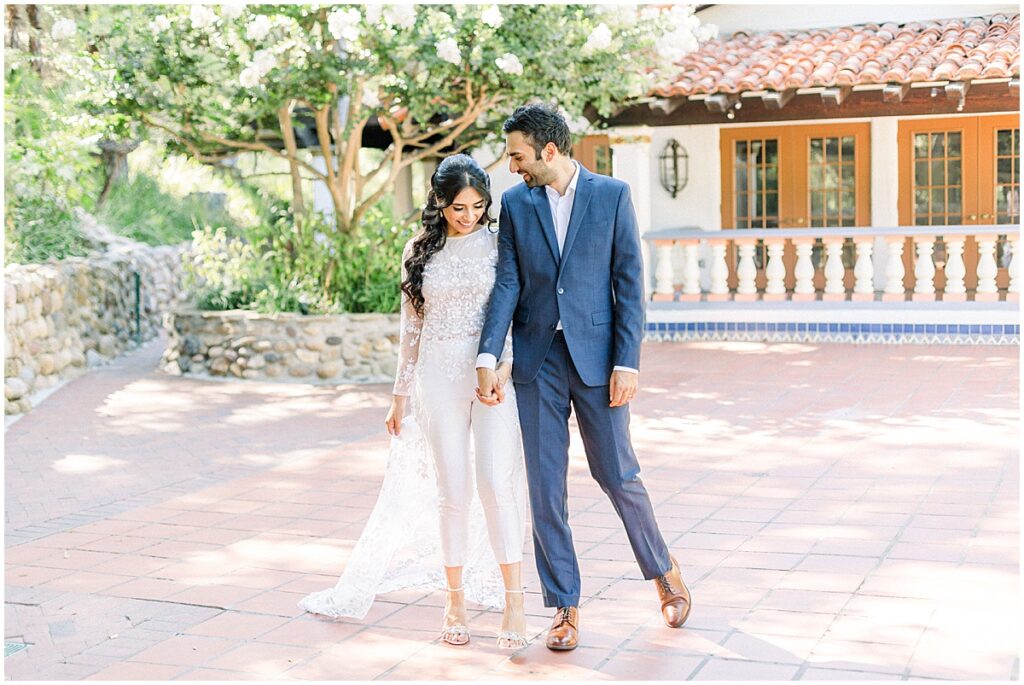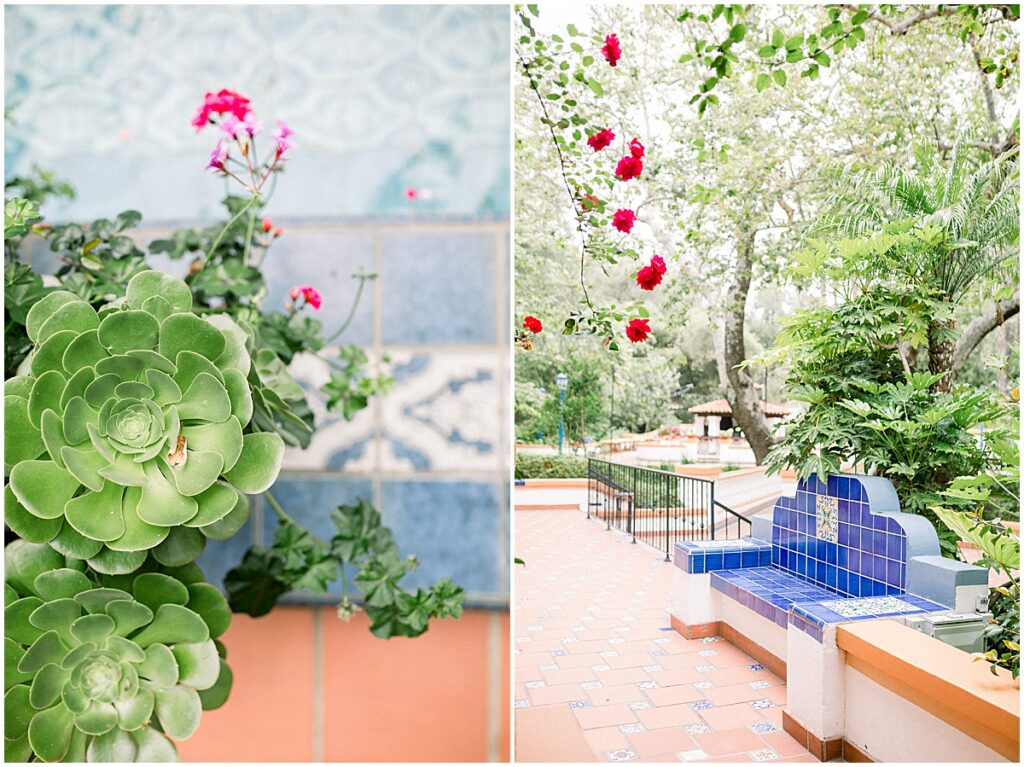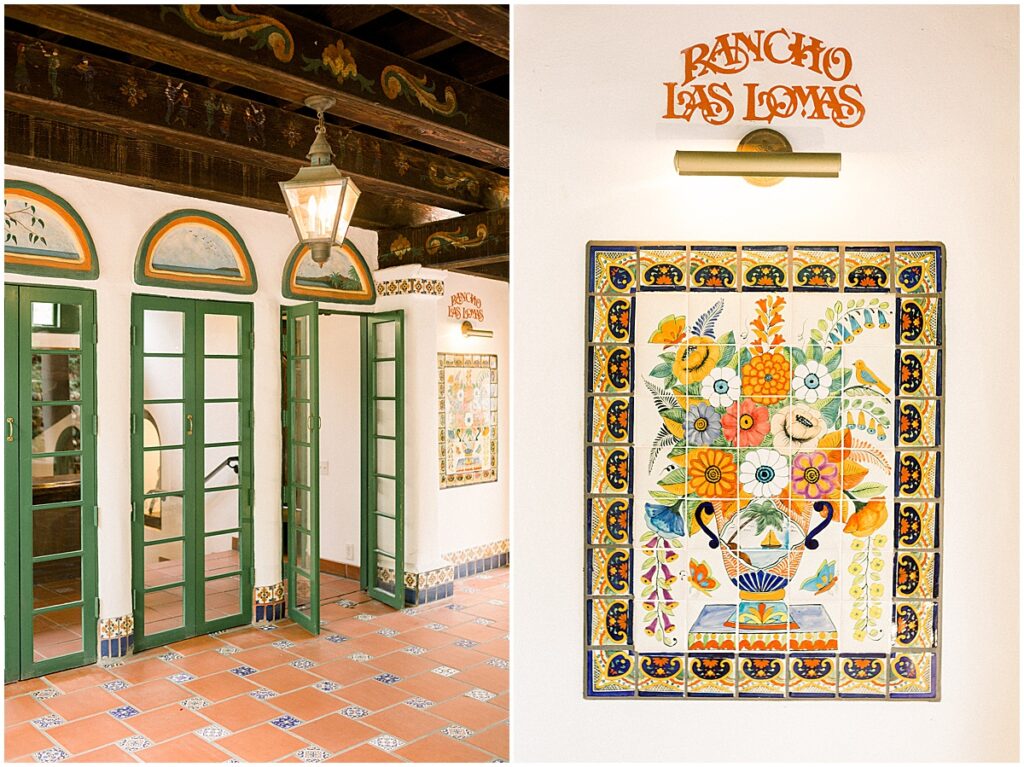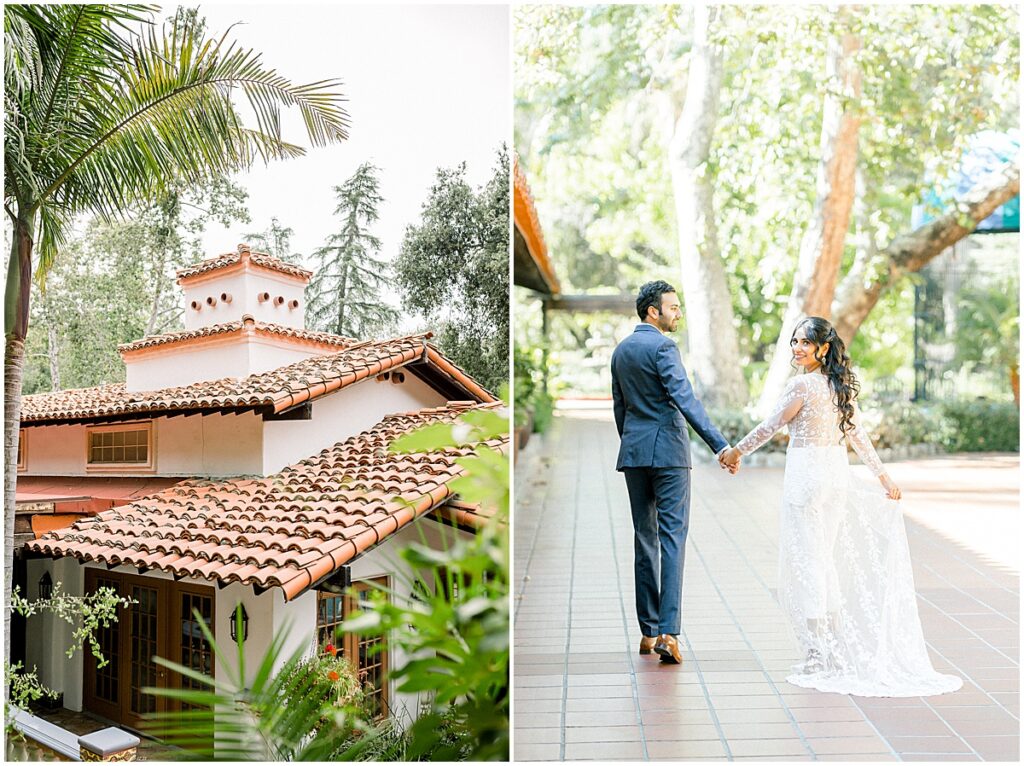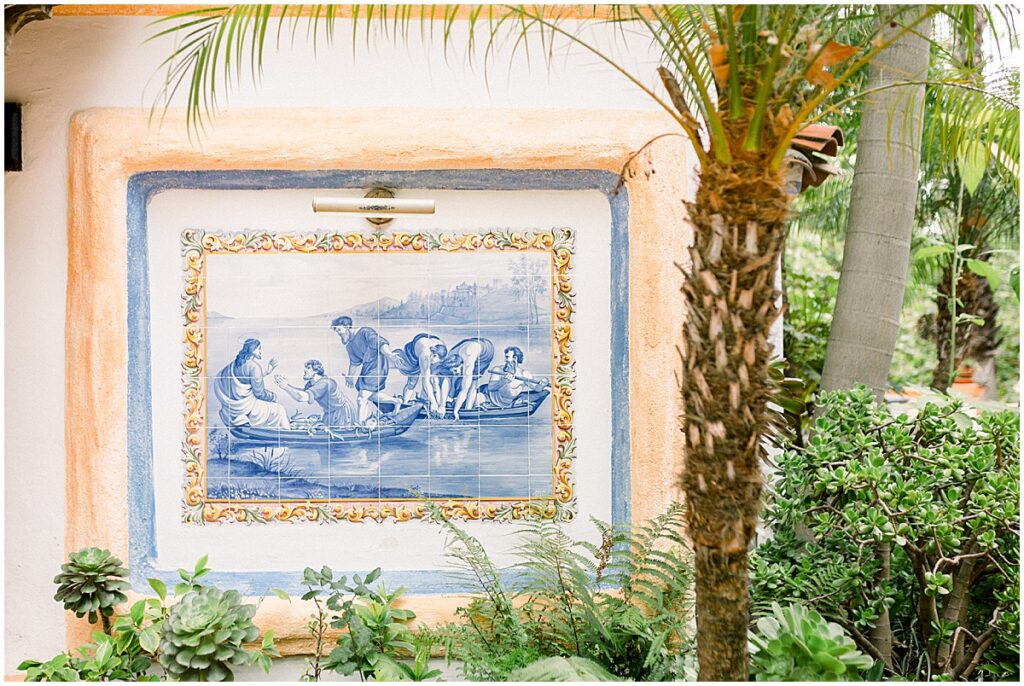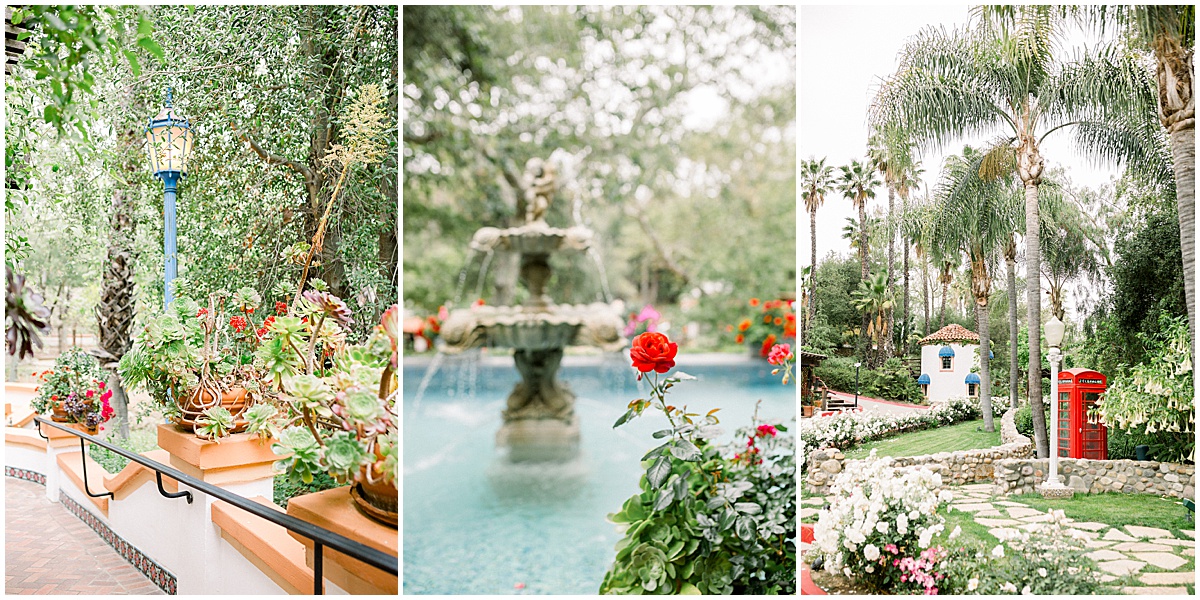 We always recommend this venue for those wanderlust romantics and elegant couples because being here feels like you've been transported to those memorable far-off places (without the hassle of a flight).
And with so many nooks, your imagery from throughout the entire day will be STUNNING, allowing you to maximize your experience & timeline needs!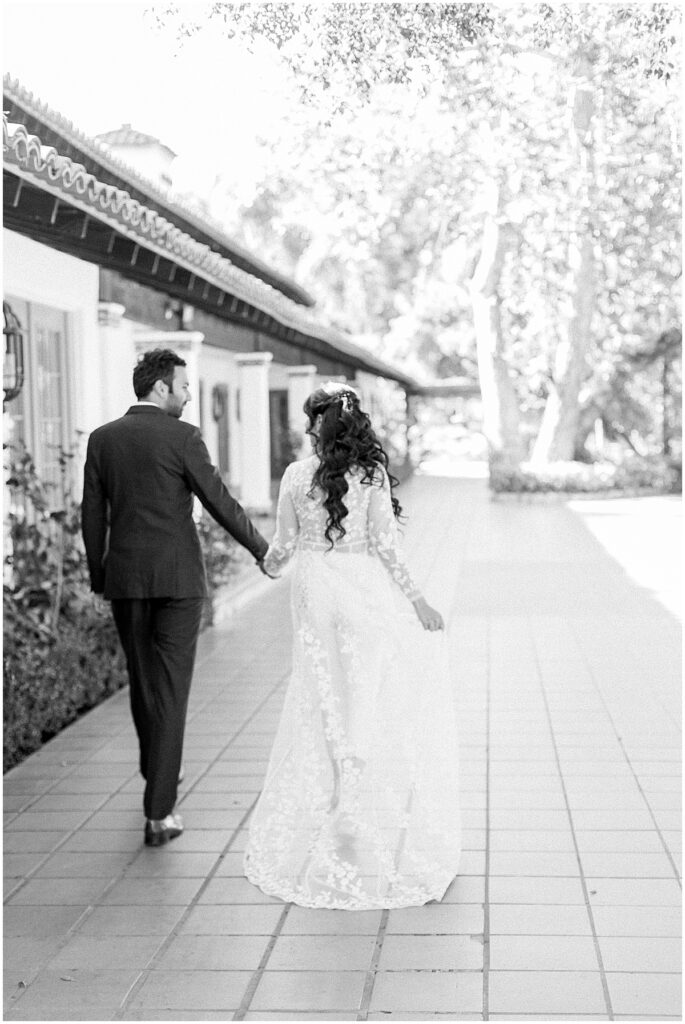 5. Old-World Tuscany Wedding Venue in Southern California: Vista Valley Country Club
Vista Valley is gorgeous upon first entering the gate. But the real magic is walking through the big wooden doors and being transported into that old-world charm ambiance. The bridal suite is spacious and well-lit (ideal for those iconic portraiture moments), and has an adorable balcony attached. With ceremony & reception sites tucked away down the hill, through gorgeous iron gates, you & your guests are set apart in an intimate setting away from any other guests.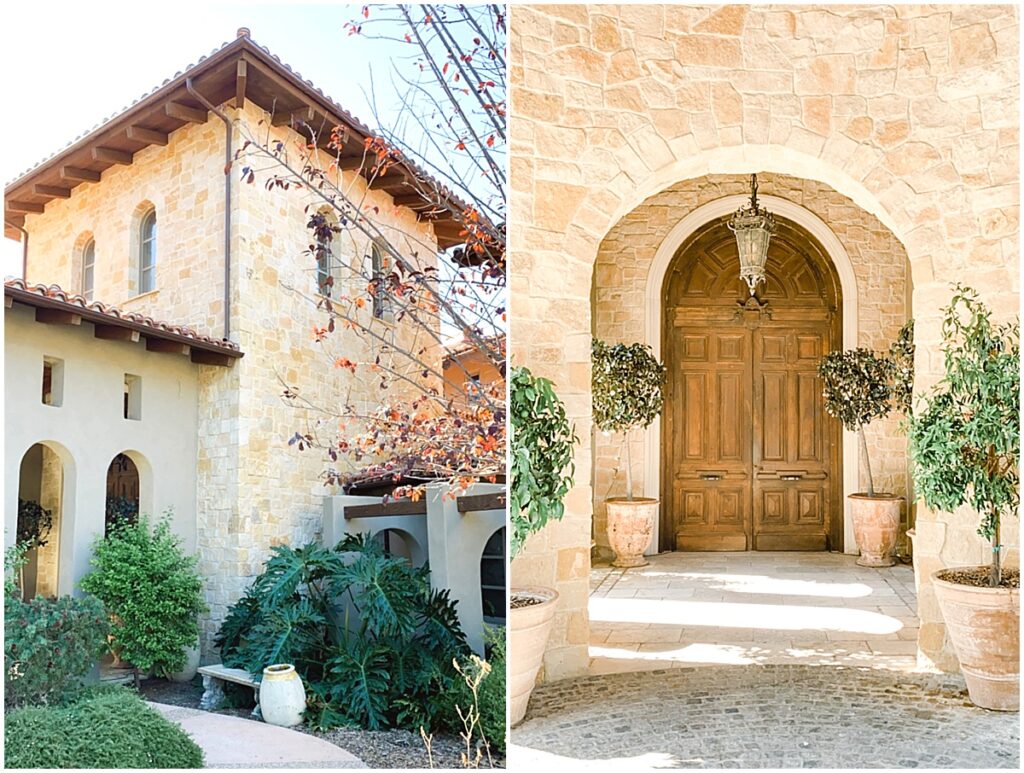 The venue does a beautiful job of providing enough architectural elements & landscaping pieces, such as fountains, arbors, and gates, to have your pick in customizing with florals and twinkle lights while not worrying about overcrowding the space.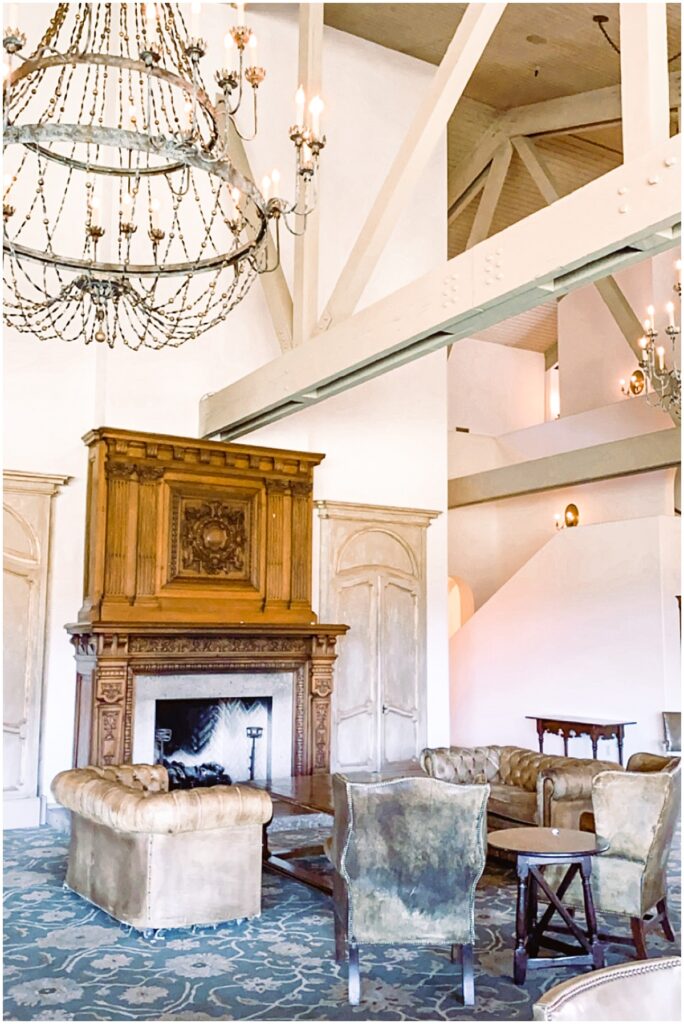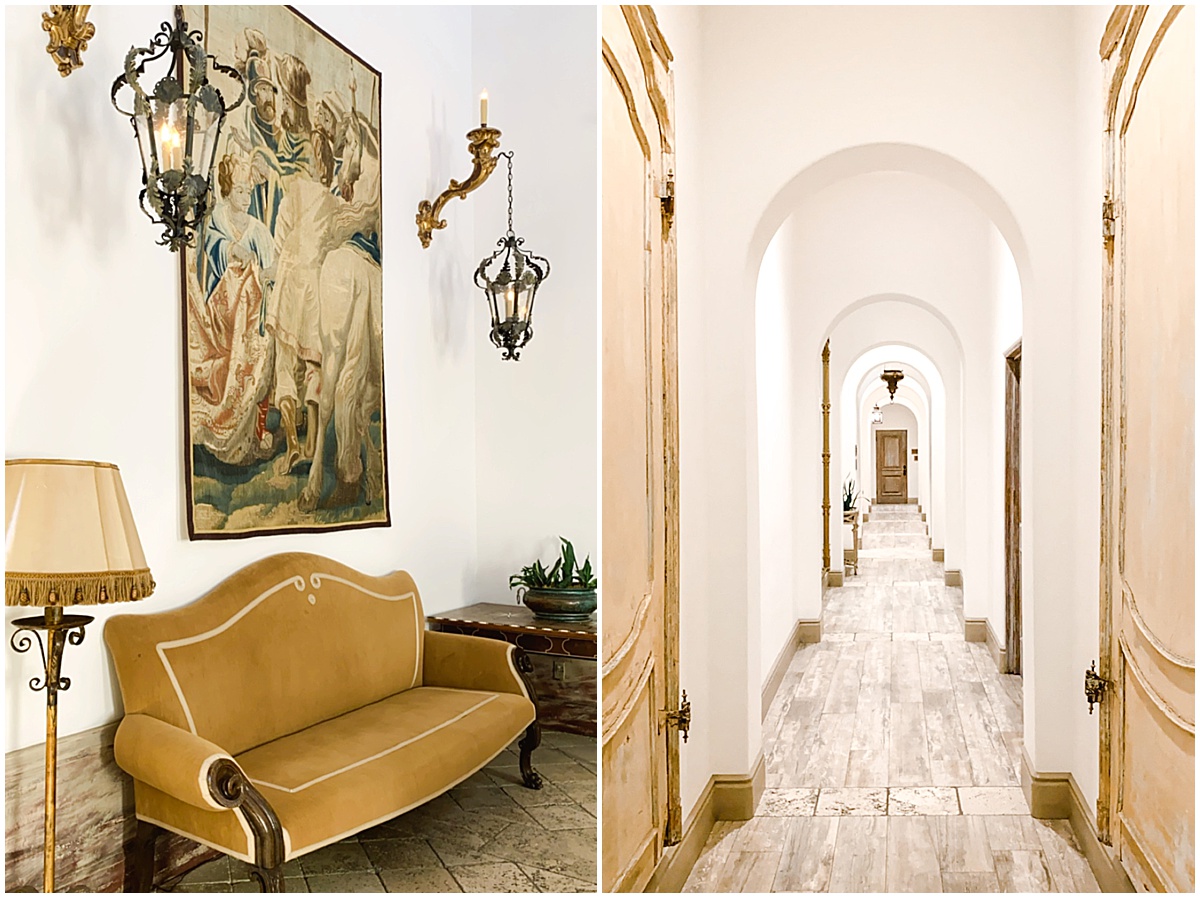 Unlike other club venues, you do not have to over-commit to any one aesthetic since everything onsite is tastefully furnished and custom design-friendly. The sun sets perfectly just over the hill in the evenings, too – providing the softest, dreamiest light for a few romantic portraits before the party starts.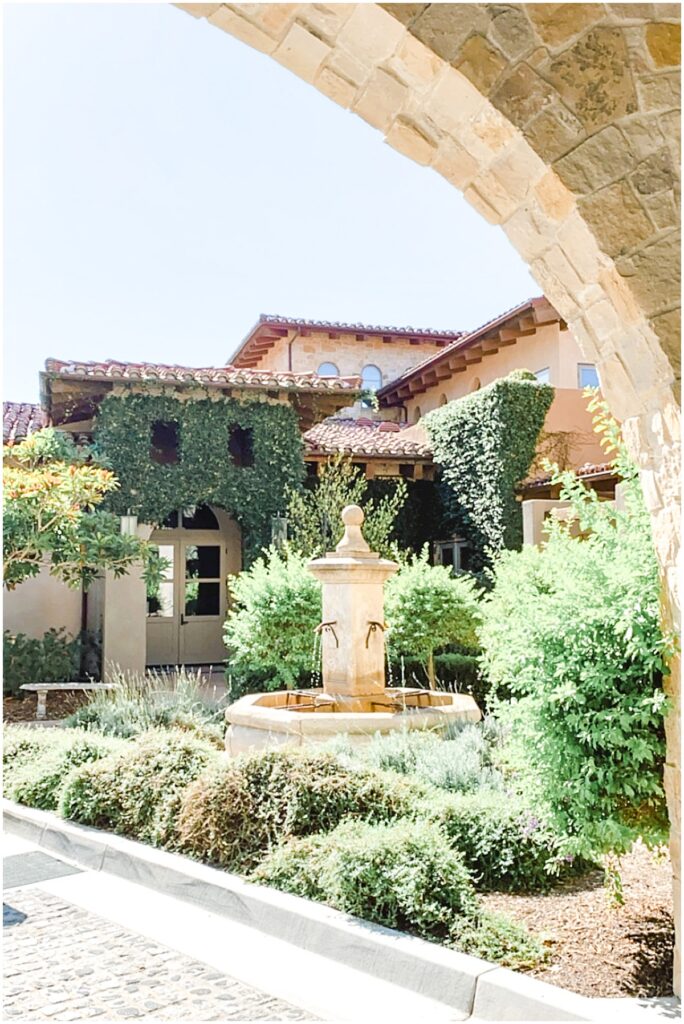 I hope these venues have gotten your dreaming & creative imagination rolling as you consider where might be best for your beautiful wedding celebration.
I'd love to connect & hear all about your vision & of course, wedding photography needs!
For a fuller breakdown + additional wedding venues, I highly recommend downloading my Ultimate Southern California Wedding Venue Guide here!
Always,
–Tara M
As an award-winning destination wedding photographer, Tara takes a relationship-focused approach for each unique wedding celebration. For Inquiring about your wedding date, please email at hello@pattengalephotography.com or inquire here for details.
DID YOU ENJOY THIS BLOG POST? PIN IT FOR LATER…