"Just because I can't go for as long, doesn't mean you shouldn't. Go. Have your own adventures."
I stared at him, not sure what to do. My heart, conflicted, leapt up inside me. A part of me soared at the idea and the other? Straight up quailed.
But what if I can't carry everything? What if someone robs me? "Pack lighter," he smiled.
But what if someone else won't go with me – I can't be alone in a foreign country? "Go anyway, we can research. Stay with friends. You'll be fine."
But what if I get totally lost? "Learn how to ask, 'excuse me, do you speak English?'"
So much of this trip had so many fall-through-the-cracks-moments. Most are quite laughable. Each one taught me something:
I had one very real, "put your big girl panties on and figure it out," moments. Which commanded more independence of myself. And no, I didn't die or anything. I was just without a proper form of money for about 3 scary hours. On a Sunday with no businesses open who could give me cash back. With a dying phone. And my husband & local contacts not answering for a good 2 of those 3 hours. So I walked around and was just fine. 
I saw places like I had never seen. And a good many others that were comfortingly similar to my favorite US cities.
I read a lot of blogs prior to going and joined a few female solo traveling facebook groups as well. All of my research ended up being immensely helpful & applicable. And yes, I'll be blogging my own travel tips & lessons learned (throughout the upcoming months) in hopes of helping someone out like I was.  😉
Anyway, I won't keep you here for ages. Rather, I'll strive to be detailed enough so as to not sacrifice the integrity of the moment but also thoughtful to the respect of timing & post length.
If we were out to coffee together, and you've asked me how Europe was, the following is what I'd share…
(photos on iPhone & camera)
England: Days 1-5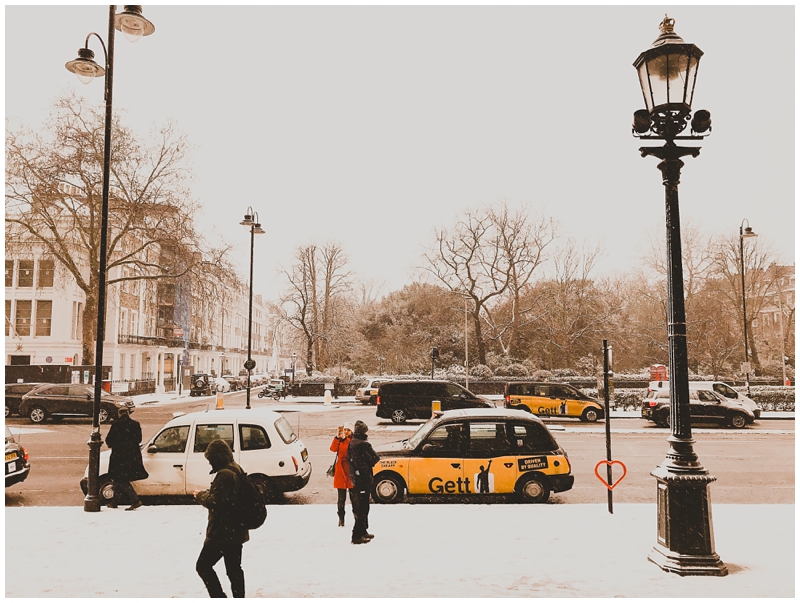 Traveling Abroad, Part 1
London, England:
Why & Who: Meet Sophie. A girl whom I had never actually met in person, but had invited to my wedding. Yes, you read that correctly. Also a girl who, upon locking eyes with her as I exited security, we both teared up with joy. We had a mutual friend that brought us together and like you do with any good friendship, you share. Life. Experiences. Stories. Face-to-Face. And despite that mutual friend no longer being with us, there was immense joy in adventuring together. I stayed with Sophie at her darling flat for 4-5 days.
Where: All over London. To Windsor. And then also to Brighton.
Least Favorite: Upon being in England for less than one hour, I slipped and fell on an icy sidewalk. For a good while, I thought I had legit broken my elbow.
Favorite Moments: Roadtripping to Brighton and having the best brunch, view of the sea, and just listening to everyone's accents in the cafes. Seeing Windsor Castle & Westminster Abbey was also dreamy and made my wedding-photography-royalty-obsessed-self melt into a little puddle. Then honestly? Just having tea, wrapped up in a blanket at the flat. When you've just met your "long lost friend," there's 20+ years to catch up on.
This guy. The epitome of "you do you" making the world a better, happier place. He played along to 1930's big band and as he did, fire came out.
Also seeing Shakespeare's theater, the Royal Palace's unicorns, and then spending a few hours inside of the Victoria & Albert museum was not only a fascinating glimpse into all kinds of history, but a lovely reprieve from the blizzarding.
On one of the days, I also met up with some fellow entrepreneur girl-bosses for a day of exploring & collaborating on brand photography for each of their businesses. It was so humbling & refreshing to have made new friends who shared similar business interests & fangirl over the same "industry experts."
Brighton, England:
Old English meets bits of hipster. Being the Jane Austen nerd I am, I kept saying "to Brighton!" and "The sea air will do you good, no matter your ailment," in my head. Fact: I really have only read historical fiction novels. So yes, I live in constant Mr Darcy land in my imagination. No shame. The Royal Pavilion, built for King George IV, massively intrigued me with it's Indian design & gorgeous spires. Apparently it was the Family's summer home and features a western interpretation of Chinese & Indian interior design (King George never visited China or India himself, but was obsessed with the "idea" of the exotic cultures) on the inside. Confession: I didn't know what it was until after leaving and therefore missed out on taking a tour. Next time. 
Windsor, England:
Windsor was absolutely beautiful but honestly sooooo similar to Richmond, Virginia in aesthetic. Which makes sense that we would copy such lovely architecture. *wink wink. The main highlight though? Windsor Castle and walking along The Long Walk where the Royal wedding will soon take place (which I'm freaking out about!). *all the praise hands here*
The number of laughs & deep conversations shared are what I hold most dear from visiting this city & country. Photographs just can't do those English accents justice. And while we speak the same language, I'll leave you with these fun words & phrases:
Bucks Fizz = Mimosas
Jumper = A nice, cozy sweater
A Lie In = You slept in
Slip Road = An on/off ramp (like on the freeway or interstate)
The Boot = Car Trunk
Take Away = Carry out food
Porridge = Oatmeal (that is actually appetizing)
Shattered = Exhausted
A Natter = …..can't remember
Golly = O.M.G.
Part 2 (coming next week) features France & Belgium. Prepare yourself for some breathtaking cobblestone streets & crazy old buildings. I'm pretty sure I died at every corner.
Always,
–Tara M
Locations & Places:

The City of London: West Kensington, Fulham & Hammersmith. Britannia Pub. The Sky Garden (Walkie Talkie Tower). Chelsea. Southwark & Borough Market. The Victoria Albert Museum. Somerset House. Covent Garden & Waterloo bridge. Tate Modern (Monet's Water Lillies). Westminster: Westminster Abbey, Big Ben, Parliament, & St James Park. Buckingham Palace. Knightsbridge: Harrods. Notting Hill & Portobello.   HTB church at Onslow Square.
Brighton, England: Trading Post (brunch & coffee). The Royal Pavilion.
And then onto Ascot & the racecourse.
Windsor: Windsor Great Park, Windsor Castle and The Long Walk.