The breeze blew gently. Squeals of laughter from play in the fountains rang out. The iconic St Louis Arch flirted in the background. And the cutest corgi pup that ever did live made his modeling debut. City Garden, in downtown St Louis, flaunts the perfect mixture of city atmosphere with some gorgeous curated gardens.
Meet Allie & Clayton.
A couple full of zest, obsession for their fur baby Rex, and two people who have their priorities straight: loving each other well.
We were so thrilled to celebrate with these two for their downtown engagement session a few weeks ago. AND YAY, Allie & Clayton wrote out their hilarious love story for each other (surprise, they haven't read each other's perspectives until now)!
Enjoy!
If you're on desktop, listen while you scroll.
"Would you believe me if I told you the first conversation the man of my dreams and I shared was about chicken fries and their respective sauces? Yeah, me either… but it still makes me blush to this day.
It was just that—the silliness, relaxed and confident mentality that Clayton exhibited from day one that had me realizing pretty quickly that we had something special going on. It was these qualities, and too many others to mention, that made me immediately understand what was missing in my life. And how full I could feel sharing a life with a companion like Clayton.
"We met over Bumble, an app that, after talking much further into our relationship, we were both at our wits end with.
It was a chilly, dreary, wet March evening (March 6thto be exact) that drug us both out to the Central West End.
Clayton, the true gentleman that he is, insisted on waiting in the rain outside for me. I insisted via text message prior to arriving that he wait inside for me, but to myself I was thinking, "wait a second, men like these still exist?!"
We spent the whole night talking about every topic imaginable—the Cardinals, his infinity for Bud Light, and my obsession with Corgi puppies (two years later, and we got one of our own!). I still vividly remember how I felt immediately after. My cheeks hurt from laughing and smiling so hard.
My mom and dad are the epitome of a perfect marriage in my eyes – married for 23 years before my dad passed away in 1999.
For so long she told me that the thing she cherished most in her relationship with my dad was humor and laughter,
and that their marriage was built with a foundation of love and laughter.
I immediately wanted to call my mom, but it was way past her bedtime. 😉 I needed to tell her that I thought I finally understood what she meant,
and how excited I was that I may have finally found that for myself.
The past three and a half years have been so emotional and exciting. Clayton's love, dedication and commitment that he shares with me cannot easily be put into words. He has helped me grow as a woman, becoming more confident in myself and what I believe in.
But most importantly, Clayton makes me excited for our future and what lies ahead for our life together."
"Our story starts off the way most relationships do, with talking about how much we love Burger King's Chicken Fries. Allie and I met through the dating app Bumble, and the first message she sent me was commenting about the first line in my profile, "chicken fries are the way to my heart."
She replied with, "I don't know that I've ever encountered someone with a love for chicken fries like mine." I instantly knew it was meant to be. 
I'm kidding.
I really knew that I was with someone special on our first date.
All I really remember about that night was just how comfortable it felt right off the bat. I remember feeling so nervous the entire day leading up to it and while standing outside in the rain waiting for her, but once I saw her walking down the street those nerves just instantly went away.
It all just instantly felt so right. 
Besides for the one time that she had the flu and I thought she was really just using that as an excuse to stop talking to me,
its continued to feel so right every day since that night at Sub Zero. 
One of the things that I love so much about Allie is how caring and selfless she is.
She is always making sure that I am having fun, or if I am enjoying something.
If I am not (which is rare because I'm always around her) she does everything she can to make sure to ensure that her loved ones are enjoying themselves.
Our second date was to Ragazzi's restaurant, where we got some authentic St. Louis pizza that I love. Little did I know during that the provel cheese was sticking to the roof of her mouth and she was really struggling to enjoy it along with trying to talk to me. I had no idea about this until months after we had been dating. She just wanted to make sure that I was having a good time and didn't want to causing a fuss over not being able to eat and talk.
She's showed this all the way through our relationship – including trudging through London with bronchitis…
Her caring style is just one of the many reasons I asked her to marry me while in London.
I can't wait to spend the rest of our lives together. 
Our Dearest Allie & Clayton,
Laughing our way through your engagement session was a highlight of our summer! You guys are infectious! We are so impressed with how carefree you two are and obviously, Rex is a heartbreaker! I'm not sure who was more photogenic, the two of you or that cutie little smile he showed us! We can't wait to journey alongside you as you continue making all the wedding plans for next year. Thank you for trusting us with your love story & your engagements! 🙂 All the hugs!
–Tara & Stephen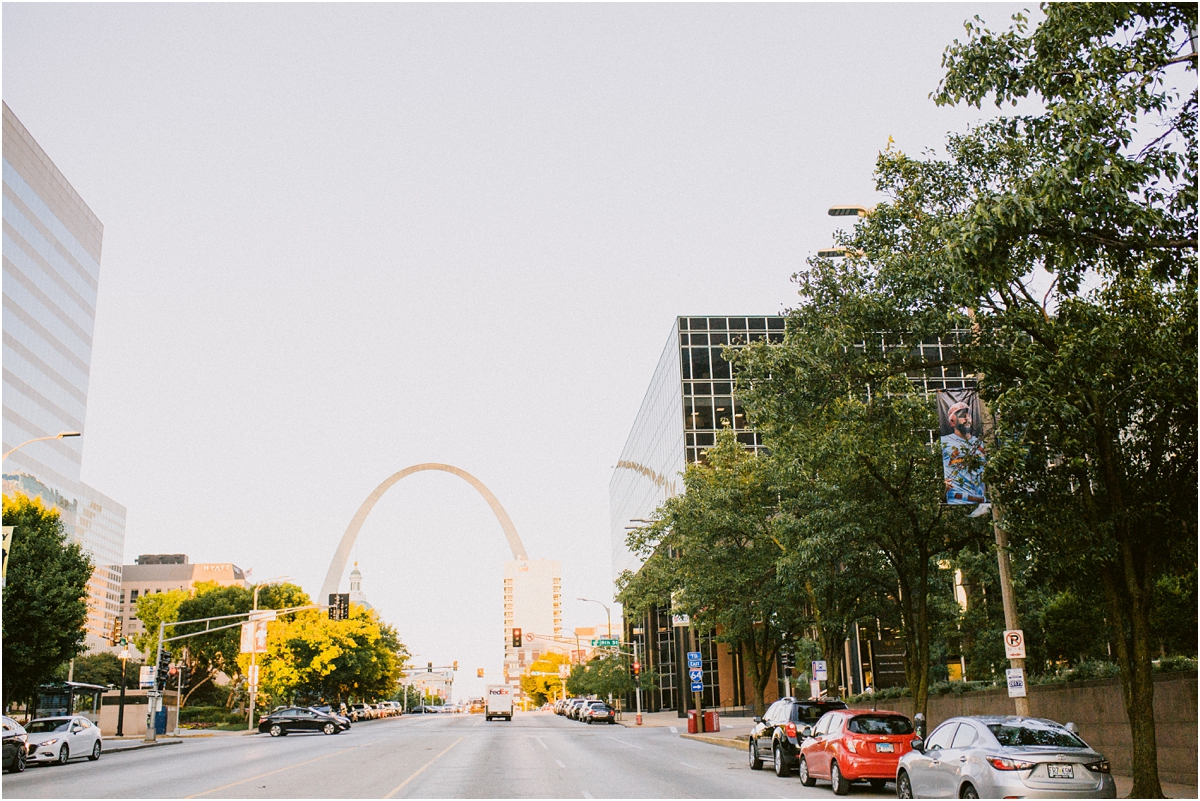 Special shout outs to Blown Away Blow Dry Bar for Allie's incredible hair & makeup and to lovely friends like Emma for helping play & occupy Fur Baby Rex during their session!
Feel free to leave some love for them in the comments!
If you'd like to explore more engagements and love stories, be sure to explore our Engagements Category here on the Journal or join the everyday party over on the Insta – @PattengalePhoto!
Until then…
Always,
–Tara M
Pattengale Photography is a traveling husband and wife duo based out of St Louis, Missouri.
They were named Best of by The Knot and have been published in
both print & online publications nationwide.
If you're looking for a photographer to capture your love story, anniversary,
or wedding day – drop a note, via the contact page!