Meet Katie & Tom.
From French fries & karaoke, to U of R Law & long distance, these two are every bit carefree as they are sophisticated. We love how Tom indulges Katie with flowers, romantic toasts and slow dancing and how in turn Katie can make Tom blush something fierce. They're a good match, these two.

"She had tolerated the sticky floors, loud music,
and some truly appalling singing for months 
just to spend time with me…" 
It was a dream to photograph Katie & Tom at the elegant Agecroft Hall & Gardens, just outside of downtown Richmond, Virginia. The historic Tudor-style mansion was brought over, piece by piece, from Manchester, England in the 1920's.
Prior to that, Agecroft's 500 year old walls could tell, first hand, of the reigns of Henry VIII, Elizabeth I, and James I – the namesake of the river that now flows past Agecroft's banks in Richmond.
With stories etched in every crevice of the veranda, gardens, & stained glass windows, enjoy Katie & Tom's own love story…
"When Katie started joining me on my weekly trips to karaoke, she had a secret.
It wasn't until well into our relationship that she finally admitted to me that she did not actually enjoy karaoke. She had tolerated the sticky floors, loud music, and some truly appalling singing for months just to spend time with me. 
While I immediately switched to singing her love songs after this admission, I also started to realize just how important her happiness was to me.
Karaoke had always been a thing I did with my friends for fun, and when faced with the fact that Katie didn't love it too, I realized I wanted to do things she loved instead – I wanted to make her happy…"
"Since those early days, we've supported each other through three new jobs, five moves, four bar exams, a stint at a long distance relationship, and getting a new puppy.
Through it all, Katie became my best friend and constant companion.
She has always been there to celebrate my successes with me or dust me off when things don't go my way. She's introduced me to new foods and television shows, and I've gotten to share my much-nerdier interests with her.
My life is infinitely richer for sharing it with her…"
"I never really believed in love at first sight, or should I say, first French fry, until I met Tom.
We were both interning in Fredericksburg that summer, and I'd seen him a few times already at different events, but we hadn't talked yet. Then, one fateful happy hour in July, a bunch of very happy interns kept stealing his French fries.
He was adorably grumpy about the whole thing, and something just clicked for me – I just knew something was special about him.
Like any independent young woman, I immediately hatched a plan to talk to him with my girlfriends in the restroom.
"After a ridiculously contrived conversation about appetizer etiquette, we discovered we actually lived in the same city and went to the same law school.
Numbers were exchanged, and he promised to invite me to his weekly karaoke nights at Bandito's, a Richmond establishment that I can promise I would have never gone to if it were not for Tom.
Karaoke nights turned into trips to the State Fair, the movies, and even Tom acting as my "defendant" in a mock trial competition.
Although friends had been commenting on what a great couple we made, we didn't actually make it "official" until December that year – mostly because we were having too much fun together to remember things like having an anniversary date.
"Five years later, we're still eating French fries and singing together. I cannot imagine going through life with anyone besides Tom, and at this point, it feels like I never did.
He feels like home, no matter where I am, and that's all I could ever ask for in a husband."
"Last December, I took Katie to the James Center in downtown Richmond, which was decorated with a massive Christmas tree, strings of lights, and dozens of light-up reindeer lawn ornaments.
While I don't love holiday decorations the way Katie does, I knew this place made her happy – Katie loves twinkling lights and Christmas is one of her favorite holidays, plus she grew up coming to find Rudolph amongst the reindeer.
I was certain this was the perfect time and place to propose. I knelt beneath the twinkling tree lights and asked her to marry me. She said yes.
And that was something that made us both happy."
Dear Katie & Tom —
Pretty sure spending the evening with you two – you all fancy in the heat index RVA does best – was a night we won't soon forget. We are so thrilled to celebrate this engagement journey with you and have FULL confidence that marriage is going to look great on you two! You're already hotties and more importantly, the way you love & care for each other is inspiring. Thank you for trusting us with your love story…the best is yet to come!
Always here for you,
–Tara & Stephen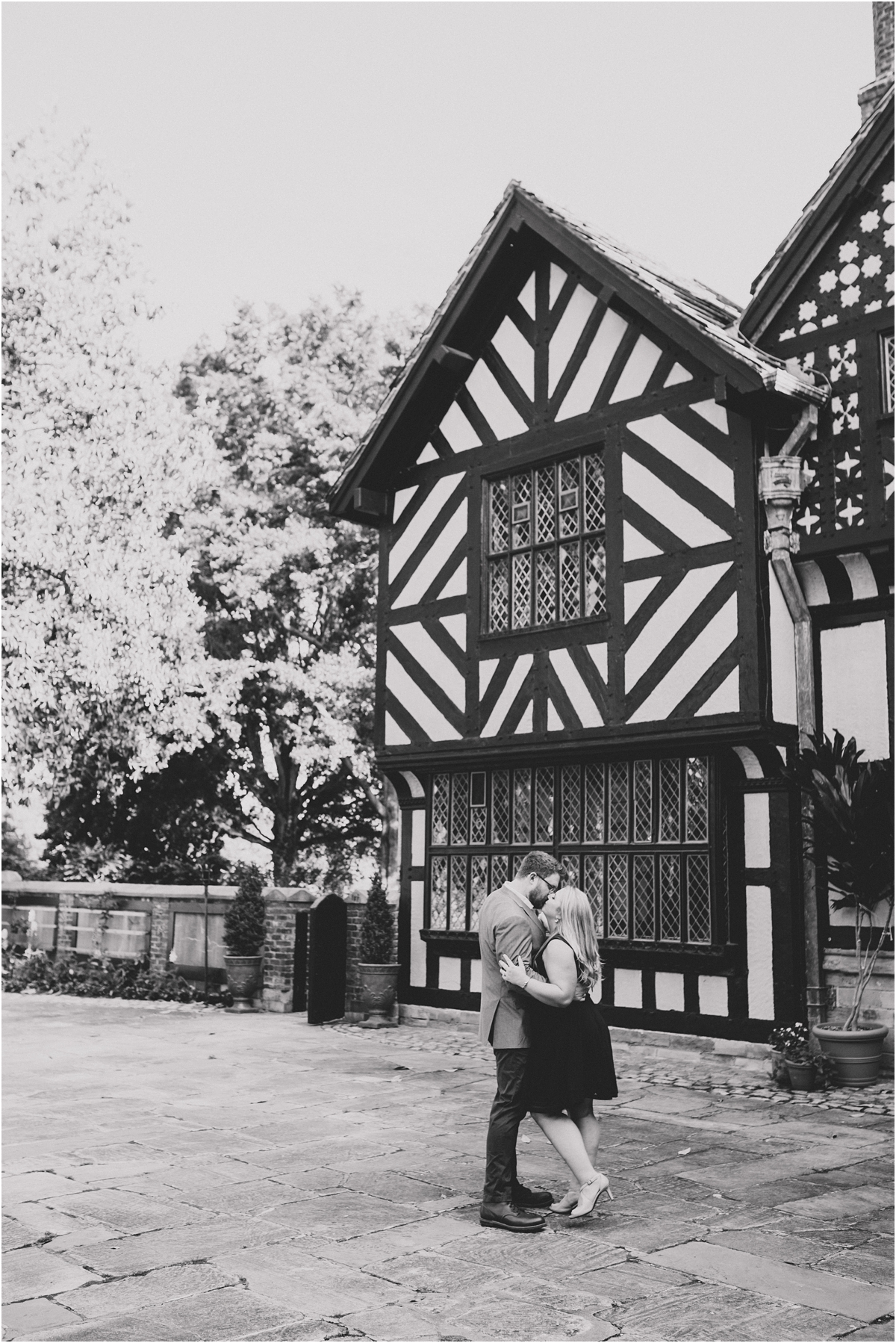 Keep your eyes peeled for their epic wedding coming up this December! If you'd like to explore more engagements and love stories, be sure to explore our Engagements Category here on the Journal or join us over on the Insta – @PattengalePhoto!
Until then…
Always,
–Tara M
Pattengale Photography is a traveling husband and wife duo based out of St Louis, Missouri.
They were named Best of by The Knot and have been published in
both print & online publications nationwide.
If you're looking for a photographer to capture your love story, anniversary,
or wedding day – drop a note, via the contact page!