You might've googled a hundred wedding venues, but you've likely not seen one quite like this. Stone Mountain Estates is a private, luxury wedding venue tucked away within the beautiful Santa Monica mountains, and when you're there, you feel like you're escaping into the most idyllic & romantic of places. The sunsets are literal perfection just over the ridge (off to the left of the 60-foot helicopter pad) and bathe the entire area in those magical dusk tones Southern California is famous for.
I've gathered together my top recs and notes about planning your wedding at Stone Mountain Estates, spring, summer, fall, or winter, and created the ultimate venue guide below to help you on your search! We love the versatility of this venue with the Italian- inspired pool, fountains, cypress tree-lined drive and endless fun activation install opportunities.
Stone Mountain Estates – Malibu, California Luxury Wedding Venue
This glamorous venue is a private property, perched high within the Santa Monica mountains, with mind-blowing views of the mountain ridges in every direction. The villa's outdoor aesthetic is very much a clean slate and can be transformed into anything from modern & chic to lush & romantic designs.
As much as the cypress-lined drive, the elegant pool, & the clean terraces make for an amazing environment to stage your event, the true star of the show is the helicopter pad. This stone-flagged centerpiece boasts 360-degree views and is the anchor point of this venue. It can accommodate 200 guests for a cocktail reception or 120 for a seated dinner with a dance floor.
The Best Time of Day to Get Married at Stone Mountain Estates
The sun sets just perfectly over the mountain ridge off to the left of the helicopter pad, so planning your sunset romantics about 45 minutes before sunset is best for truly golden, dreamy light.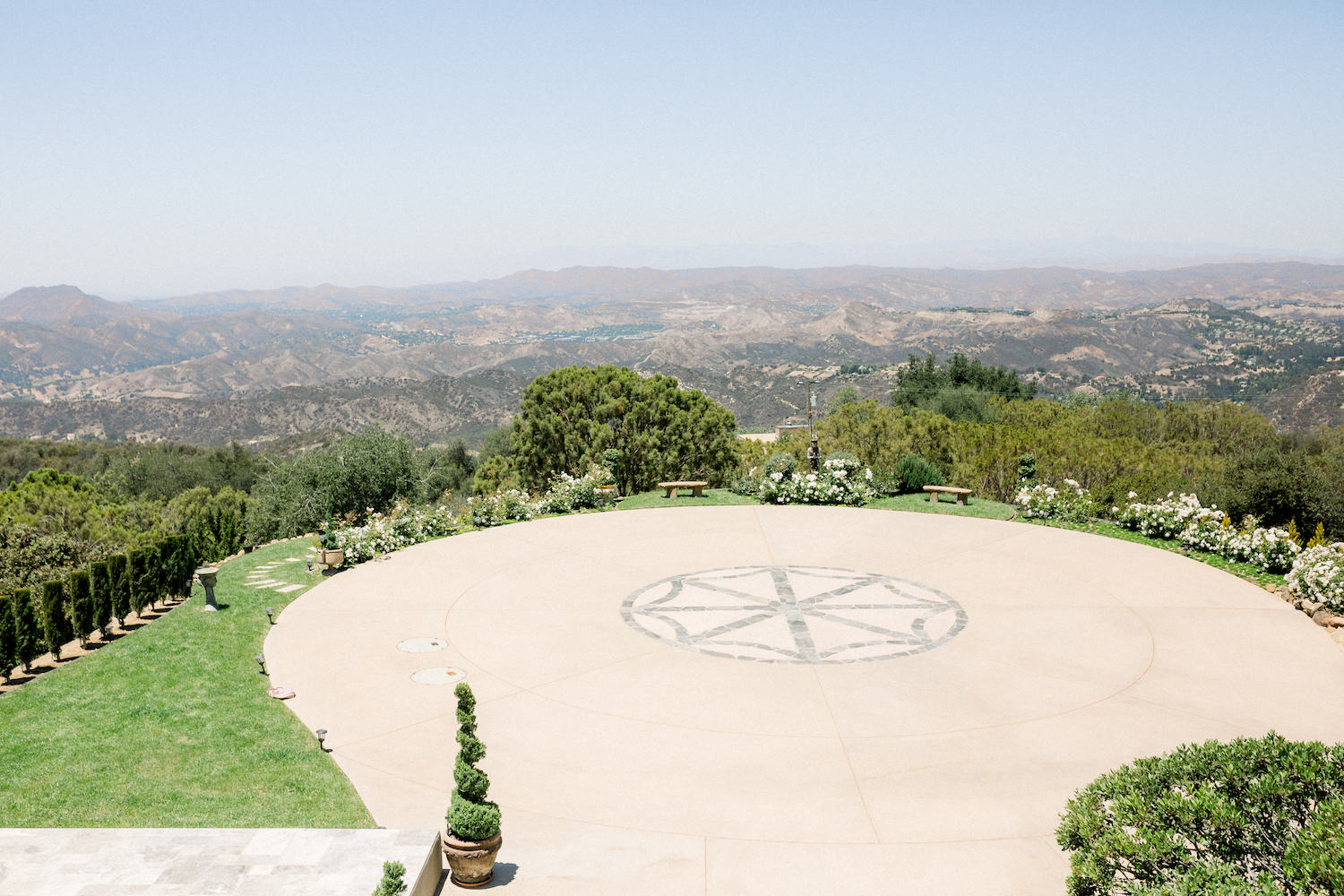 For optimal ceremony timing, you want to be mindful to work with your planner & photographer to avoid "silhouetting." This is when the light falls behind you & your partner saying your vows and your guests (and your photographer/videographer's cameras) can't see your faces because the sun is too low, directly behind you. 
What is Provided by the Stone Mountain Estates Wedding Venue
Stone Mountain Estates is the perfect backdrop for true, one-of-a-kind, custom experiences because it is a blank slate and no additional elements are included when renting the property. The outdoor space itself is provided as a platform for bespoke installations and designs that allow you to invite your guests into an immersive experience (perhaps nodding to your love story).  The venue will require you to bring professional vendors to ensure a smooth & truly custom event experience.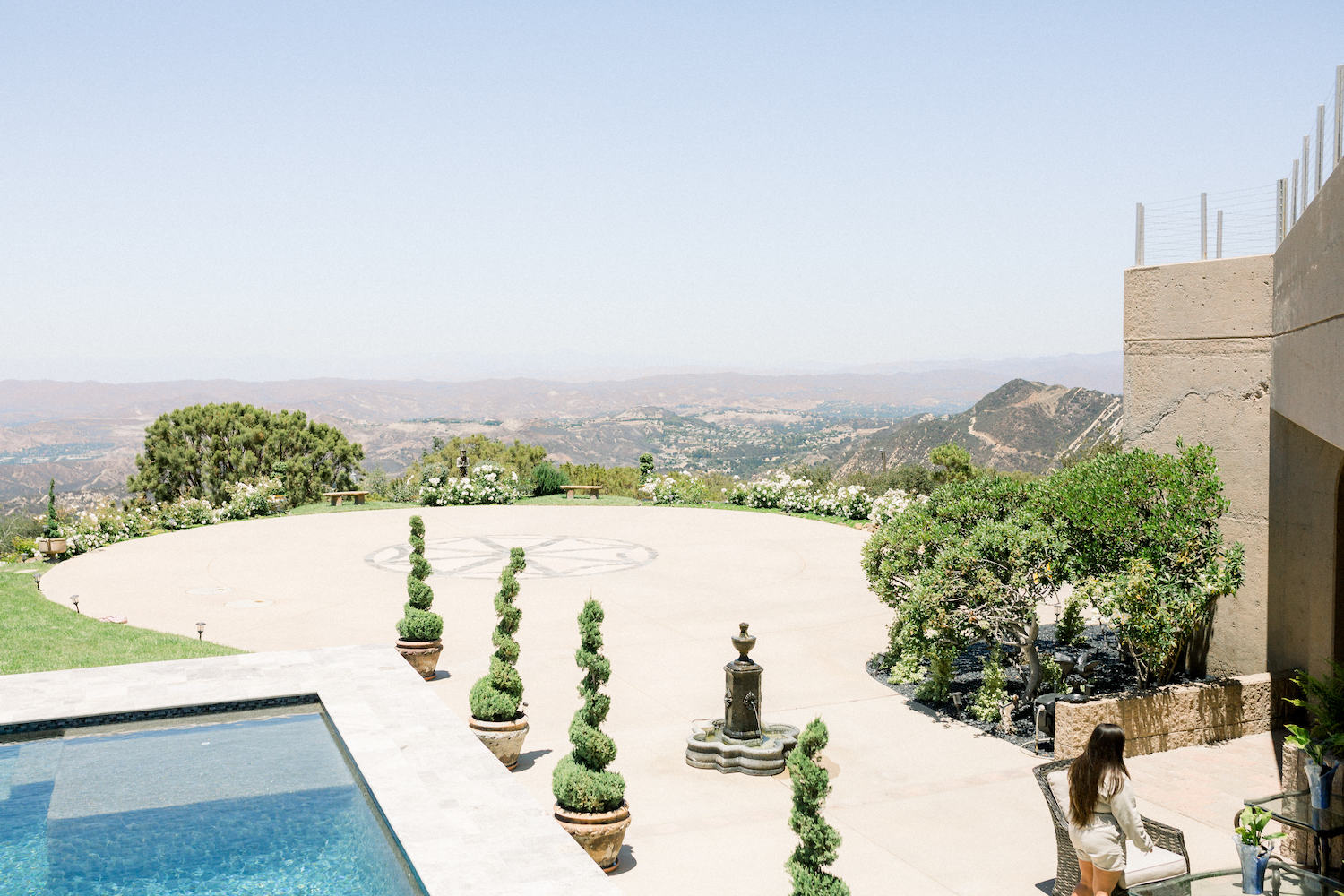 The Best Vendors for a Stone Mountains Estates Wedding
Hiring a full-service planner and designer for Stone Mountain Estates is highly recommended in order to make this space your own & take advantage of enjoying the entire property to its fullest opportunity. I'd personally recommend Details Details, Embark Event Design, H+L Lovely Creations, or The Elegant Ninjas (who also help manage the estate). 
When it comes to flowers – which can absolutely make or break your wedding design – you have to have a conversation with Blaire Kimball Florals, Solstice Bloom, or Jessica Deano Events, Le Toile Design. Their work is just stunning, lush, & one of a kind.
Hosting your wedding at Stone Mountain would also, in my opinion, demand a truly fantastic videography team as well. With the breadth and scope of the property, your wedding video would have no want for cinematographic angles and lighting (drone anyone?). I've loved working with Sam Eng and Ricky Meyer Films and would recommend them to anyone!
For a fuller scope of preferred vendors, your planner & photographer can point you in the right direction (oftentimes with vendors they personally know & respect)!
Creating a Custom Experience – What to Keep in Mind for Your Guests
And because no Stone Mountain Estates venue guide would be complete without a few little things to keep in mind for your guests:
#1 – Sun Cover
That same light that makes for such glowing photographs can be pretty intense on the skin! When you and your planner start dreaming of the design of the day, make sure that you talk about incorporating shade into the structures you create. Custom welcome baskets with shade parasols, fans, & everything else your friends and family will need to stay cool and enjoy the Santa Monica mountains is a nice touch for this venue.
#2 – Transportation
The road up to Stone Mountain Estates is steep and narrow, and the parking lot only has space for 30 cars – including your vendors. Due to the road conditions & limited cell service, the venue doesn't recommend Ubers or Lyfts. Instead, organize a shuttle to make a few trips up & down the hill for your guests' arrival & departures.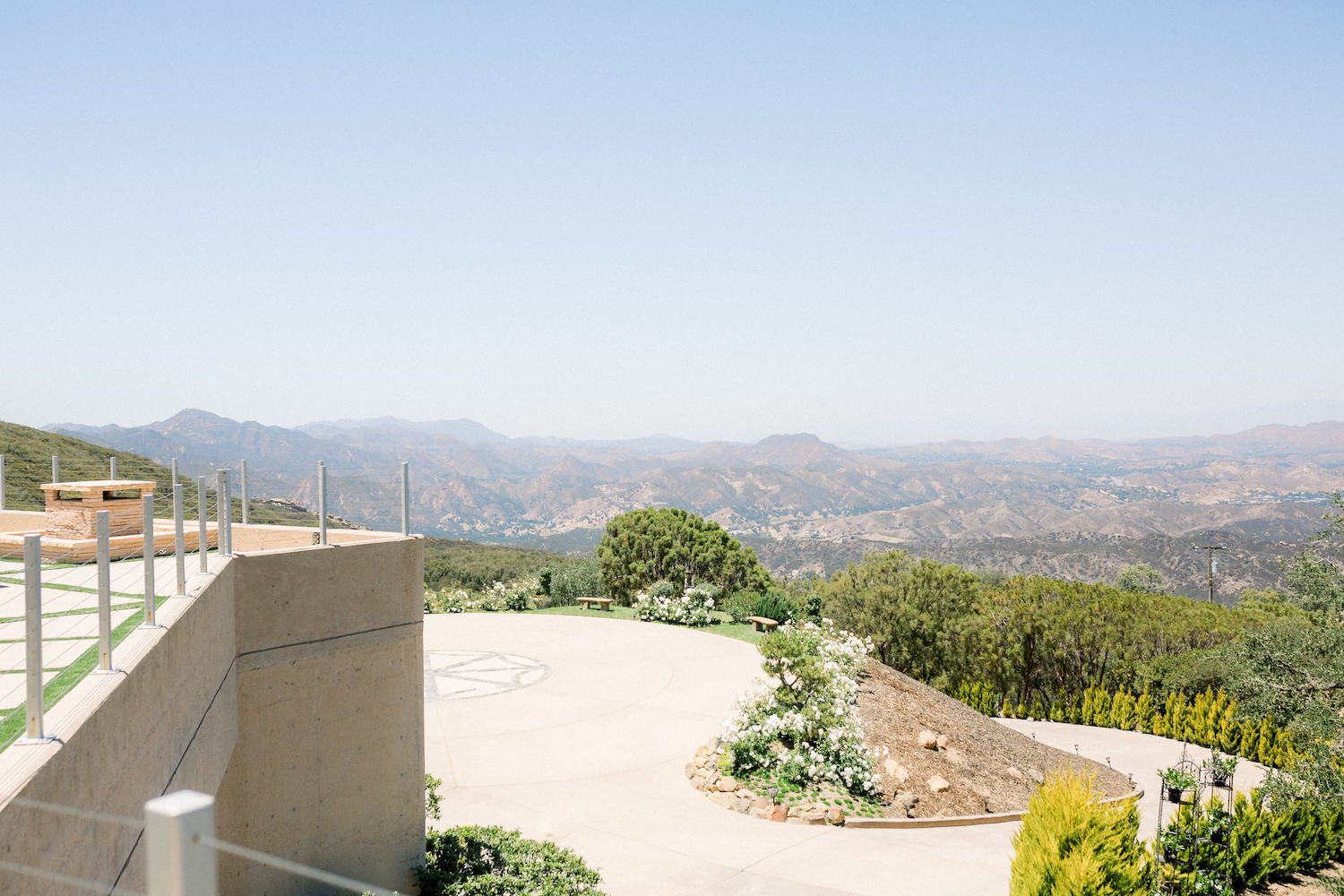 #3 – Families with Children
Kids are welcome at Stone Mountain Estates during the ceremony, but due to the sharp drops and lack of fencing on the terraces, the venue asks that everyone under the age of 15 leaves the premises after that. This is crucial information for your guests, so make sure to communicate it from the beginning!
Ways to Make the Most of Stone Mountain Estates' Spaces
#1 – Get Creative with the Pool
You can completely cover the pool to increase your space, but why would you ignore one of this property's greatest assets? Synchronized swimmers performing during cocktail hour, flooding the water with floating candles to glow during your first dance, a carpet of blossoms to echo your ceremony installation are just a few creative ways I've seen this pool used well (not to mention a possible honeymoon poolside photo session the day after).
#2 – Use Sailcloth Tent or Draping
The open space here is begging for you to build some kind of arbor, trellis, or custom installation. Whether that's a flower arbor with elegant draping, or a decked-out sailcloth tent, creating a structure will offer shade to your guests & bring drama and dimension into the visuals of your day.
#3 – Go for Non-Traditional Seating & Aisles
Ditch the traditional rows of chairs! You could hold your ceremony in the round, with chairs in a circle mirroring the lines of the helicopter pad, play with sharper angles like that of benches or sofas, or arrange a mixture of both in a long horseshoe to give yourself a dramatic aisle to walk down. At Stone Mountain Estates, you're not confined by the four walls of a room, so take advantage of that!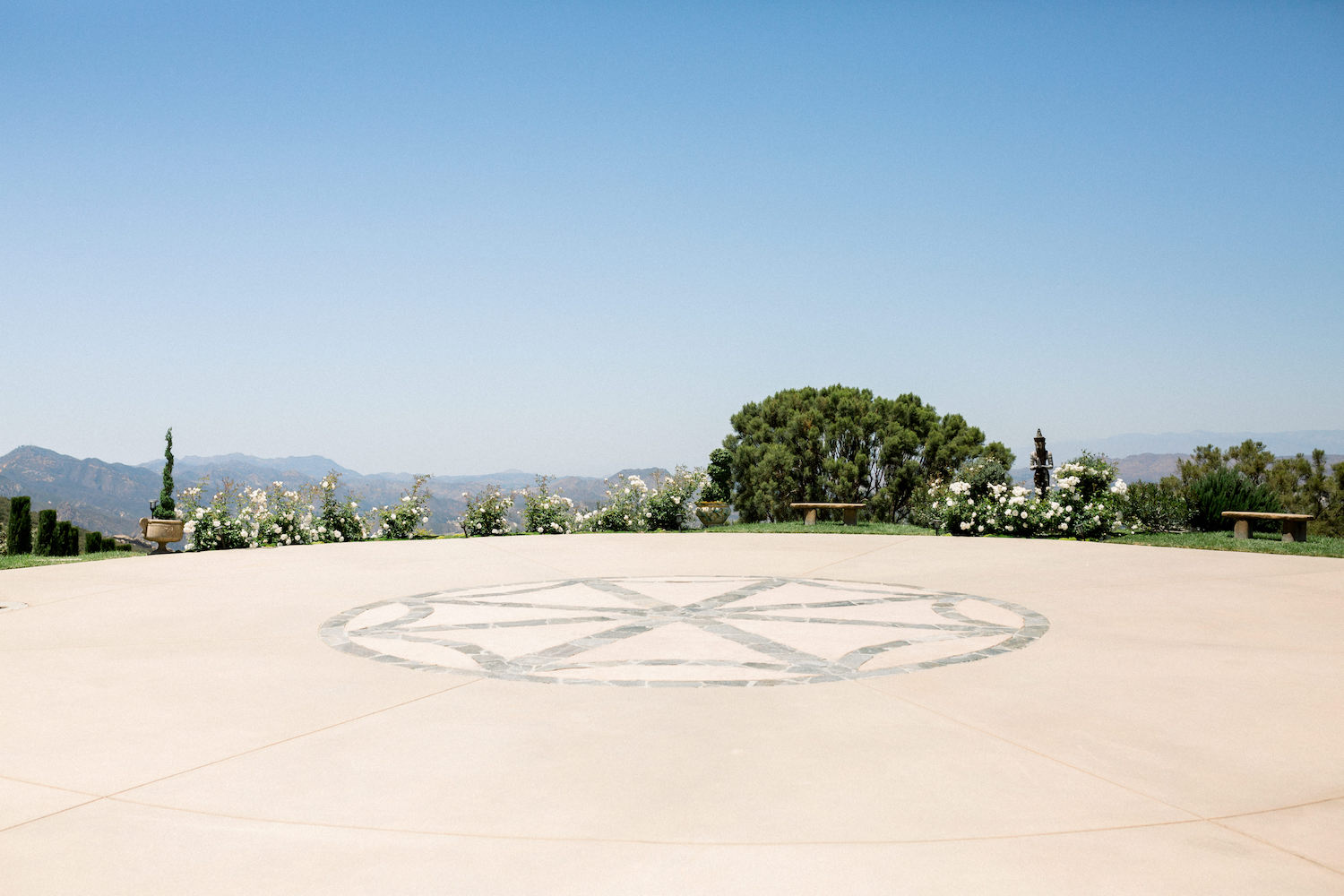 #4 – Don't Forget the Side Lawn
The helicopter pad might be the star of the show, but the side lawn is such an understated asset. From experience, the best weddings I've seen provide their guests some locational variety and movement – so don't forget to use the side lawn & upper terraces, too. Hold your ceremony on the lawn with the mountains in the immediate background before moving to the reception & dancefloor, or host your cocktail party here while the helicopter pad is flipped from ceremony to reception!
Pre Wedding Day Events  & Multi-Day Wedding Weekend Events at Stone Mountain Estates
This property is so much more than a luxury wedding venue – it also makes the most amazing venue an engagement party or an intimate dinner, guest welcome parties, and rehearsals. And when it comes to honeymoon or engagement shoots, it's a photographer's dream! Think of it as a place in the country, with nods to Italian luxury, that is ripe with opportunity visually & experientially!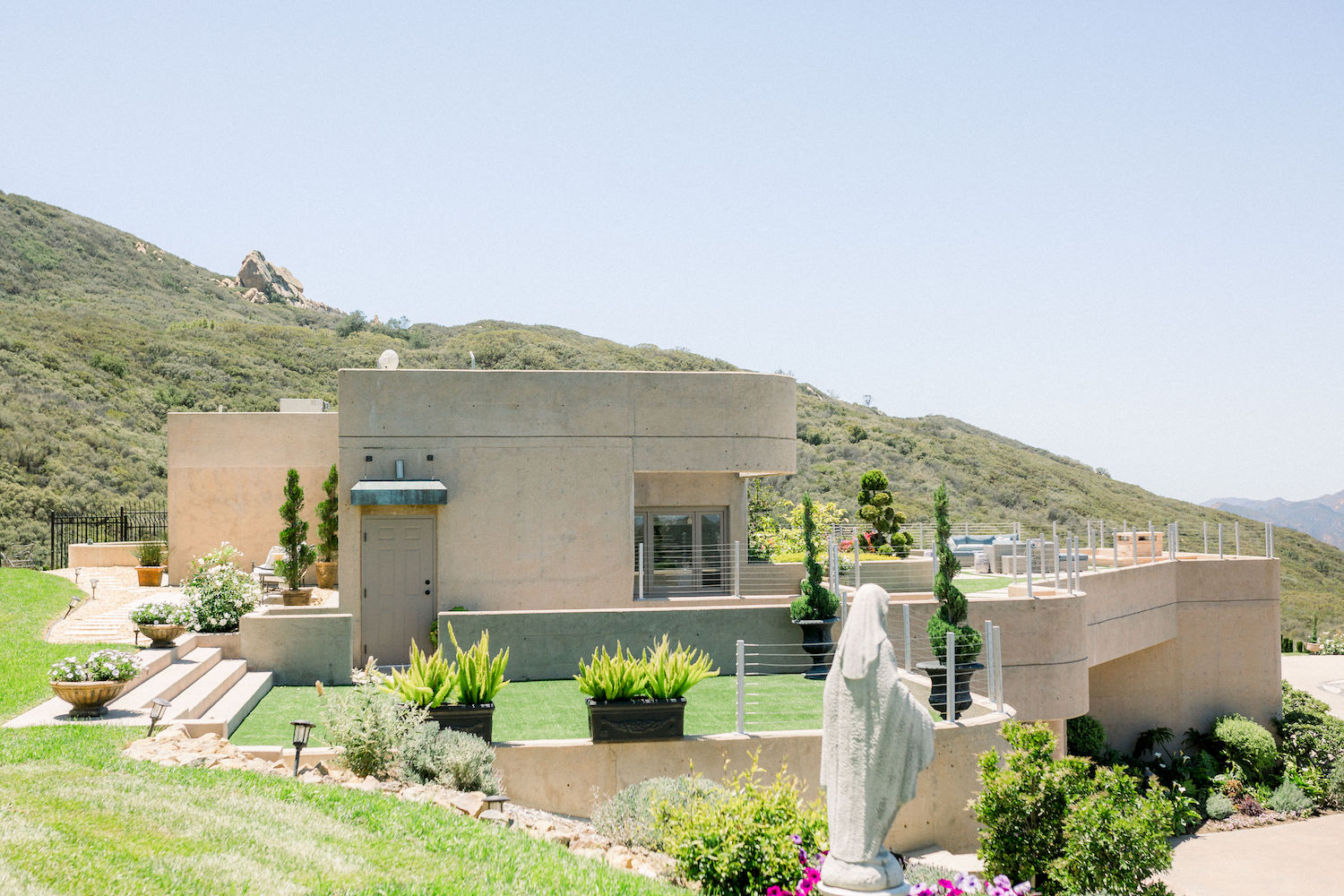 Final Thoughts on Stone Mountain Estates
I hope that this guide to Stone Mountain Estates has helped you start to envision yourself there, taking your first steps down the aisle.
I'd love to hear more about your vision, your priorities for the space, and the unique design you're dreaming up with your planner. Get in touch and let's talk about how we can document this a gorgeous, wedding weekend experience for you and the people you love the most!
Always,
–Tara M
TARA IS AN AWARD-WINNING PHOTOGRAPHER SERVING LUXURY WEDDINGS & COUPLES IN SOUTHERN CALIFORNIA & WANDERLUST DESTINATIONS.
Inquire here for details.
DID YOU ENJOY THIS BLOG POST? PIN IT FOR LATER…