All the details are gathered. Hair & makeup has ended an hour early and the emotions of it all are becoming-very-real are setting in.
Are these feelings nerves? Or perhaps more accurately, a feeling of deep excitement?
Nods to loved ones who couldn't be there (like the silk boutonniere from Dad's wedding day clustered within the bridal bouquet) give pause for grateful reflection.
Randomly, a Christmas parade of blowup Santas and people wrapped like gifts shout & jingle on the street just outside the hotel.
It's surreal that other people are having just a "normal" Saturday but for you, it's anything but normal…
"I couldn't sleep at all last night.
So I read an entire Nancy Drew novel instead"
Meet Katie & Tom.
A couple who's story began over a basket of French Fries and bad karaoke. From Tom's easy laugh and sense of adventure to Katie's hopeless romantic feels about everything (girl after my own heart!), we can't get enough of these two! We'll never forget when we asked Katie how wedding planning was going and she said, "I've never had so much fun – I LOVE all the plans & details…I'll actually be sad when it's over…" and then again on THE wedding day how she felt: With a huge, unbothered smile replied, "Well, I couldn't sleep at all last night. So I read an entire Nancy Drew novel instead. It was so enjoyable!"
Needless to say, Katie & Tom's laid back nature made for one of the smoothest wedding days we have ever photographed.
They were married by a close friend at The John Marshall in downtown Richmond, Virginia, and then spent the rest of the evening laughing, sipping & toasting, and dancing the night away with their best friends and family.
Favorite had-to-be-there-moment: 80+ grandma in glitter three inch high heels dancing her heart out. Get it girl!
(If you're on desktop, listen to their first dance while you scroll)
Dear Katie & Tom — 
You guys have been an absolute joy to work & celebrate with! Thank you so much for trusting us with your love story and all the in-between moments. From sweating bullets at Agecroft Hall to stuffing Katie's big dress into the back seat of our car to whisk you away downtown for more Romantics – we're so grateful for these memories with you! We've said it before, but we'll say it again: marriage is a gift and we truly believe that the best is still yet to come!! Hope you're enjoying these newlywed feels. Hugs all around!
Always,
Tara & Stephen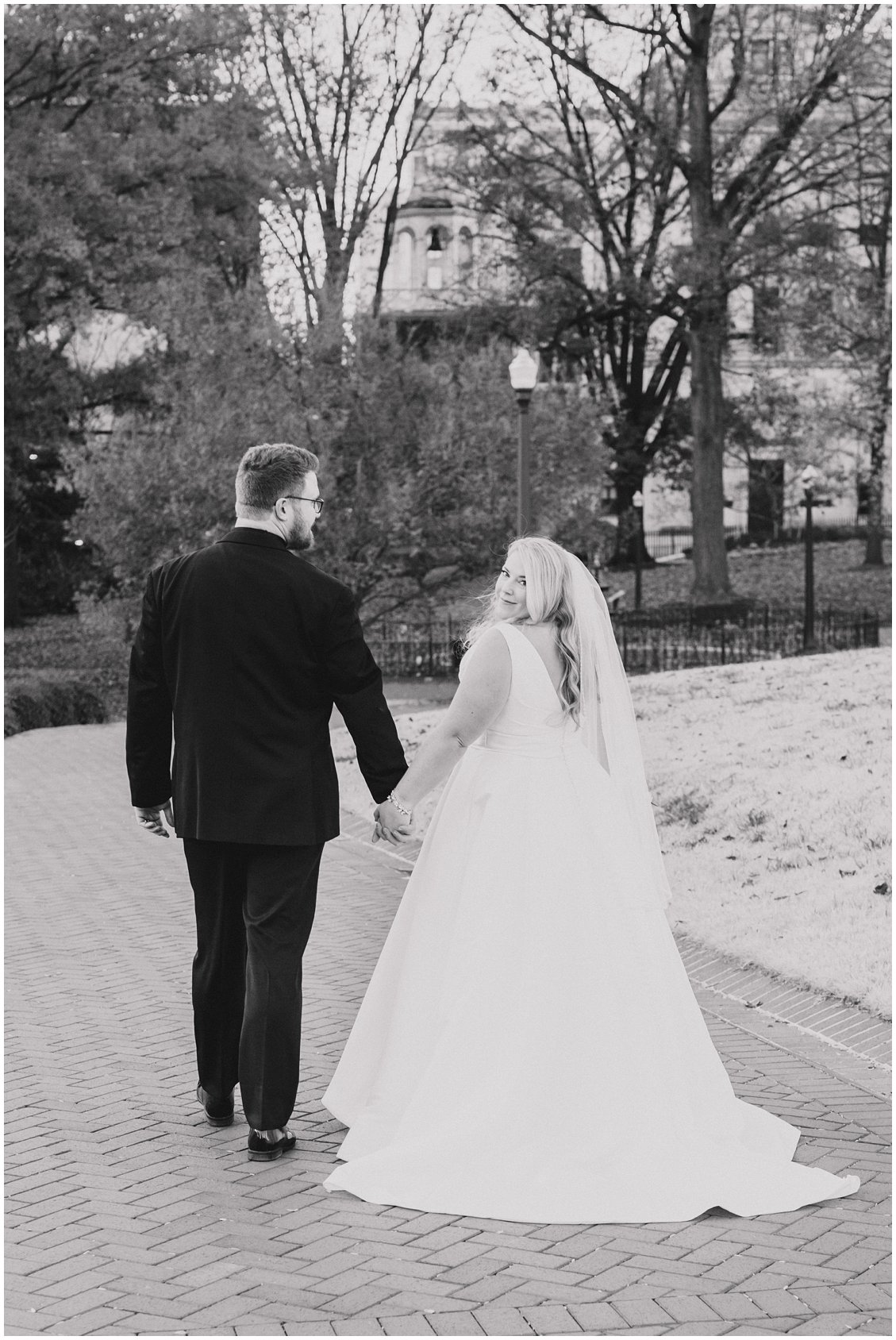 –> If you missed their INCREDIBLE engagement session and HILARIOUS love story — what are you doing?
See it here –> Agecroft Hall Engagement Session with Katie & Tom<–
And last but not least, a huge, huge thank you & shoutout to this team of St Louis wedding vendors that pulled off such an incredible day!
THE WEDDING CREATIVE TEAM
Photographer | Tara & Stephen
Venue | The John Marshall Ballrooms – Richmond, Virginia
Wedding Coordination | Colleen Cook – CCS Events
Florist | Tommy's Garden
Hair & Makeup Stylist| Richmond Makeup Artist & Farm House Salon
Catering | The John Marshall Ballrooms
Wedding Cake | Ukrops Bakery & Frostings
Wedding invitations & signage | Minted
Photo Booth | Richmond Photo Booth
DJ | Bunn DJ
Rentals & Linens | Rent-E-Quip RVA
Prep Location | The Hilton, downtown Richmond
Honeymoon Location | The Clifton Inn & then Grenada Spain for 1 Year Anniversary
Wedding Dress Bridal Salon | Tiffany's Bridal Salon – where Bride's mother also bought her wedding dress
Wedding Dress Designer | Justin Alexander, Sincerity Collection
Groom & Groomsmen's Attire | Rented, Jim's Formal Wear
Wedding day colors & aesthetic theme | Champagne and gold, the theme is classic winter & holiday party. Heirloom & sentimentally inspired.
Always,
–Tara M