Can you hear it? The clamor of chairs scooting & laughter echoing loudly throughout the room.
Can you see it? Gold silverware, handwritten place cards, and delicate greens decorating each intentional place setting. He stands up as the glasses tink for silence.
Can you feel it? Everyone waiting, almost leaning forward to listen to what – out of all the years of stories – he could share. His smile is wide yet the eyes betray the welling just below the surface. Both from the joy of this day to also the change that was occurring. This was the day. Her big day.
Turning her gaze up to him there's anticipatory smile twitching about her lips.
What will dad say?
"Madelaine was never good at smiling on command.
But we knew her real smile – not the jaw clenched, fake CHEEEESE! smile – can light up a whole room.
And when it happens naturally, it's all the evidence you need for what genuine happiness looks like.
When Henry came into the picture, we knew. There was no mistaking how Madelaine felt about him…"
Celebrating & capturing Madelaine & Henry's St Louis wedding at WashU's Graham Chapel and The BooCat Club was super special for us. Their joy & love for each other is, as cliche as it is to say, infectious. Also, any couple who would rather eat donuts & cheese with their wine have our hearts. Obsessed how Madelaine & Henry "cut the cheese" instead of cake!
But more than that, we've heard over a hundred wedding toasts. And each time we seem to learn something new about the couple. Their background, their childhood blunders and college dramas, their best characteristics that have stood out to friends in a significant way. But while Father's toasts are almost always full of personal meaning & emotion, what struck us with Mr Azar was his specificity. Just one simple example that awestruck every person.
One simple example that everyone could immediately connect with and witness themselves. Furthermore, one simple example that would prove true for the bride AND warmly welcome & honor the groom. That's powerful. We were so impressed by Madelaine & Henry's families. Each finding their own unique way to share how excited they were for them. Acts of service. Words of encouragement. The specific nuances that make all the difference…
Here's a few highlights from Madelaine & Henry's magical day.
If you're on desktop, listen while you scroll to their first dance song: Purple Rain
Dear Madelaine & Henry —
You. Did. It. All your hard work paid off. Celebrating with you in your homes, in the aisle, and out on the hottest day of the entire year (worth it!), was an honor. Thank you for inviting us into your love story, your legacy that is now unfolding. From darts at Blueberry Hill to having Purple Rain stuck in our heads all day long, we've loved our time together. Marriage is a gift. Cherish it & hold it close. The best is, even still, yet to come. Congratulations you hotties!
Always,
–Tara & Stephen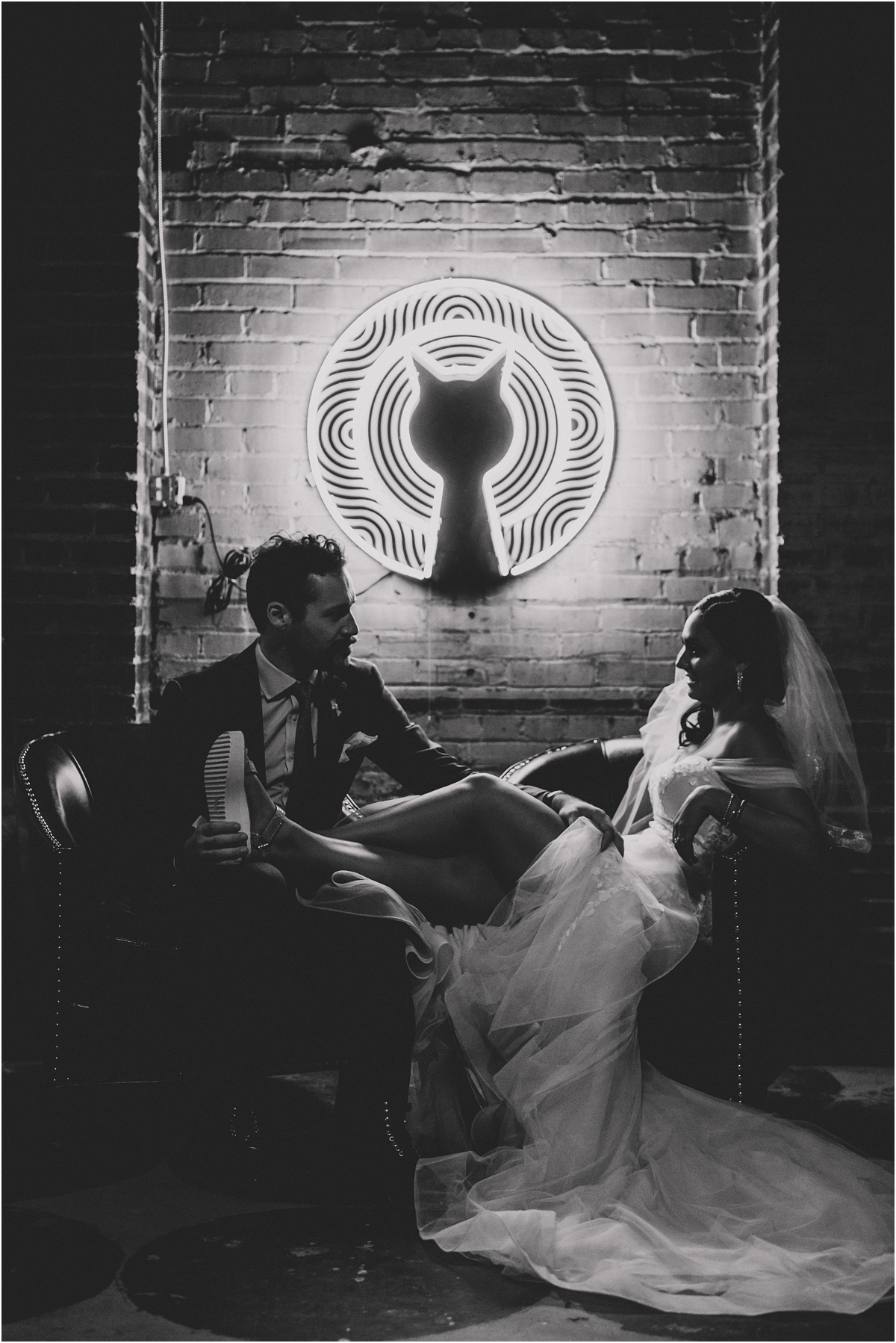 If you missed it, you can view Madelaine & Henry's Stylish Delmar Loop & Forest Park Engagement Session and read all about their love story here!
A huge thank you & shoutout to this dream team of vendors that pulled off such an incredible wedding day! If you're a bride & looking for the best of St Louis, see below!
THE WEDDING CREATIVE TEAM
Photographer | Tara & Stephen, Pattengale Photography Ceremony Venue | Graham Chapel, WashU campus
Wedding Hotel & Lodging | Moonrise Hotel & Chase Park Plaza
Cocktail Hour & Reception Venue | BooCat Club
Wedding Planner | Allyssa Stevenson, of Allyssa Elaine Events
Florist | Flowers & Weeds
Hair & Makeup Stylist| Looks by Lisa
Cheese Wheel Cake | Parker's Table
Donut Wall | Stacy's Confectionery Stations 
Wedding invitations & signage | Minted & Zazzle
Custom seating chart & Lettering Artist | Emma Vonder Haar
Catering | Salt & Smoke
Wedding Day Pet Care | WedPets
Ceremony Musician | Organist, Pat Partridge
Officiant | St Louis Wedding Officiant – Sark Elking
Rentals & Linens | Salt & Smoke, Weindhardt Party Rentals, & Exclusive Events
Live Band & Entertainment | Griffin + The Gargoyles Band
Transportation | BEST Transportation
Guest Custom Cookie Wedding Favors | Madelyn's Cookie Co
Wedding Dress Bridal Salon | Signature Bridal
Groom's Attire | Custom suit by Alton Lane & handmade tie by Knotty Tie
Groomsman's Attire | Jos A Banks
Ceremony Traditions | Knot Tying ceremony
Wedding day colors & aesthetic theme | Light neutrals (white, creams), slate blue, greenery and sage. Heirloom & sentimentally inspired.
Leave them some love in the comments or share this post with someone who was there OR might need some serious wedding inspo!
Always,
–Tara M